Food Enzymes Market Size, Growth, Forecast (2023-2028)
The Global Food Enzymes Market size was worth US$ 1.60 billion in 2022, and it is estimated to reach a valuation of US$ 3.23 billion by the end of 2028, rising at an annual compound rate of about 7% between 2023 and 2028. As the demand for prepared foods increased, the F&B sector further strengthened its product portfolio with the advent of frozen foods, packaged foods, and processed foods.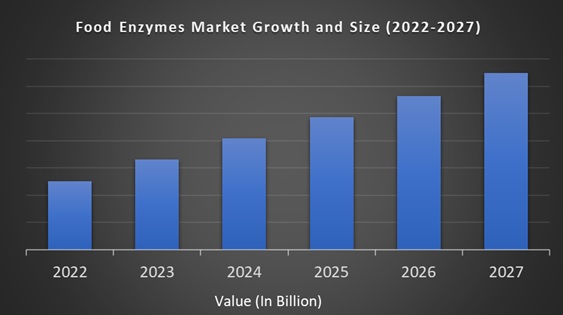 Market Overview:
Food enzymes are biological catalysts. Food enzymes speed up biochemical reactions within human cells and affect all body functions. They promote cellular response by lowering the energy threshold required for the reaction. This enzyme helps improve the quality of food by simplifying food processing steps. Enzymes are widely used in food processing to mitigate potential health risks. Using advanced technology, new enzymes have been developed in a wide range of applications. Packaged foods consist of complex molecules that are difficult to digest naturally. As the intake of packaged foods increases worldwide, the application of food enzymes has inevitably developed for F&B companies. Food enzymes are often used as additives to improve the overall texture, sustenance and shelf life of the products.
Recent Developments in Food Enzymes Industry:
In February 2017, Novozymes introduced a new Spirizyme enzyme into its family of sugar processing enzymes.

In June 2018, DSM released a new product called BakeZyme AAA for various baking enzymes to improve product delivery.

In June 2018, DowDuPont launched a new range of POWERBake 8000 bakery enzyme products in South America, expanding the scope of product offerings in the region.

In July 2018, DSM launched PreventASe, a variety of baking enzymes used as acrylamide reduction solutions for snacks and baked goods.
REPORT COVERAGE:
| | |
| --- | --- |
| REPORT METRIC | DETAILS |
| Market Size Available | 2022 – 2028 |
| Base Year | 2022 |
| Forecast Period | 2023 - 2028 |
| CAGR | 7% |
| Segments Covered | By Type, Application, Source, Form and Region |
| Various Analyses Covered | Global, Regional & Country Level Analysis, Segment-Level Analysis, DROC, PESTLE Analysis, Porter's Five Forces Analysis, Competitive Landscape, Analyst Overview on Investment Opportunities |
| Regions Covered | North America, Europe, APAC, Latin America, Middle East & Africa |
| Market Leaders Profiled | Nagase Chemtex Corporation, AB Enzymes GMBH, Advanced Enzymes Technologies Limited, AUM Enzymes, Dyadic International Inc, E.I. DUPONT DE Nemours & Company, Jiangsu Boli Bio products Co. Ltd, Novozymes A/S, Puratos Group NV and others. |
Food Enzymes Market Growth:
The main factors driving the global food enzymes market are improving food quality, increasing demand for processed foods, and growing awareness of healthy and nutritional foods.
Drivers:
The world market for food enzymes is supposed to experience growth during the forecast period. Due to its environmentally friendly properties, the increasing global application of food enzymes in end-use markets such as beverages, dairy products and confectionery is deemed to be a significant driver of market growth in the next seven years. The bakery is assumed to remain the largest end-use industry in food enzyme applications due to its improved shelf life and dough stability, dairy and beverage properties. Food and beverage enzymes are mainly produced from microbial sources due to their low cost and high productivity. The increasing application of food enzymes in various end-user industries around the world is contributing to the growth of the global food enzyme market.
The growth of the global food enzyme market is presumed to accelerate during the outlook period as the slope of prepared foods increases along with the rise in the workforce in emerging countries. The trend of developing food processing technology and the rapid development of the beverage industry is expected to increase the demand for food enzymes in each sector. With the increasing consumer awareness of the nutritional and health advantages, the demand for these food enzymes is snowballing. This has led to increased adoption of food enzymes in many food applications, such as the frozen food manufacturing industry and packaged food units. The use of food enzymes in food manufacturing equipment makes the process more environmentally friendly, reducing the waste of raw materials and greenhouse gas emissions. The properties of food enzymes, such as digestion, softening, and stem prevention, are expected to fuel the growth of the food enzyme business. The reduction in carbon emissions and waste of raw materials is anticipated to accelerate the growth of the food enzyme market during the projection period.
Along with increased productivity, the change in the trend towards healthy foods is also expected to increase the growth of the food enzyme market. The increase in per capita income, together with the penetration of the product is foreseen to have a positive effect on the demand for food enzymes, increasing the growth of the global market. Technological innovations and updates are supposed to be the main drivers of market growth during the forecast period. The latest trends like protein fortification are foreseen to propel the demand in the global food enzymes industry, along with the creation of immense growth potential for market players. It is assumed to work in adverse conditions and improve efficiency to promote the growth of the food enzyme business and provide opportunities for industry players.
Restraints:
The health risks associated with consuming excess food enzymes will hinder market growth and challenge industry participants during the projection period. Furthermore, growth in the food enzyme market is limited due to factors such as high R&D costs, counterfeiting of food packaging, unclear and irregular regulatory processes, restrictions related to temperature ranges and pH and limitations in the brewing industry. Recent legislation to address the risks associated with the use of food enzymes in the food industry is expected to hamper growth.
Food Enzymes Market Segmentation Analysis:
By Type:
Carbohydrase

Protease

Lipase
By Application:
Beverage

Processed Food

Dairy

Bakery

Confectionery
By Source:
Plant

Microorganism

Animals
By Form:
Lyophilized Powder

Lyophilized Liquid
Geographical Segmentation Analysis:
North America - the United States and Canada

Europe - United Kingdom, Spain, Germany, Italy, and France

The Asia Pacific - India, Japan, China, Australia, Singapore, Malaysia, South Korea, New Zealand, and Southeast Asia

Latin America - Brazil, Argentina, Mexico, and Rest of LATAM

The Middle East and Africa - Africa and Middle East (Saudi Arabia, UAE, Lebanon, Jordan, Cyprus)
Regional Analysis:
North America is anticipated to remain a significant local market with a notable market share, followed by Europe as demand for processed foods increases in countries such as the United States and Canada. The growing demand for processed foods in the European food industry is expected to lead the market for food enzymes in the region. Europe is predicted to grow below-average growth for the reasons mentioned above. The Asia-Pacific region is presumed to have the fastest-growing emerging economies in countries such as China, India and Japan as end-use applications and demand for processed foods increase. Rapid urbanization, coupled with an increasing standard of living, is demanded to be a significant driver for changing consumer tastes and preferences in Asia Pacific countries, including China and India. As awareness of healthy food increases, demand for food enzymes is expected to increase in developing countries, and growth in the food enzyme market is expected to increase. Manufacturers are aware of the potential markets in the Asia Pacific and Latin America and are well versed in the global shift towards new and exotic flavors. South Africa and Brazil are also expected to witness changes in eating habits and show significant market growth during the outlook period.
Leading Company:
DuPont invests in marketing and branding to develop product promotion and increase sales.
Key Players in the Market:
Major Key Players in the Global Food Enzymes Market are
Nagase Chemtex Corporation

AB Enzymes GMBH

Advanced Enzymes Technologies Limited

AUM Enzymes

Dyadic International Inc

E.I. DUPONT DE Nemours & Company

Jiangsu Boli Bio products Co. Ltd

Novozymes A/S

Puratos Group NV