Dairy Processing Equipment Market Size, Growth (2023-2028)
The Global Dairy Processing Equipment Market Size was worth US$ 8.6 billion in 2022, and it is estimated to reach a valuation of US$ 11.2 billion by the end of 2028, rising at an annual compound rate of 5.4% between 2023 and 2028.
Market Overview:
Milk is a nutritious food and has a short shelf life, so it should be handled with care. It is easy to break down and is a suitable medium for microbial growth. We use dairy processing equipment to process milk products using a variety of methods, including standardization, pasteurization, homogenization, heating and cooling. Dairy processing equipment allows us to keep milk longer. This reduces the likelihood of foodborne illness. Dairy processing equipment is widely used to process milk and the production of various dairy products such as butter, cream, yogurt, and cheese. Dairy Processing Equipment is used worldwide in the dairy industry as consumers demand packaged and nutritional dairy products. The shift in preference from raw milk to processed milk also created off-farm operations such as marketing, harvesting, transporting, and processing of milk.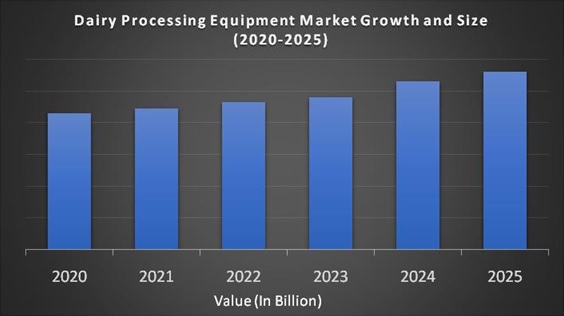 Recent Developments in Dairy Processing Equipment Industry:
In March 2017, Tetra Pak (Switzerland) acquired Johnson Industries International (USA), specialized in the design, development and manufacture of equipment and lines for the production of mozzarella cheese. With this acquisition, we want to expand the company's cheese technology portfolio.

In October 2018, the Krones Group (Germany) acquired W.M Sprinkman Corporation (USA), a company that provides specialized food and beverage processing equipment for the dairy and beer industries.

On September 2, 2016, Krone AG enhanced its dairy processing and production capabilities with a new subsidiary of Milkron GmbH.

Tetra Pak and DeLaval companies of the Tetra Laval Group signed a five-year contract with the China Dairy Products Association to provide advanced machine training to Chinese dairy product managers.
REPORT COVERAGE:
| | |
| --- | --- |
| REPORT METRIC | DETAILS |
| Market Size Available | 2022 – 2028 |
| Base Year | 2022 |
| Forecast Period | 2023 - 2028 |
| CAGR | 5.4% |
| Segments Covered | By Application, Type, Distribution Channel and Region |
| Various Analyses Covered | Global, Regional & Country Level Analysis, Segment-Level Analysis, DROC, PESTLE Analysis, Porter's Five Forces Analysis, Competitive Landscape, Analyst Overview on Investment Opportunities |
| Regions Covered | North America, Europe, APAC, Latin America, Middle East & Africa |
| Market Leaders Profiled | GEA Group, SP Pvt Limited, Alfa Laval Corporate AB, Inoxpa SA, A&B Process Systems, IDMC Limited, Feldmeier Equipment, Inc, Gemak Ltd, Sealtech Engineers, Van den Heuvel Dairy & Food Equipment B.V and Others. |
Dairy Processing Equipment Market Growth:
Increased dairy consumption and increased disposable income are driving the global market for dairy processing equipment.
Drivers:
World market demand is expected to increase as consumption and production of dairy products increases along with increased use of automated production processes. Changes in consumer tastes, needs and preferences for healthy and tasty food are the main driving forces in the market. Technological advances in countries such as Australia, Germany, the Netherlands and India, increased consumption of processed dairy products, and dairy production is likely to improve the market during the forecast period. Growing demand for dairy products and innovations in the packaging industry are some of the key factors that are supposed to fuel the growth of the global dairy processing equipment market in the coming years.
In addition, overall market growth is expected to accelerate in the coming years due to a reduction in raw material costs, an increase in the number of processing plants and a higher demand for improved operating efficiency. Consumer preference for healthy, low-cholesterol, low-fat, low-sugar, and new flavors leads to the rise in the dairy processing equipment market. The main drivers of the global market for dairy processing equipment are the increase in dairy production and changes in consumer tastes and preferences. Also, major dairy manufacturers in the dairy processing equipment market are focusing on new launches, technological advancements, and technologically advanced dairy processing equipment, which are assumed to accelerate the growth of the global market.
Increased disposable income, lifestyle changes, and increased demand for healthy dairy products are presumed to increase the demand for dairy processing equipment. Government initiatives, backed by monetary support through the milk processing industry subsidy, have fueled the consumption of dairy products, feeding them, resulting in massive investments in technological innovation. The adoption of industries such as robotic expertise in milk processing to increase shelf life and flexibility of food will promote the growth of the dairy processing equipment industry. Milk and food processing is a labor-intensive industry that allocates 50% of product costs to labor. Automating repetitive tasks reduces labor requirements with better quality control.
As the prevalence of fast food consumption increases the prevalence of the younger generation, cheese production barrels, vertical cheese presses, and steam-drawing machines are primarily used in cheese production. The United States is the world's largest producer of cheese and produces more than 11 billion pounds. The growth of new, improved milk product formulations with additional nutrition has a positive impact on the demand for dairy processing equipment.
Restraints:
A substantial investment in infrastructure, installation and maintenance can challenge industrial profitability, negatively impacting the trend in market prices for dairy processing equipment. Besides, wastes generated in the form of air pollution from sewage, solid waste, and the milk processing industries may incur additional regulatory costs along with sustainability measures for waste management, acting as a major deterrent.
Dairy Processing Equipment Market Segmentation Analysis:
By Type:
Based on the Type, the Global Dairy Processing Equipment market is segmented into, Homogenizers, Pasteurizers, Separators, Evaporators, Membrane Filtration. Out of these, Pasteurizers emerged as the most significant form of equipment segment in 2018, accounting for more than 27 percent of the total market share, and this trend is expected to continue over the forecast period due to its various applications. Pasteurizes are primarily used to keep the dairy product healthy and to prolong its shelf life. The pasteurizer was designed to provide thermal treatment for milk and other dairy products.
Membrane filtration equipment is commonly used for the handling of milk and other goods. It is primarily used to concentrate raw milk before transport. The concentration of fluid is used to reduce the number of carbohydrates in milk and to kill bacteria during the production process. Some of the main membrane filtration techniques used are microfiltration, ultrafiltration, nanofiltration and reverse osmosis.
By Applications:
Based on the Application, the Global Dairy Processing Equipment market is segmented into, Cheese, Yogurt, Processed Milk, Mild powder, and Proteins. Of these, the processed milk segment is a prominent application with a market share of more than 28 percent in 2016. The section is projected to grow at 6.6 percent CAGR over the forecast period. Australia, New Zealand, India, the Netherlands, and Germany are some of the significant economies involved in the production of raw milk. European countries such as Germany and France are the main contributors to the rising demand for milk processing equipment.
Yogurt is produced by the process of bacterial fermentation of milk. Thanks to its many beneficial nutritional and functional features, the market for yogurt continues to rise. Over the last two decades, yogurt production has been globalized, especially in emerging economies. European dairy companies have primarily influenced the method of making yogurt. Increased demand for yogurt is projected to fuel the dairy processing equipment market over the forecast period.
By Distribution Channel:
Based on the distribution channel, the global dairy processing equipment market is segregated into Supermarkets/Hypermarkets, convenience stores and online stores. Convenience stores and Supermarkets/Hypermarkets are contributing hugely to the worldwide market. However, in the projection period, the online stores are expected to represent the maximum portion due to the increasing eCommerce trade.
Geographical Segmentation Analysis:
North America - the United States and Canada

Europe - United Kingdom, Spain, Germany, Italy, and France

The Asia Pacific - India, Japan, China, Australia, Singapore, Malaysia, South Korea, New Zealand, and Southeast Asia

Latin America - Brazil, Argentina, Mexico, and Rest of LATAM

The Middle East and Africa - Africa and Middle East (Saudi Arabia, UAE, Lebanon, Jordan, Cyprus)
Regional Analysis:
Europe has more than 600,000 dairy farms and 12,000 processing facilities. The dairy sector in regions where about a quarter of world milk production is produced and 27% of world trade plays a vital role in the world dairy economy. The main reason for the elimination of dairy quotas is that dairy consumption has increased significantly, and this increase in use is anticipated to continue in the future. The abolition of quotas was intended to prevent European producers from responding to this growing demand. Increased dairy production and consumption, coupled with increased trade, are foreseen to strengthen the European market for dairy processing equipment during the forecast period.
The Asia-Pacific region has played a potential role in the global market, with significant increases in dairy production and consumption. Due to the rise in disposable income, customer preferences and purchasing patterns are changing, and the demand for the processing equipment industry in this region is renewing. Australia and New Zealand are the leading producers, processors and exporters of products. India is also one of the largest producers of crude oil. The industry in the region has attracted considerable attention from foreign investors. The growing demand in Asia offers a perfect opportunity for public and private investment.
The Brazilian market for dairy processing equipment can witness a steady increase with the increase in the workforce. If the demand for food prepared to meet nutritional requirements increases, local demand will increase.
The North American dairy processing equipment market is anticipated to experience strong growth during the forecast period. The presence of many dairy manufacturers in the region is another factor driving growth in the overall market. In addition, changes in consumer preference for food and rising disposable incomes are supposed to complement market growth in the coming years, especially in emerging economies.
Top Leading Company:
INOXPA is a pioneer in manufacturing world-class sanitary dairy processing equipment.
Key Players in the Market:
Some of the key players of the Global Dairy Processing Equipment market include
GEA Group

SP Pvt Limited

Alfa Laval Corporate AB

Inoxpa SA

A&B Process Systems

IDMC Limited

Feldmeier Equipment, Inc

Gemak Ltd

Sealtech Engineers

Van den Heuvel Dairy & Food Equipment B.V