Food Processing Machinery Market Size, Growth (2023-2028)
The global Food Processing Machinery Market size was valued to be USD 52.37 billion in 2022, and it is estimated to reach a valuation of USD 74.44 billion by the end of 2028, expanding at a CAGR of 6.1% during the forecast period. The urge for processed foods is a notable aspect that is presumed to promote the development of the food processing machinery business.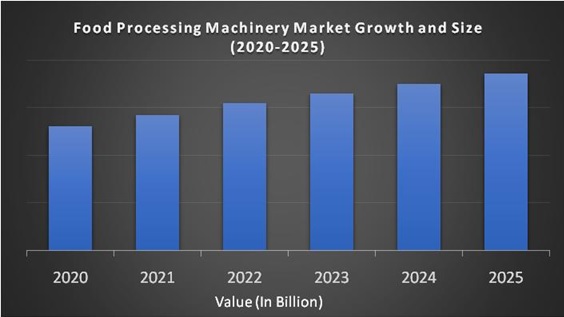 Market Overview:
A food processing machine is a tool that facilitates the commercial production and packaging of various kinds of food, such as meat, baked goods, seafood, poultry, dairy products, drinks, etc. These products are popular worldwide because they are rich in nutrients, stable at room temperature and with low risk of contamination. These exist in a variety of designs, sizes and configurations and can be conveniently operated. Previous traditional tools were designed to perform a single task, but now advanced equipment has been developed that includes multiple processing lines to accommodate continuous and automated tasks. Food manufacturers use food processing equipment to process food using techniques such as mixing, homogenization, pasteurization and filling. Food processing helps remove and preserve toxins. Compared to typical foods, there are many advantages like better taste, low risk of contamination, long shelf life and high portability.
Recent Developments in Food Processing Machinery Industry:
GEA introduced a new SmartPacker CX400 packaging machine in May 2019, with induction sealing for various meat and poultry producers.

In April 2019, GEA launched the GEA S-Tec spiral cooling employment CALLIFREEZE system in the Asian market. This product helps GEA customers meet the strategic requirements of Industry 4.0.

In May 2019, Bosch Packaging Technology, a Bosch subsidiary, launched Pack 403, a fully automated thin horizontal flow wrapper in the European and Asian markets. The company has continuously developed innovative products according to customer needs.

In April 2019, Tetra Pak launched the Connected Packaging platform. Transform milk and juice boxes into interactive information channels, digital tools, and large-scale data carriers.
REPORT COVERAGE:
| | |
| --- | --- |
| REPORT METRIC | DETAILS |
| Market Size Available | 2022 – 2028 |
| Base Year | 2022 |
| Forecast Period | 2023 - 2028 |
| CAGR | 6.1% |
| Segments Covered | By Type, Mode Of Operation, Application and Region |
| Various Analyses Covered | Global, Regional & Country Level Analysis, Segment-Level Analysis, DROC, PESTLE Analysis, Porter's Five Forces Analysis, Competitive Landscape, Analyst Overview on Investment Opportunities |
| Regions Covered | North America, Europe, APAC, Latin America, Middle East & Africa |
| Market Leaders Profiled | Anko Food Machine, Atlas Pacific Engineering Co. Inc, Bean (John) Technologies Corp, Bühler AG, Tetra Laval, GEA , Tomra Systems, Krones, SPX Corp, Berkshire Hathaway Inc and Others. |
Food Processing Machinery Market Growth:
The rise in food production abilities and the boom of the food processing sector in developing nations are touted to support the development of the food and beverage processing machinery market in the coming days.
Drivers:
The world market for food processing machinery is expected to show promising growth during the forecast period. Increased people's perception of the increase in processed food and disposable income are two of the main factors responsible for the growth of the global market for food processing machinery. It is supposed to lead the market as the F&B sector expands rapidly worldwide. Elements like rising disposable income, rapid globalization, and the adoption of automation technologies are beginning to grow this market. As the demand for processed and packaged foods increases as the population grows, the pressure on the processing industry will increase, contributing to the expansion of the market. Changes in health and diet awareness in developing countries, as well as in developing countries, are assumed to spur market growth in the coming years. Additionally, several government agencies are encouraging food processing equipment manufacturers to strengthen their R&D capabilities, which can promote market growth.
Automatic equipment has been in higher demand in recent years than semi-automatic machines. The latest trends like Industry 4.0 and the green revolution in production units allow automation in the food processing sector. It is also supporting market growth. Food safety and standards are vital objectives for value chain participants and must follow strict government regulations and standards. Ready-to-eat meals and snacks are two basic categories of processed foods that increase the demand for processing and packaging equipment. As the popularity of functional beverages increased, the need for equipment used in the production of non-alcoholic and dairy drinks increased.
Food packaging machines are growing consumer preference for hygienic, healthy and safe food by providing durable and aesthetic packaging solutions that can withstand rigorous processing and transportation, and the demand for integrated packaging solutions is increasing. Perform multi-functional tasks like packing, filling, packing, cartoon, cap, label, decorate, palletize, transport, seal, etc. on a single platform. The market has also increased the popularity of sterile packaging equipment as demand for solid food has skyrocketed, and it has been successful in machine manufacturing. Categories like morphology, filling and sealing machines, bottle caps and tray formation have also witnessed significant growth.
Restraints:
The global food processing machinery market is likely to be hampered by restrictions from various governments, such as the Food Safety Modernization Act (FSMA). High cost, along with other government regulatory constraints, is an essential factor that can inhibit growth in target markets to some degree. The main limiting factors in the food and beverage processing equipment market are increased energy and labor costs and increased production costs due to increased demand for organic and fresh food. Equipment such as homogenizers, heaters, and ovens used in the food and beverage processing industry consumes much more energy and power. Automatic machine is considered advanced but requires an uninterruptible power supply to operate efficiently increasing energy costs. In developed nations like the United States, Germany, the United Kingdom, and France, new demand for food among consumers, changes in eating habits, and food safety risks are affecting the food processing industry. Due to the aging population in developed countries, health problems are growing, and they prefer fresh, organic food without synthetic ingredients. These factors are suspected of limiting long-term market growth.
Food Processing Machinery Market Segmentation Analysis:
By Type:
Thermal

Cutting & Peeling

Extraction

Mixer

Blender

Homogenizer
By Mode Of Operation:
Semi-Automatic

Fully Automatic
By Application:
Bakery & Confectioner

Meat

Poultry & Seafood

Dairy

Beverages
Geographical Segmentation Analysis:
North America - the United States and Canada

Europe - United Kingdom, Spain, Germany, Italy, and France

The Asia Pacific - India, Japan, China, Australia, Singapore, Malaysia, South Korea, New Zealand, and Southeast Asia

Latin America - Brazil, Argentina, Mexico, and Rest of LATAM

The Middle East and Africa - Africa and Middle East (Saudi Arabia, UAE, Lebanon, Jordan, Cyprus)
Regional Analysis:
Europe, one of the prominent regions, is expected to show significant growth in the future due to the demand for high-quality systems, and the Asia Pacific is anticipated to be the fastest-growing region for food processing machinery. There is a sharp increase in demand for advanced food processing machines that reduce processing time and improve the efficiency of manufacturing operations. The determined rise in the number of food processing units in the area is considered to enable the supply and intake of food and beverage processing equipment.
The food processing industry in nations, such as China, India, Australia and New Zealand are entirely export-oriented. Furthermore, processing countries are the most important in these countries because they focus on technology adoption and automation. This is estimated to have a positive impact on the region's food processing machinery market. Europe, one of the prominent areas, is deemed to show significant growth in the future due to the demand for high-quality systems. Germany, the Netherlands and Denmark are important regions in Europe. Companies in Europe are also prominent exporters.
Key Players in the Market:
Major Key Players in the Global Food Processing Machinery Market are
Anko Food Machine

Atlas Pacific Engineering Co. Inc

Bean (John) Technologies Corp.

Bühler AG

Tetra Laval

GEA

Tomra Systems

Krones

SPX Corp

Berkshire Hathaway Inc