North America Ancient Grain Market Size Analysis 2021-2026:
North America Ancient Grain Market size was worth USD XX.XX billion in 2020 and estimated to be growing at a CAGR of X.XX%, to reach USD XX.XX billion by 2026. Consumers' taste for superfoods is driving growth in the North American ancient grains market.
Ancient grains refer to the group of grains and pseudocereals which have remained largely unchanged from their domesticated varieties. They have recently come into relevance due to their health benefits and richness in proteins. As for marketing, ancient grains are claimed to be healthier than their modern counterparts.
Ancient grains include the grains Khorasan wheat (Kamut), millet, barley, teff, oats, Farro, einkorn, freekeh, bulgur, sorghum, and emmer; and the pseudocereals quinoa, amaranth, buckwheat, and chia. Even modern wheat is a hybrid descendant of three wheat varieties which are considered to be ancient grains: spelt, einkorn, and emmer.
The major factor affecting the Ancient Grain market is the fact that consumers are shifting towards ancient grains owing to their freshness and earthy nutrition. Consumers are gradually removing heavily processed food items from their diet and looking for healthier alternatives. This along with the rising consumer awareness serves as the major driver for the market. As for the restraints of the market, the relatively higher costs and the lack of awareness in developing and underdeveloped countries are the major setbacks.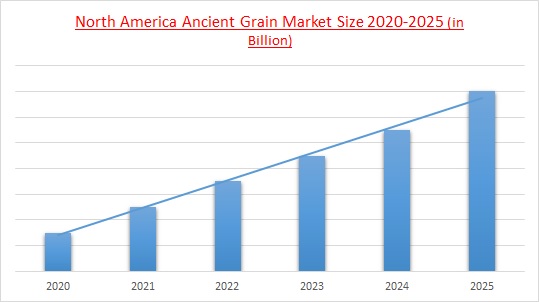 For More Information: Download Sample Report
Recent Developments in North America Ancient Grain Market:
In October 2019, Pipeline Foods, a supply chain Solutions Company focused exclusively on organic products, not G.M.O. and Regenerative Food and Feed, announced on October 29 that it had reached an agreement in principle to acquire the former grain and specialty businesses of Organic Ventures. As part of the acquisition, Organic Ventures President Rick Halverson will join Pipeline Foods as a shareholder. Organic Ventures is the parent company of Great River Organic Milling, based in Arcadia near the Mississippi River in western Wisconsin.

J.M. Smucker Co. has acquired Enray, Inc., a manufacturer, and distributor of organic and gluten-free grain products, based in Livermore, California. Enray's products include sprouted and non-sprouted cereals, pasta, and cookies, most of which are sold under the truRoots brand. The acquisition includes a manufacturing plant in Livermore, California. Enray posted net sales of more than $ 45 million last year, but details of the transaction have not been released.

The Andersons, Inc. acquired the assets of Nu-World Foods of Naperville, Ill. From Tella Atlantic Holdings.

The J. M. Smucker Company announced that it has completed the acquisition of Enray Inc., a privately held company based in Livermore, California. Enray is a leading manufacturer and distributor of premium quality, gluten-free organic ancient grain products, including sprouted and non-sprouted grains, pasta, and cookies, sold primarily under its flagship brand, truRoots®.

Leading US grain trader Archer Daniels Midland Co ADM.N has proposed an acquisition of Bunge Ltd BG.N, according to someone familiar with the approach, potentially triggering a bidding war with Swiss rival Glencore Plc GLEN. Large grain traders who make money buying, selling, storing, and shipping crops have faced a global glut in recent years
Market Drivers and Restraints:
Consumers' taste for superfoods is driving growth in the North American ancient grains market. Increased consumer aversion to cereals and wheat is supposed to benefit the market for pseudo-grains such as amaranth and quinoa. The minimal effort and preconditions for growing chia, amaranth, and quinoa over other grains should boost the local market. Growing consumer health awareness and demand for gluten-free foods and beverages have created a surge in demand for ancient grains. The rising need for organic and natural products from the cosmetic industry is driving the North American markets for chia, amaranth, and quinoa. The high cost of labor and the unavailability of irrigation facilities in many areas pose challenges for the market. Increased consumption and production constraints are causing the prices of pseudo-grains like quinoa and amaranth to skyrocket. An increase in non-genuine, non-organic, and non-commercial varieties of quinoa Soil degradation caused by intensified production will result in lower yields and lower quality chia, quinoa, and amaranth.
Ancient Grain Market Segmentation:
The North America Ancient Grain market can be divided based on the Application and Crop type.
Based on Application:
Bakery

Confectionary

Sports Nutrition

Infant Formula

Cereals

Frozen Food

Others
Based On Crop Type:
Gluten-Free Ancient Grains

Gluten Containing Ancient Grains
Gluten-containing ancient grain is the most widely used crop type, accounting for about 70.34% of the total market share in the review period. However, the gluten-free ancient grain will become increasingly popular in the future. This growth in the gluten-free market can be attributed to increased health awareness among people, with an increased awareness that people are now moving towards healthier alternatives. Gluten can be responsible for osteoporosis (a kind of bone disease) and intestinal damage, which has led many customers to reduce their gluten intake.
Among the applications, the food and beverages segment ranks highly due to the greater number of ancient grain applications. With the production of new healthy bread and whole-grain bread, the segment is supposed to dominate the North American ancient grain market. However, infant formula is the fastest-growing market, which explains the growing acceptance of this product as an alternative to milk and the growing female workforce.
North America Ancient Grain Market Segmentation Analysis:
The North America Ancient Grain market is broadly classified by Applications into Bakery, Confectionery, Sports Nutrition, Infant Formula, Cereals, Frozen Food and Others, and based on Crop Type into Gluten-Free Ancient Grains and Gluten Containing Ancient Grains. Based on geography, the North American market is analyzed under the USA and Canada. The North American market has the largest market share globally in spite of having a low growth rate in recent years. This is expected as the scope for development in the region is quite low and the entrant of new players into the market is not encouraged by the presence of major market players native to the region.
Impact of COVID-19 on North America Ancient Grain Market
The outbreak of the Coronavirus is having a major impact on the international trade of the food sector. The effect in the cereals, pulses, and oilseeds sector is generally less than in other agricultural sectors. However, companies face considerable challenges. COVID-19 has had many effects in this sector, but the impact is generally less than in other agricultural sectors. The other sectors are labor-intensive, deal with perishable products or serve mainly the catering sector. These products are essential ingredients for human and animal nutrition. However, national and regional prices for some commodities increased in April 2020, due to restrictions in internal logistics and panic buying. The supply in this food sector is affected, but less than in sectors that require a lot of labor, such as horticulture. However, the availability of workers is a challenge. Agricultural production of cereals, legumes, and oilseeds is generally highly mechanized. Therefore, it is less dependent on a large workforce. The products are usually collected with harvesters and not by hand.
Leading Company
Ardent Mills had the largest share of the North America Ancient Grain Market in terms of sales and revenue in 2020.
Major Key Players Covered in the Market report are:
The Ancient Grain market is highly competitive with a large number of players. Key market players dominating the market with their products Ardent Mills (U.S.), Snyder's-Lance Inc. (U.S.), Crunchmaster Inc. (U.S.), SK Food International (U.S.), Purely Elizabeth Inc. (U.S.)., Quinoasure Inc. (U.S.), Great River Organic Milling Inc. (U.S.), Urbane Grain Inc. (U.S.), Nature's Path Foods (Canada) and GFB Great Foods (India).
1.Introduction
1.1 Market Definition
1.2 Study Deliverables
1.3 Base Currency, Base Year and Forecast Periods
1.4 General Study Assumptions
2. Research Methodology
2.1 Introduction
2.2 Research Phases
2.2.1 Secondary Research
2.2.2 Primary Research
2.2.3 Econometric Modelling
2.2.4 Expert Validation
2.3 Analysis Design
2.4 Study Timeline
3. Overview
3.1 Executive Summary
3.2 Key Inferences
3.3 Epidemology
4. Drivers, Restraints, Opportunities, and Challenges Analysis (DROC)
4.1 Market Drivers
4.2 Market Restraints
4.3 Key Challenges
4.4 Current Opportunities in the Market
5. Market Segmentation
5.1 Application
5.1.1 Introduction
5.1.2 Bakery
5.1.3 Confectionary
5.1.4 Sports Nutrition
5.1.5 Infant Formula
5.1.6 Cereals
5.1.7 Frozen Food
5.1.8 Others
5.1.9 Y-o-Y Growth Analysis, By Application
5.1.10 Market Attractiveness Analysis, By Application
5.1.11 Market Share Analysis, By Application
5.2 Crop Type
5.2.1 Introduction
5.2.2 Gluten Free Ancient Grains
5.2.3 Gluten Containing Ancient Grains
5.2.4 Y-o-Y Growth Analysis, By Crop Type
5.2.5 Market Attractiveness Analysis, By Crop Type
5.2.6 Market Share Analysis, By Crop Type
6. Geographical Analysis
6.1 Introduction
6.1.1 Regional Trends
6.1.2 Impact Analysis
6.1.3 Y-o-Y Growth Analysis
6.1.3.1 By Geographical Area
6.1.3.2 By Application
6.1.3.3 By Crop Type
6.1.4 Market Attractiveness Analysis
6.1.4.1 By Geographical Area
6.1.4.2 By Application
6.1.4.3 By Crop Type
6.1.5 Market Share Analysis
6.1.5.1 By Geographical Area
6.1.5.2 By Application
6.1.5.3 By Crop Type
6.2 United States
6.3 Canada
7. Strategic Analysis
7.1 PESTLE analysis
7.1.1 Political
7.1.2 Economic
7.1.3 Social
7.1.4 Technological
7.1.5 Legal
7.1.6 Environmental
7.2 Porter's Five analysis
7.2.1 Bargaining Power of Suppliers
7.2.2 Bargaining Power of Consumers
7.2.3 Threat of New Entrants
7.2.4 Threat of Substitute Products and Services
7.2.5 Competitive Rivalry within the Industry
8. Market Leaders' Analysis
8.1 Ardent Mills
8.1.1 Overview
8.1.2 Product Analysis
8.1.3 Financial analysis
8.1.4 Recent Developments
8.1.5 SWOT analysis
8.1.6 Analyst View
8.2 Snyder's Lance
8.3 Crunchmaster
8.4 SK Food International
8.5 Purely Elizabeth
8.6 Quinoasure Inc
8.7 Great River Organic Milling
8.8 Urbane Grain
8.9 Nature's Path Foods
8.10 GFB Great Foods
9. Competitive Landscape
9.1 Market share analysis
9.2 Merger and Acquisition Analysis
9.3 Agreements, collaborations and Joint Ventures
9.4 New Product Launches
10. Market Outlook and Investment Opportunities
Appendix
a) List of Tables
b) List of Figures
Regional and country-level analysis and forecasts of the study market; providing Insights on the major countries/regions in which this industry is blooming and to also identify the regions that are still untapped
Segment-level analysis in terms by Application, By Crop Type along with market size forecasts and estimations to detect key areas of industry growth in detail
Identification of key drivers, restraints, opportunities and challenges (DROC) in the market and their impact on shifting market dynamics
Study of the effect of exogenous and endogenous factors that affect the North america market; which includes broadly demographic, economic and political, among other macro-environmental factors presented in an extensive PESTLE Analysis
Study the micro environment factors that determine the overall profitability of an Industry, using Porter's five forces analysis for analyzing the level of competition and business strategy development
A comprehensive list of key market players along with their product portfolio, current strategic interests, key financial information, legal issues, SWOT analysis and analyst overview to study and sustain the market environment
Competitive landscape analysis listing out the mergers, acquisitions, collaborations in the field along with new product launches, comparative financial studies and recent developments in the market by the major companies
An executive summary, abridging the entire report in such a way that decision-making personnel can rapidly become acquainted with background information, concise analysis and main conclusions
Expertly devised analyst overview along with Investment opportunities to provide both individuals and organizations a strong financial foothold in the market
North America Ancient Grain Market By Application, From 2021-2026 ( USD Billion )
North America Bakery Market By Region, From 2021-2026 ( USD Billion )
North America Confectionary Market By Region, From 2021-2026 ( USD Billion )
North America Sports Nutrition Market By Region, From 2021-2026 ( USD Billion )
North America Infant Formula Market By Region, From 2021-2026 ( USD Billion )
North America Cereals Market By Region, From 2021-2026 ( USD Billion )
North America Frozen Food Market By Region, From 2021-2026 ( USD Billion )
North America Others Market By Region, From 2021-2026 ( USD Billion )
North America Ancient Grain Market By Crop Type, From 2021-2026 ( USD Billion )
North America Gluten Free Ancient Grains Market By Region, From 2021-2026 ( USD Billion )
North America Gluten Containing Ancient Grains Market By Region, From 2021-2026 ( USD Billion )
United States Ancient Grain Market By Application, From 2021-2026 ( USD Billion )
United States Ancient Grain Market By Crop Type, From 2021-2026 ( USD Billion )
Canada Ancient Grain Market By Application, From 2021-2026 ( USD Billion )
Canada Ancient Grain Market By Crop Type, From 2021-2026 ( USD Billion )