Prebiotic Ingredients Market Growth and Forecast (2022 - 2027):
The Global Prebiotic Ingredients Market size was worth US$ 4.07 billion in 2021 and it is determined to reach a valuation of US$ 7.37 billion by 2027 with a compound annual growth rate of 10.4% between 2022 and 2027.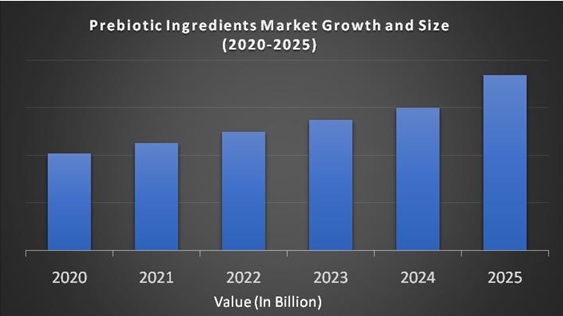 Market Overview:
Prebiotics are carbohydrates that are not digested by enzymes and digestive acids, which enhance the growth or activity of beneficial bacteria in the human intestine. They help improve intestinal barrier function, strengthen the immune system, reduce stomach inflammation, increase overall digestive health, minimize the risk of diarrhea, increase calcium absorption, improve bone density, and reduce risk factors. of cardiovascular disease. Mannan-oligosaccharides (MOS), inulin, fructose-oligosaccharides (FOS), oligosaccharides, galacto-oligosaccharides (GOS) and polydextrose are various types of prebiotic components beneficial to human and animal health. Prebiotic ingredients treat and prevent a variety of health problems, including antibiotic-related diarrhea, inflammatory bowel disease, visible bowel syndrome, allergic conditions such as allergic rhinitis (hay fever), atopic dermatitis (eczema), colic in babies, and necrotizing enteritis. Low birth weight the terms prebiotics and dietary fiber are used instead for eating mechanisms that are not digested by the gastrointestinal tract. Carbohydrates like dietary fiber are possible prebiotics. Prebiotic ingredients affect stomach bacteria by increasing the number of useful anaerobic bacteria and reducing the population of potential pathogenic microorganisms.
Recent Developments in Prebiotic Ingredients Industry:
Friesland Campina acquired shares in Best Cheese Corporation, a US manufacturer and supplier of specialty cheeses in December 2018.
In October 2016, Cargill announced in the Philippines to expand its animal nutrition capabilities to manufacture premixed feed solutions. This has enabled Cargill to meet the growing demand from its domestic customers.
Prebiotic Ingredients Market Growth:
The main factor driving the global prebiotic ingredients market is the growing consumer perception of the health benefits of prebiotics.
REPORT COVERAGE:
| | |
| --- | --- |
| REPORT METRIC | DETAILS |
| Market Size Available | 2021 – 2027 |
| Base Year | 2021 |
| Forecast Period | 2022 - 2027 |
| CAGR | 10.4% |
| Segments Covered | By Ingredients, Type, Application, Source and Region |
| Various Analyses Covered | Global, Regional & Country Level Analysis, Segment-Level Analysis, DROC, PESTLE Analysis, Porter's Five Forces Analysis, Competitive Landscape, Analyst Overview on Investment Opportunities |
| Regions Covered | North America, Europe, APAC, Latin America, Middle East & Africa |
| Market Leaders Profiled | Nestlé, Yakult Honsha Co., Ltd, Chr. Hansen Holding A/S, Danone S.A, Arla Foods, Danisco A/S, Lallemand Inc and Others. |
Drivers:
With the growing demand for healthy foods containing prebiotic ingredients, the market for prebiotic ingredients is expected to grow, mainly in the United States and European countries. In keeping with the trend, processed foods are widely consumed, keeping the gut healthy that friendly bacteria need. The bakery and confectionery sector consume the most emulsifiers, while the meat industry is emerging as a growing segment of the market. Prebiotic ingredients are key ingredients that promote the growth of beneficial bacteria. Market growth is accelerating as consumer awareness of the health benefits of consuming prebiotics increases. These prebiotic ingredients are widely used in digestive health products and provide many benefits related to immunity, weight management, and digestion. Prebiotics can be used to prevent oral health, bacterial vaginosis, and diseases related to the urinary tract. It can also be used to prevent diseases such as respiratory infections, necrotizing enteritis, and intestinal disease. In addition, information on preventive care is available on the Internet, helping to raise awareness. A variety of factors, such as rising disposable income, rising living standards, an aging population, and changing attitudes towards health care, are increasing awareness of preventive care. This growth is particularly due to increased consumer awareness of preventive care, along with increased spending on probiotics in the country. The risk of developing these diseases is particularly high in the elderly population. The prebiotic proves to be a safe and readily available measure to prevent the onset of these diseases.
Increased use of prebiotics in poultry feed to improve digestion, performance and the immune system to enhance overall productivity of animals and versatility of prebiotic components. It can be easily integrated into a wide range of foods and beverages. This trend is expected to continue to drive the global prebiotic ingredients market during the forecast period. The demand for these ingredients is mainly due to increased consumption in the country's dietary supplement market. Prebiotic ingredients are used in food to prevent digestive problems and other health problems. They are beneficial bacteria that are widely used to treat digestive problems, nervous system disorders, and mental illness. Health problems are the result of harmful and busy lifestyles, such as long working hours, mental stress, poor eating habits, excessive food intake, excessive alcohol consumption, and smoking. Prebiotic ingredients are often used in the food industry, such as dairy, confectionery, beverage, processed food, and many other sub-industries. This habit of consumers expecting the growth of the global prebiotic ingredients market. These benefits increase awareness among consumers and drive market growth. Increased intake of prebiotics and fiber-rich functional foods in the food and beverage industry is associated with benefits such as better digestion, less response to stress, better hormonal balance, and a reduction in cardiovascular disease. People are aware of the problems related to health and well-being, and health awareness has become a trend in the region, with the largest number of consumers and food manufacturers that can create huge market opportunities for the prebiotic ingredients.
Restraints:
Despite growing margins in the global prebiotic ingredients market, the high cost required for research on the applicability and safety of prebiotics has limited the market. American market policy has strict rules. However, structural or functional applications are allowed. Manufacturers and distributors face challenges during production and distribution due to strict laws and regulations. The growing demand for prebiotics may allow more players to enter the market, but the high R&D cost of prebiotic ingredients is likely to limit the scalability of the global prebiotic ingredients market.
Impact of COVID 19 on the Prebiotic Ingredients Market:
Since the COVID-19 virus outbreak in December 2019, the disease has spread to nearly 100 countries around the world when the World Health Organization (WHO) declared a public health emergency. The global impact of the coronavirus disease (COVID-19) in 2019 has already begun to be felt and will have a significant impact on the prebiotic ingredients market in 2020.
Prebiotic Ingredients Market Segmentation Analysis:
The market is divided based on ingredients into yeast and bacteria. The bacteria segment has driven the market and is expected to maintain its privileged position during the forecast period. Bacteria are widely used in applications such as probiotic foods and beverages and dietary supplements to provide health benefits for their guests. Widespread awareness of the bacteria has helped segment market demand in recent years, and this trend is expected to continue throughout the forecast period.
By application, the prebiotic food and beverage segment led the market in 2020. The increasing consumption of probiotic products such as yogurt is driving a growing demand for food and beverage applications. Additionally, major industry players are looking to enter into long-term supply agreements to inject proprietary strains into food products at food and beverage companies, especially in regions such as Central and South America.
By type, the global prebiotic ingredients market is divided into oligosaccharides, inulin, and polydextrose. The polydextrose segment is foreseen to develop with a considerable growth rate in the foreseen years.
Based on source, the global market is separated as roots, grains, and vegetables.
Geographical Segmentation Analysis:
North America - the United States and Canada

Europe - United Kingdom, Spain, Germany, Italy, and France

The Asia Pacific - India, Japan, China, Australia, Singapore, Malaysia, South Korea, New Zealand, and Southeast Asia

Latin America - Brazil, Argentina, Mexico, and Rest of LATAM

The Middle East and Africa - Africa and Middle East (Saudi Arabia, UAE, Lebanon, Jordan, Cyprus)
Regional Analysis:
Europe recorded the largest share at 35.5% in the global prebiotic ingredients market in 2018, and the region is expected to remain dominant during the forecast period. The presence of leading companies, high awareness related to the use of prebiotics, and easy availability have supported the demand in this area and are foreseen to continue through the outlook period. Germany ranks first in the foodservice sector in Europe and is one of the main consumers in the market for additives and ingredients, including emulsifiers in the region. The country's bakery and confectionery sector consumes the majority of emulsifiers, while the meat industry is emerging as a growth segment of the market that is expected to lead the market in the future. The Asia Pacific is expected to become the second-largest market after Europe by 2025. The growing preference for functional foods and rising living standards are expected to benefit the local market in the foreseen years.
Key Players in the Market:
Major Key Players in the Global Prebiotic Ingredients Market are
Nestlé

Yakult Honsha Co., Ltd

Chr. Hansen Holding A/S

Danone S.A

Arla Foods

Danisco A/S

Lallemand Inc
1. Introduction
1.1 Market Definition
1.2 Scope of the report
1.3 Study Assumptions
1.4 Base Currency, Base Year and Forecast Periods
2. Research Methodology
2.1 Analysis Design
2.2 Research Phases
2.2.1 Secondary Research
2.2.2 Primary Research
2.2.3 Data Modelling
2.2.4 Expert Validation
2.3 Study Timeline
3. Report Overview
3.1 Executive Summary
3.2 Key Inferencees
4. Market Dynamics
4.1 Impact Analysis
4.1.1 Drivers
4.1.2 Restaints
4.1.3 Opportunities
4.2 Regulatory Environment
4.3 Technology Timeline & Recent Trends
5. Competitor Benchmarking Analysis
5.1 Key Player Benchmarking
5.1.1 Market share analysis
5.1.2 Products/Service
5.1.3 Regional Presence
5.2 Mergers & Acquistion Landscape
5.3 Joint Ventures & Collaborations
6. Market Segmentation
6.1 Prebiotic Ingredients Market, By Type
6.1.1 Oligosaccharides
6.1.2 Inulin
6.1.3 Polydextrose
6.1.4 Market Size Estimations & Forecasts (2022 - 2027)
6.1.5 Y-o-Y Growth Rate Analysis
6.1.6 Market Attractiveness Index
6.2 Prebiotic Ingredients Market, By Application
6.2.1 Food & Beverages
6.2.2 Dietary Supplements
6.2.3 Animal Feed
6.2.4 Market Size Estimations & Forecasts (2022 - 2027)
6.2.5 Y-o-Y Growth Rate Analysis
6.2.6 Market Attractiveness Index
6.3 Prebiotic Ingredients Market, By Ingedients
6.3.1 Yeast
6.3.2 Bacteria
6.3.3 Market Size Estimations & Forecasts (2022 - 2027)
6.3.4 Y-o-Y Growth Rate Analysis
6.3.5 Market Attractiveness Index
6.4 Prebiotic Ingredients Market, By Source
6.4.1 Roots
6.4.2 Grains
6.4.3 Vegetables
6.4.4 Market Size Estimations & Forecasts (2022 - 2027)
6.4.5 Y-o-Y Growth Rate Analysis
6.4.6 Market Attractiveness Index
7. Geographical Landscape
7.1 Global Identity Governance and Administration Market, by Region
7.2 North America - Market Analysis (2022 - 2027)
7.2.1 By Country
7.2.1.1 USA
7.2.1.2 Canada
7.2.2 By Type
7.2.3 By Application
7.2.4 By Ingedients
7.2.5 By Source
7.3 Europe
7.3.1 By Country
7.3.1.1 UK
7.3.1.2 France
7.3.1.3 Germany
7.3.1.4 Spain
7.3.1.5 Italy
7.3.1.6 Rest of Europe
7.3.2 By Type
7.3.3 By Application
7.3.4 By Ingedients
7.3.5 By Source
7.4 Asia Pacific
7.4.1 By Country
7.4.1.1 China
7.4.1.2 India
7.4.1.3 Japan
7.4.1.4 South Korea
7.4.1.5 South East Asia
7.4.1.6 Australia & NZ
7.4.1.7 Rest of Asia-Pacific
7.4.2 By Type
7.4.3 By Application
7.4.4 By Ingedients
7.4.5 By Source
7.5 Latin America
7.5.1 By Country
7.5.1.1 Brazil
7.5.1.2 Argentina
7.5.1.3 Mexico
7.5.1.4 Rest of Latin America
7.5.2 By Type
7.5.3 By Application
7.5.4 By Ingedients
7.5.5 By Source
7.6 Middle East and Africa
7.6.1 By Country
7.6.1.1 Middle East
7.6.1.2 Africa
7.6.2 By Type
7.6.3 By Application
7.6.4 By Ingredients
7.6.5 By Source
8. Key Player Analysis
8.1 Nestlé
8.1.1 Business Description
8.1.2 Products/Service
8.1.3 Financials
8.1.4 SWOT Analysis
8.1.5 Recent Developments
8.1.6 Analyst Overview
8.2 Yakult Honsha Co., Ltd
8.3 Chr. Hansen Holding A/S
8.4 Danone S.A
8.5 Arla Foods
8.6 Danisco A/S
8.7 Lallemand Inc
9. Market Outlook & Investment Opportunities
Appendix
List of Tables
List of Figures
Global Prebiotic Ingredients Market By Region, From 2022 - 2027 ( USD Billion )

Global Prebiotic Ingredients Market By Type, From 2022 - 2027 ( USD Billion )

Global Oligosaccharides Market By Region, From 2022 - 2027 ( USD Billion )

Global Inulin Market By Region, From 2022 - 2027 ( USD Billion )

Global Polydextrose Market By Region, From 2022 - 2027 ( USD Billion )

Global Prebiotic Ingredients Market By Application, From 2022 - 2027 ( USD Billion )

Global Food & Beverages Market By Region, From 2022 - 2027 ( USD Billion )

Global Dietary Supplements Market By Region, From 2022 - 2027 ( USD Billion )

Global Animal Feed Market By Region, From 2022 - 2027 ( USD Billion )

Global Prebiotic Ingredients Market By Ingredients, From 2022 - 2027 ( USD Billion )

Global Yeast Market By Region, From 2022 - 2027 ( USD Billion )

Global Bacteria Market By Region, From 2022 - 2027 ( USD Billion )

Global Prebiotic Ingredients Market By Source, From 2022 - 2027 ( USD Billion )

Global Roots Market By Region, From 2022 - 2027 ( USD Billion )

Global Grains Market By Region, From 2022 - 2027 ( USD Billion )

Global Vegetables Market By Region, From 2022 - 2027 ( USD Billion )