Yogurts Market Size, Growth, Forecast (2023-2028)
The global Yogurts Market size was determined to be USD 11.18 billion in 2022 and is estimated to reach up to USD 14.59 billion by the end of 2028 at a CAGR of 4.5% during the envisioned time. The use of large amounts of yogurt in various cooking recipes, and consuming it as a dessert contributes to the growth of the global yogurt market.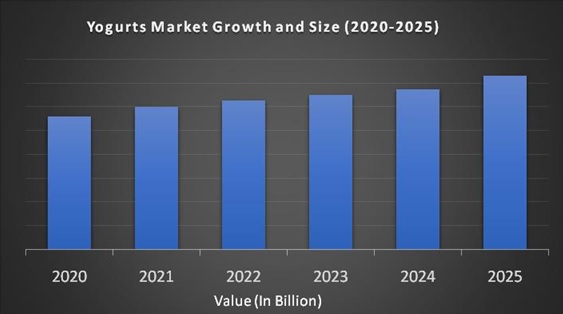 Market Overview:
Yogurt is a flavored food that is made by the homogenization and fermentation of pasteurized milk. It is consumed in a variety of forms, such as drinks, snacks, meal replacements, desserts, protein-rich sports drinks, and other forms. The health benefits associated with consuming yogurt include healthy digestion, reduced risk of type 2 diabetes, colon cancer prevention, prevention and treatment of osteoporosis, improved fat and weight loss, improved immune system, blood pressure high reduced and poor cholesterol. It is a rich source of protein, calcium, vitamins B6 and B12, riboflavin, potassium and magnesium. Because of its high nutritional value, yogurt provides several medicinal benefits. It helps improve immunity, reduces the risk of type 2 diabetes, strengthens bones and teeth, prevents digestion problems, and reduces high blood pressure and bad cholesterol. In recent years, manufacturers have introduced various types of yogurt with probiotic, shake, cream, and lace pulp.
Recent Developments in Yogurts Industry:
The new yogurt brand YQlait YQ, launched in the USA. It is thicker than the traditional yogurt spoon. The unique selling point is that it is made from ultrafiltered milk and is 99% lactose free.

In 2018, Yeo Valley released 'Artist Edition' Baobab & Vanilla Yogurt. Baobab is often promoted for immune health benefits, but as an interest in African cuisine, culture, and ingredients increases, it will be more commonly included in products with energy and clean natural nutrition.

In Italy, Mueller presented a range of yogurt rich in flavors inspired by the world. Mueller San Francisco Cream Cream Yogurt flavored with cheese and raspberry tart "for a dream break in the Bay of San Francisco". Muller cream yogurt with orange and ginger, "walk the streets of marrakech", cream yogurt from santo domingo with coconut flakes and chocolate and "relax on the beach of santo domingo".
REPORT COVERAGE:
| | |
| --- | --- |
| REPORT METRIC | DETAILS |
| Market Size Available | 2022 – 2028 |
| Base Year | 2022 |
| Forecast Period | 2023 - 2028 |
| CAGR | 4.5% |
| Segments Covered | By Product Type, Packaged Containers and Region |
| Various Analyses Covered | Global, Regional & Country Level Analysis, Segment-Level Analysis, DROC, PESTLE Analysis, Porter's Five Forces Analysis, Competitive Landscape, Analyst Overview on Investment Opportunities |
| Regions Covered | North America, Europe, APAC, Latin America, Middle East & Africa |
| Market Leaders Profiled | Danone Groupe SA , Ultima Foods Inc , Chobani Inc, Sodiaal S.A, NESTLÉ SA, General Mills, Kraft Foods Group, Yakult Honsha Co and Others. |
Yogurts Market Growth:
The desire of consumers to increase Internet penetration and the ease of purchasing products is expected to be the driving force behind online shopping in the yogurt market in the near future.
Drivers:
Yogurt is increasingly preferred by health-conscious consumers due to its low fat and sugar content. Makers in this business are providing fortified products that contain vitamins, minerals, and fiber. Leading dairy industry companies are expanding their businesses and expanding their market operations globally. Regular yogurt is readily available in the retail space on the online and offline retail channels at affordable prices. Yogurt consumption can ideally meet the top three consumer product needs for health, mobility and convenience. As a practical alternative to yogurt cups and spoons, yogurt drinks are available in a closing carton pack or with a convenient straw, making them an ideal snack, alternative breakfast, or healthy snack halfway. The increase in digestive disorders promotes the call for probiotic foods in different consumer groups across the world. Yogurt in drink form in multiple flavors is the preferred mostly among various probiotic foods. The market for probiotic food products has emerged as American consumers gradually move to products geared toward digestive health. The global yogurt market is also propelled by the health advantages related to the increasing awareness of people about yogurt intake and weight loss. Other factors supporting market growth are the expansion of retail markets in various regions and lower lactose content in lactose-intolerant patients who do not eat dairy products.
The rise in the call for yogurt in several emerging nations because of the mounting disposable incomes and growth in health awareness is predicted to create extensive growth potential for the extension of the global yogurt market. Many suppliers of national and international raw materials reduce their bargaining power at a low cost. The risk of forwarding integration of suppliers in the market is high, which increases the negotiating power of the supplier. Given the factors, the per capita spending ability is rising and is deemed to remain tight over the calculated period. In addition to the vitamin-fortified, agitated, creamy-pulp-fortified probiotic forms, the availability of nutritious, protein-rich yogurt is expected to fuel the yogurt market during the estimated time. It is also expected to lead the growth of the yogurt market as people are expected to learn about the benefits of yogurt, such as yogurt with good bacteria or probiotics, which strengthens the immune system, provides calcium, and helps fight constipation and diarrhea. The growth of a youth population base with a focus on health, an increasing trend in dual household income, an increase in disposable income and an increase in the demand for organic products are a few of the critical factors promoting the yogurt market globally. The convenient and innovative packaging format offers manufacturers a wide range of growth opportunities. As a result, we are launching products such as self-supply defoamer balls, compressible tubes, and containers with choking caps to minimize spills and minimize potential safety risks.
Restraints:
Artificial additives and ingredients added to yogurt and treating harmful hormones in dairy cows can limit the consumption of yogurt in people.
Yogurts Market Segmentation Analysis:
By Product Type:
Icelandic Yogurt

Australian Yogurt

Traditional Yogurt

Greek Yogurt

Kids Yogurt

Non-Dairy Yogurt

Other Yogurts
By Packaged Containers:
Yogurt Tubs

Yogurt Cups

Yogurt Pouches

Yogurt Bottles
Geographical Segmentation Analysis:
North America - the United States and Canada

Europe - United Kingdom, Spain, Germany, Italy, and France

The Asia Pacific - India, Japan, China, Australia, Singapore, Malaysia, South Korea, New Zealand, and Southeast Asia

Latin America - Brazil, Argentina, Mexico, and Rest of LATAM

The Middle East and Africa - Africa and Middle East (Saudi Arabia, UAE, Lebanon, Jordan, Cyprus)
Regional Analysis:
On the basis of geographical presence, North America is touted to be a notable contributor in the yogurt market followed by Europe. Also, the region is supposed to register as a mature market with a stable growth rate in the following years. In addition to providing low-fat products, the introduction of new flavor flavors can promote the growth of the yogurt market in the region. In developing nations in the Asia-Pacific area, China is determined to rule the local market, followed by India. Moreover, Japan is deemed to record significant growth over the evaluated period. In particular, the rise in intake of flavored yogurt in nations like China and Japan are assessed to fuel the yogurt business in the Asia Pacific locale during the conjecture period. As yogurt is considered as a snack and dessert, Europe has the largest share, followed by Eastern Europe, Latin America and others.
Key Players in the market:
Major Key Players in the Global Yogurts Market are
Danone Groupe SA

Ultima Foods Inc

Chobani Inc.

Sodiaal S.A

NESTLÉ SA

General Mills

Kraft Foods Group, Inc

Yakult Honsha Co.