Astaxanthin Market Size, Growth, Forecast (2023-2028)
The Global Astaxanthin market size was worth US$ 1.0 billion in 2022, and it is estimated to reach a valuation of US$ 3.4 billion by the end of 2028, expanding at an annual compound rate of 16.2% between 2023 and 2028. Astaxanthin is derived mainly from HaematococcusPluvialis microalgae. It has the highest level of astaxanthin and is relatively more sustainable than other sources.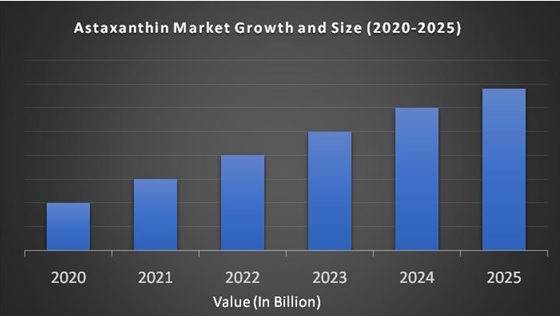 Market Overview:
Astaxanthin belongs to the carotenoids of the xanthophyll category. It is a red pigment that occurs naturally in some algae and has a pinkish color such as salmon, lobster, shrimp, and other seafood. This product is used as a dietary supplement due to its easy availability to provide cardiovascular benefits. This product is 500 times more powerful than vitamin E and is much more effective than other carotenoids like lutein and lycopene. Algae, synthetic and bacterial sources in the form of astaxanthin sources are generally accepted as safe by GRAS. The FDA agreed to increase daily intake in the way of astaxanthin from 7.8 mg to 12 mg. Cyanotech also filed a petition with the FDA for the inclusion of 12mg of BioAstin brand in dietary ingredients.This product provides rapid joint recovery from intense exercise or physical activity and reduces oxidative stress that causes pain or stiffness.
Recent Developments in Astaxanthin Industry:
In June 2018, Iceland-based astaxanthin ingredient and supplement producer Algalif (Reykjanesbaer) introduced the current Icelandic brand of new astaxanthin soft capsules IceCaps and completed astaxanthin dietary supplements in Asia Pacific countries.

In a study conducted in Japan and China in April 2019, a mouse model was used to investigate the use of astaxanthin for skin aging, and it was found that dysregulation of gene expression related to aging was improved.

In 2017 Heliae worked with Syndel Laboratories Ltd. to produce Nymega aquaculture feed ingredients that are expected to be marketed.

In October 2018, BGG and SolixAlgredients (Solix) and AlgaeHealths (AlgaeHealth) announced that AstaZine Natural Astaxanthin has Dispersa, a new technology platform to be used in other BGG products.

In May 2018, Solix and BGG started a joint venture to establish a production plant in Colorado. The company aimed to build a manufacturing scale supercritical fluid carbon dioxide extraction capacity in Colorado.
REPORT COVERAGE:
| | |
| --- | --- |
| REPORT METRIC | DETAILS |
| Market Size Available | 2022 – 2028 |
| Base Year | 2022 |
| Forecast Period | 2023 - 2028 |
| CAGR | 16.2% |
| Segments Covered | By Source, Form, Application, Method of Production and Region |
| Various Analyses Covered | Global, Regional & Country Level Analysis, Segment-Level Analysis, DROC, PESTLE Analysis, Porter's Five Forces Analysis, Competitive Landscape, Analyst Overview on Investment Opportunities |
| Regions Covered | North America, Europe, APAC, Latin America, Middle East & Africa |
| Market Leaders Profiled | Koninklijke DSM N.V., BASF SE, Cyanotech Corporation, Otsuka Pharmaceutical, Valensa International, Fuji Chemical Industries, Divis Laboratories, Beijing Ginko Group, Igene Biotechnology, Piveg, Inc, Fenchem Biotek Ltd, Algatechnologies, Cardax, Inc, Supreme Biotechnologies and Others. |
Astaxanthin Market Growth:
The global astaxanthin market is anticipated to show significant growth during the forecast period as demand for astaxanthin increases in various end-use industries, including pharmaceuticals, cosmetics, food and beverage, aquaculture and animal feed, and diet.
Drivers:
Due to the high cost of hospitalization, the demand for astaxanthin and natural antioxidants is expected to increase with increased nutrition awareness for healthy lifestyles and a higher preference for dietary supplements.
Astaxanthin is considered a potent antioxidant that has been shown to protect human cells from inflammation and oxidation. Astaxanthin anti-inflammatory drugs help reduce pain in the muscles, joints and tendons of patients who have chronic arthritis. Furthermore, the spread of diseases such as diabetes, cardiovascular disease, cancer and cognitive health problems is assumed to lead the market. Astaxanthin, for example, helps increase blood pressure and lower blood sugar, which is common in people with diabetes and blood pressure. Significant technological advances are also critical drivers of the market. Profitable technologies drive the production of synthetic astaxanthin.
Additionally, the closed microalgae culture system is another manufacturing technique that increases performance and reduces waste by minimizing the risks associated with capturing foreign matter, microbial contamination, and agricultural residues. Astaxanthin, in the form of functional food, is also used to prevent the development of chronic diseases, delay the aging process, and improves health. As interest in dermatology has increased, the benefits of astaxanthin for skin homeostasis have been proposed, such as antioxidant, light-shielding, and anti-inflammatory effects. Astaxanthin that is mainly used in the diet of humans is now used as a part of animal feed. It is also becoming an integral part of poultry applications and aqua creatures like shrimp, salmon, trout and others. Its consumption is known to improve many blood parameters that can help with heart disease.
It can help prevent atherosclerosis (blockage of the arteries) by reducing the oxidation of LDL cholesterol and taking a dose of about 6-8 mg a day. It can help increase general blood flow and lower blood sugar in patients with diabetes and blood pressure. Astaxanthin is a potent anti-inflammatory and has more antioxidant properties than vitamin A itself. There is also a market demand for water-soluble forms. This Axtaxanthin property is expected to expand the size of the market during the forecast period. Astaxanthin's functional food and health benefits in the field of dermatology, as various research activities on functional food for health continue to provide more evidence, its demand will witness unprecedented growth in the coming years.
Restraints:
The high cost of production through the extraction process is an essential factor in the trend of high product prices. Strict guidance on the use of products in products for direct human consumption is another problem that negatively affects the growth of the global astaxanthin market.
Astaxanthin Market Segmentation Analysis:
By Source:
Plants

Yeast & Microbes

Marine

Petroleum
By Form:
By Application:
Supplements

Animal Feed

Cosmetics

Food
By Method of Production:
Fermentation

Microalgae Cultivation

Extraction

Chemical Synthesis
Geographical Segmentation Analysis:
North America - the United States and Canada

Europe - United Kingdom, Spain, Germany, Italy, and France

The Asia Pacific - India, Japan, China, Australia, Singapore, Malaysia, South Korea, New Zealand, and Southeast Asia

Latin America - Brazil, Argentina, Mexico, and Rest of LATAM

The Middle East and Africa - Africa and Middle East (Saudi Arabia, UAE, Lebanon, Jordan, Cyprus)
Astaxanthin Market Regional Analysis:
The North American astaxanthin market dominated the entire business in 2019 due to awareness programs by nonprofits and the presence of key market participants. On the other hand, the Asia Pacific astaxanthin market is estimated to show significant growth during the outlook period. Prominent companies in China like InnoBio and BGG are improving their technological features, which is supposed to promote business growth in this area. Also, increased awareness of astaxanthin among health professionals, a large population suffering from malnutrition, and a thriving cosmetic industry that uses organic resources are another critical factor driving the growth of the market.
The Asia Pacific region has been shown to offer great opportunities for astaxanthin players due to the characteristics like the presence of highly active consumers in relation to the aging population, multiple opportunities for healthy ingredients for the aging and changing market conditions, especially growth in sales through online channels in Southeast Asia, which have entered this market at low prices. Several global astaxanthin companies have invested in expanding their reach in the region.
Leading Company:
Algatech Ltd. is a biotech company specializing in commercial cultivation, production and supply of microalgae and AstaPure (natural astaxanthin), and also provides consultation and post-processing for large-scale microalgae cultivation.
Key Players in the Market:
Major Key Players in the Global Astaxanthin Market are
Koninklijke DSM N.V. (Netherlands)

BASF SE (Germany)

Cyanotech Corporation (U.S.)

Otsuka Pharmaceutical Co., Ltd. (Japan)

Valensa International (U.S.)

Fuji Chemical Industries Co., Ltd. (Japan)

Divis Laboratories (India)

Beijing Ginko Group (China)

Igene Biotechnology, Inc. (U.S.)

Piveg, Inc. (U.S.)

Fenchem Biotek Ltd. (U.S.)

Algatechnologies (Israel)

Cardax, Inc. (U.S.)

Supreme Biotechnologies (U.S.)