Carotenoids Market Size, Growth, Forecast (2023-2028)
The global Carotenoids market size was estimated to be USD 1.57 billion in 2022, and it is likely to reach a valuation of USD 2.09 billion by the end of 2028, rising at a CAGR of 4.5% during the forecast period. Greater use of natural carotenoids as a food coloring and innovation in the technology used to extract carotenoids.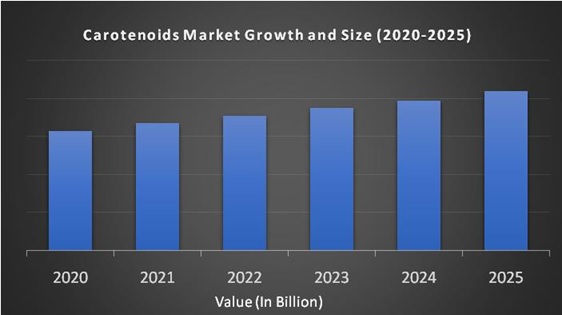 Market Overview:
Carotenoids are plant pigments that exhibit red, yellow, and orange color in many fruits and vegetables. This pigment plays a vital role in plant health. Also, people who eat foods that contain carotenoids protect their health. Carotenoids are also found in plant chloroplasts and chromosomes and other photosynthetic organisms such as some bacteria and fungi. They act as antioxidants in the body, preventing cell damage, the effects of aging, and some chronic diseases. They can assemble into the fat and other basic organic metabolic building blocks of these organisms. Carotenoids are essential for properties like color of carrots, corn, egg yolks, buttercups, canaries, daffodils, and bananas. As an antioxidant, carotenoids are useful for protecting eyesight and fighting cell damage. The carotenoids found in tomatoes help keep the liver, prostate, breast, colon, and lungs healthy.
Recent Developments in Carotenoids Industry:
In March 2019, Kemin Industries launched Organic KEM GLO, and a USDA certified organic carotenoid that helps organic egg producers improve the color of egg yolks. This will help the company take the lead in the carotenoid market.

In April 2019, the Döhler Group was headquartered at Zumos Catalano Aragoneses S.A., based in Spain. (ZUCASA) has acquired the majority of its shares. This will help companies increase their presence in the fruit and carotenoid sectors.

In April 2019, Zhejiang NHU Co. Ltd partnered with LJ Ingredients (Denmark). Through this collaboration, LJ Ingredients is now considered as the exclusive sales agent for the firm's beta-carotene products in Europe.

DDW The Color House took over Du Pont Natural Colors (Denmark) in June 2019, strengthening the company's presence in the global market. This acquisition will help expand your portfolio with new products.

April 2019 ExcelVite Sdn. Bhd., In collaboration with the United States Pharmacopeia, published an original article on plant carotene. It was developed based on the EVTene mixed carotene complex.
REPORT COVERAGE:
| | |
| --- | --- |
| REPORT METRIC | DETAILS |
| Market Size Available | 2022 – 2028 |
| Base Year | 2022 |
| Forecast Period | 2023 - 2028 |
| CAGR | 4.5% |
| Segments Covered | By Type, Application, Sources and Region |
| Various Analyses Covered | Global, Regional & Country Level Analysis, Segment-Level Analysis, DROC, PESTLE Analysis, Porter's Five Forces Analysis, Competitive Landscape, Analyst Overview on Investment Opportunities |
| Regions Covered | North America, Europe, APAC, Latin America, Middle East & Africa |
| Market Leaders Profiled | BASF SE, Brenntag, Kemin Industries, Cyanotech Corp, ExcelVite Sdn. Bhd, Chr. Hansen, D.D. Williamson, Allied Biotech, Divis Laboratories, DSM Nutritional Products, Naturex SA, Lycored and Others. |
Carotenoids Market Growth:
The growing demand for antioxidants, micronutrients, and vitamins will accelerate product adoption in countless end-use applications.
Drivers:
Increased health problems are expected to lead to increased demand for healthy foods and natural foods and increased consumption of supplements. Carotenoids are, in general, organic pigments that are available in several plants and organisms. This product acts as an antioxidant and protects the body from the effects of chronic disease, cell damage, and aging. Due to the increase in health problems and increasing use of dietary supplements, increases the market demand. The main driver of the industry is the importance of carotenoids in the treatment of diabetes, cancer and eye disorders. The health benefits of carotenoids in human food have become increasingly misleading in recent years and are frequently preventing many major health disorders. The higher the carotenoid awareness intake, the more it helps the body rejuvenate by promoting the growth of healthy cells and preventing the growth of unhealthy cells. This has resulted in the growth of the market by increasing the consumption of carotenoids in human food.
The increased demand for animal protein and dairy products will support the growth of the carotenoid market during the forecast period. Carotenoids are included in animal feed to improve the skin color of broilers, such as poultry, fish and shrimp, fish, egg yolks, and crustaceans. Furthermore, the ability of carotenoids to improve fertility and support healthy body functions will further increase penetration into the animal feed sector. As the prevalence of cancer, obesity, and diabetes increased, a paradigm shift toward carotenoid use began. Positive impact due to the application of this product in various end-use sectors like food and beverages, pharmaceuticals, feed, cosmetics, and dietary supplements, is likely to fuel this market boom. Additionally, government efforts to promote a healthy diet to reduce the side effects of diseases caused by obesity will support industrial expansion. As the demand for skincare products increases due to various weather conditions, the use of carotenoids such as phytoene and phytofluene is recommended due to their ultraviolet absorbing properties.
Exposure to UV light is an essential factor in making skin cells cancerous. As awareness of the adverse effects of UV light increases, the demand for carotenoid-enhanced skincare products is supported, accelerating market growth, and the market is driven by substantial investment in research and development of new products. This prompted an investigation of microbial products as a means of obtaining better yields. Overall industrial growth is accelerating with the expansion of production facilities and product innovation. Technological advances in synthetic engineering will support market growth because it can reduce the cost of producing synthetic derivatives.
Restraints:
Strict regulatory and approval standards are expected to disrupt demand for products in the coming years. The expensive unregulated utilization costs and related health risks are suspected of challenging demand for carotenoids in the coming years.
Carotenoids Market Segmentation Analysis:
By Type:
Canthaxanthin

Lutein

Zeaxanthin
By Application:
Food & Beverages

Dietary Supplements

Cosmetics

Animal Feed

Pharmaceuticals
By Sources:
Geographical Segmentation Analysis:
North America - the United States and Canada

Europe - United Kingdom, Spain, Germany, Italy, and France

The Asia Pacific - India, Japan, China, Australia, Singapore, Malaysia, South Korea, New Zealand, and Southeast Asia

Latin America - Brazil, Argentina, Mexico, and Rest of LATAM

The Middle East and Africa - Africa and Middle East (Saudi Arabia, UAE, Lebanon, Jordan, Cyprus)
Regional Analysis:
As demand for clean-label food and health awareness increases, there is the largest carotenoid market in North America and Europe. In addition, in the UK, concerns about food safety are on the rise, pushing manufacturers to adopt clean labels, creating a demand for natural colors. Europe was the leading regional market and is expected to experience steady sales growth as demand for dietary supplements and animal feed increases. The well-established cosmetic industry due to the presence of major manufacturers such as L'Oréal, Unilever, Beiersdorf and Henkel is assumed to be an essential factor influencing growth in the region. The Asia Pacific region is an emerging market, and more and more consumers are taking preventative measures in the form of dietary supplements to prevent disease.
The Asia Pacific region is expected to benefit from the increased use of these additives in the food, supplement, food, pharmaceutical and cosmetic sectors. The business is foreseen to be driven by technological advances, industrial growth, economic growth, and low production costs in countries like China, Japan, and India. Recent changes in consumer lifestyles around the world and food intake have resulted in the development of the carotenoid business in the Asia Pacific area. The growth of the pharmaceutical and energy industries has also experienced substantial growth in South America. The rise in the middle-class population, educational sector growth and surge in disposable income in the area, have improved consumer awareness towards health and advantages of dietary supplements.
Key Players in the Market:
Major Key Players in the Global Carotenoids Market are
BASF SE

Brenntag, Kemin Industries

Cyanotech Corp

ExcelVite Sdn. Bhd

Chr. Hansen

D.D. Williamson

Allied Biotech

Divis Laboratories

DSM Nutritional Products

Naturex SA

Lycored