Beta Carotene Market Size, Growth, Forecast (2023-2028)
The Global Beta Carotene Market size was worth US$ 314.14 billion in 2022, and it is estimated to reach a valuation of US$ 380.37 billion by the end of 2028, rising at an annual compound rate of 3.9% between 2023 and 2028. The growing demand for naturally-derived products in the food and beverage and dietary supplement industries is expected to be a significant driving force in the global market.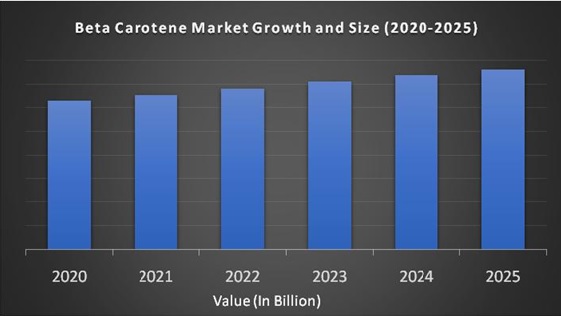 Market Overview:
Beta-carotene is a natural chemical that is responsible for the red-yellow color in various plants. Beta carotene, a natural pigment, is adopted as a food coloring in various food processing industries such as beverage, confectionery, packaged food, etc. Beta carotene is supplied in bulk from the plant, animal, and microbial sources to meet the demand for colorants in various end-use industries. Beta-carotene is rich in antioxidant nutrients, and in recent years there has been an increasing demand for pharmaceuticals and dietary supplements. It is natural retinol, so it is converted to vitamin A during digestion. As a functional component of food and combined processing, there is an increasing demand for beta-carotene in food processing. Beta-carotene is also applied to natural and synthetic cosmetics due to its high concentration of antioxidants and vitamin A. Due to the expansion of applications and the increase in demand, and the beta-carotene market is supposed to increase in value and volume during the forecast period.
Recent Developments in Beta Carotene Industry:
REPORT COVERAGE:
| | |
| --- | --- |
| REPORT METRIC | DETAILS |
| Market Size Available | 2022 – 2028 |
| Base Year | 2022 |
| Forecast Period | 2023 - 2028 |
| CAGR | 3.9% |
| Segments Covered | By Source, Application and Region |
| Various Analyses Covered | Global, Regional & Country Level Analysis, Segment-Level Analysis, DROC, PESTLE Analysis, Porter's Five Forces Analysis, Competitive Landscape, Analyst Overview on Investment Opportunities |
| Regions Covered | North America, Europe, APAC, Latin America, Middle East & Africa |
| Market Leaders Profiled | DSM N.V., BASF SE, CHR Hansen Holding A/S, Foodchem International Corporation, Flavorchem Corporation, Lycored, D.D. Williamson & Co., Inc, BioExtract, Nutralliance, Zhejiang Medicine Co., Ltd and Others. |
Beta Carotene Market Growth:
An aging population and an increase in chronic lifestyle-related diseases help to increase demand for beta-carotene-containing foods and dietary supplements.
Drivers:
The demand for these ingredients in food, feed and personal care products has skyrocketed as consumer awareness of beta-carotene and antioxidants protect against cancer, aging and other health benefits. The industry is presumed to witness incredible growth in the next eight years. The tremendous rise in the adoption of beta-carotene in sectors like food and beverage, personal care, cosmetics, animal feed, dietary supplements and others is likely to promote the business in the coming years. The increasing demand for natural crude carotene products is suspected to accelerate global industrial growth. As the use of beta-carotene to develop natural colors in various foods and beverages has increased, it has become popular with consumers in recent years.
Beta-carotene, along with food and beverages, is gaining considerable attention in dietary supplements as consumer interest in natural and vitamin-mineral rich supplements increases. As consumer demand for organic and natural cosmetics has increased, manufacturers and product developers have started using beta-carotene as a critical ingredient in many cosmetic and personal care products. However, natural beta-carotene has recently been introduced into organic cosmetics. This is presumed to launch new products with natural ingredients such as beta-carotene, which are anticipated to drive growth in the global beta-carotene market during the outlook period. In Europe, beta carotene is the most preferred dye in the food processing industry. Beta-carotene is widely used in the food processing industry as a source of natural colors that provide various shades of red, yellow, and orange. The food processing industry has adopted beta-carotene as a standard colorant for a variety of products such as challenges, dressings, and other food products as demand for natural ingredients and additives increases. Therefore, increasing consumer awareness of the health benefits of natural color sources like beta carotene in recent years is one of the main drivers of the global beta carotene market.
As an organic compound, beta-carotene is most applied in drug development and pharmaceutical processing of carriers. Additionally, beta-carotene is rich in antioxidant nutrients that treat oxidative stress and improve cognitive function. The demand for beta-carotene has increased significantly between drug development and drug manufacturers over the past decade. Therefore, the pharmaceutical consumption of beta-carotene is one of the main driving forces driving the growth of the global beta-carotene market size.
Restraints:
Overuse of these products over a long period has a number of side effects that can cause stool loss, bruising, and joint pain and make the skin orange or yellow. Several studies have shown that taking long-term high-dose supplements can increase the risk of certain types of cancer. Smokers who take these supplements increase their risk of colon, prostate, and lung cancer.
Beta Carotene Market Segmentation Analysis:
By Source:
Syntheric

Algae

Fungi

Palm Oil
By Application:
Pharmaceuticals

Dietary Supplements

Food & Beverage

Animal Feed
Geographical Segmentation Analysis:
North America - the United States and Canada

Europe - United Kingdom, Spain, Germany, Italy, and France

The Asia Pacific - India, Japan, China, Australia, Singapore, Malaysia, South Korea, New Zealand, and Southeast Asia

Latin America - Brazil, Argentina, Mexico, and Rest of LATAM

The Middle East and Africa - Africa and Middle East (Saudi Arabia, UAE, Lebanon, Jordan, Cyprus)
Regional Analysis:
Globally, North America is anticipated to occupy Europe after most of the global beta-carotene market. In the North America beta-carotene market, the United States is supposed to account for the dominant share in the overall revenue, followed by Canada. Increased health awareness among consumers is supposed to fuel the growth of beta carotene in the region. In Europe, Germany and France are likely to occupy a significant share of the beta-carotene market during the forecast period. Europe had become a significant consumer and accounted for more than 35% of world demand in 2015, and the region is experiencing the presence of many producers and consumers of products with the latest technology. Europe is expected to show the same growth trend in the future.
In contrast, the Asia Pacific region is foreseen to post healthy growth by 2020. In the Asia Pacific region, China and Japan are expected to be the main contributors to the global beta-carotene market. The increased use of cosmetics in the area is presumed to support the growth of the beta-carotene market in the region. The Asia Pacific region is expected to witness the fastest growth during the projection period. Growth may be the result of a significant increase in the region's food and beverage, cosmetics and other end-user industries. The presence of small regional players and investments in R&D activities to develop new products are anticipated to have a positive impact on industrial growth.
Leading Company:
The industry is dominated by two large companies, DSM N.V. & BASF SE. These companies are gaining market share by adopting strategies such as mergers and acquisitions, new product development, and collaboration with other industry participants.
Key Players in the Market:
Major Key Players in the Global Beta Carotene Market are
DSM N.V.

BASF SE

CHR Hansen Holding A/S

Foodchem International Corporation

Flavorchem Corporation

Lycored

D.D. Williamson & Co., Inc

BioExtract

Nutralliance

Zhejiang Medicine Co., Ltd