Bean Gum Market Size, Growth, Forecast (2023-2028)
The Global Bean Gum Market size is valued at US$ 348 Million in 2022 and is anticipated to increase at US$ 400 Million by 2028, with a growing CAGR 2.70% of in the next six years. As consumer awareness of health and nutrition increased, interest in natural and organic products such as bean gum increased. The rise in the applications of guar gum because of its multiple features and consumer awareness for healthy foods has promoted growth in the global market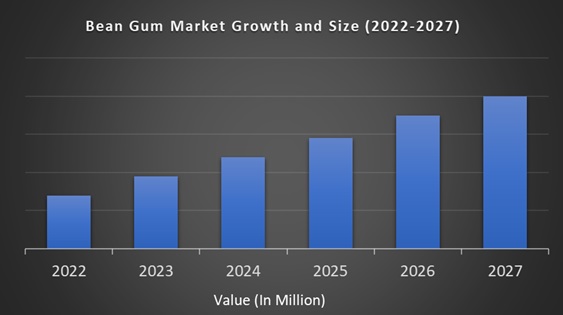 Soy black is alternatively known as Guar Gum, which is an abundant source of high-quality galactose induced polysaccharide that is obtained from guar seeds. However, the product is processed according to the requirements of the end product. Bean powder is more thought of than corn starch; along these lines, it is generally utilized as a thickener, plasticizer, and cover. It has a natural ability to bind water molecules and is easily soluble in water. Bean gum powder is processed and purified to produce the required particle size or grade. Since carob is mainly found in countries of the Mediterranean region, bean gum producers are concentrated in this region and exported to world markets. Bean Gum is extensively used as an additive in foods and in other fields like pharmaceuticals and textiles.
Recent Developments:
In August 2019, immediately following its acquisition of Joyco's business in India as part of its global acquisition of Spanish group Joyco, confectionery company Wrigley reportedly set the tone for its first launch in the country, a sugar-free bubble gum brand called Orbit.

In June 2019, Mars Inc., published about the launch of its renowned brand of chewing gum Juicy Fruit in Indian states.
REPORT COVERAGE:
| | |
| --- | --- |
| REPORT METRIC | DETAILS |
| Market Size Available | 2022 – 2028 |
| Base Year | 2022 |
| Forecast Period | 2023 - 2028 |
| Segments Covered | By Type, Application, End Users, Function, and Region |
| Various Analyses Covered | Global, Regional & Country Level Analysis, Segment-Level Analysis, DROC, PESTLE Analysis, Porter's Five Forces Analysis, Competitive Landscape, Analyst Overview on Investment Opportunities |
| Regions Covered | North America, Europe, APAC, Latin America, Middle East & Africa |
| Market Leaders Profiled | Cargill, Kerry group, Scalzo Food Industries, LBG Sicilia ingredients, G Araouzos & Son, Ceamsa, TIC Gum Incorporation, CP Kelco, Fiberstar, FMC Specialty Chemicals, Gum Technology Corporation, E.I. DuPont De Nemours & Company and Others. |
Global Bean Gum Market Drivers:
The appearance of gluten-free alternatives like silicon fiber and chia seeds is supposed to fuel this business demand. In addition, a fall in prices has affected overall demand in oil and gas exploration activities across the globe. The European Commission as of late cautioned about high use in light of the nearness of dioxin, which debilitates the safe framework. Week after week sends out and gigantic stock burdens may confine development sooner rather than later. Bean Gum is widely used in the food and beverage industry, most often as a thickener, stabilizer, and gelling and emulsifying agent. Bean Gum is identified worldwide as an E410 emulsifier code. Bean Gum is also an efficient binder of water, preventing food synergy. Also, extended features as a result of adding with carrageenan and xanthan to develop a stable gel system have promoted the call for bean gum. Bean Gum suppresses the formation of ice cream, so it is applied to the manufacture of ice cream as a stabilizer that delays the melting of ice cream. Given the nonionic nature of Bean Gum, it is suitable for use in a wide range of pH and is applied to neutral and acidic systems. Bean Gum is a polysaccharide with a chocolate flavor, which gives food a sweet flavor and can be used instead of chocolate. Also, the fact that Bean Gum does not contain gluten has increased the demand for healthy foods. In addition, the organic origin of Bean Gum was an alternative to artificial foods, which helped increase demand with natural food additives. The oil industry uses Bean Gum to thicken the final product.
In the textile and paper industry, bean gum is used as a finishing agent and thickener. The bean gum market will be dominated mainly by the food industry. Increased penetration of this product in the pharmaceutical sector is supposed to accelerate the demand for global bean gum market growth. In addition, the aging populace and the hike the spread of non-communicable diseases are driving the expansion of the pharmaceutical industry, encouraging the consumption of bean gum products. Product prices depend mainly on raw materials, demand and supply costs. Demand and supply are influenced by several basic factors, such as the availability of alternatives, current market trends, and the growth of the consumer industry. Future strategic approaches and current exchanges likewise influence variances in item costs for the time being. The global bean gum market is widely applied in various industries such as the paper, food and beverage, oil and gas, pharmaceutical, mining and textile industries, showing great growth in the near future. The oil and gas industry is a major consumer of guar gum, which positively improves market growth. The business is also accelerating with changes in consumer lifestyles and increased consumption of prepared foods in developing countries such as Mexico, China, Brazil, and India. The rapid growth of the pharmaceutical industry and the appearance of technological advances will accelerate the growth of the market in the coming years.
Global Bean Gum Market Restraints:
The market faces difficulties in production and irregularities due to dependence on sufficient rain crops. Uncertainty in the supply of raw materials is one of the main causes of fluctuations in product prices, which can lead to other economically viable alternatives in industries such as food processing and textiles. By contrast, soybeans are seasonal trees that do not find demand, limiting the growth of the guar gum market worldwide.
Global Bean Gum Market Segmentation Analysis:
By Type:
Guar Gum

Locust Bean Gum

Gum Arabic

Tara Gum

Gellan Gum

Other gums
By Application:
Fruit Juices

Soft Drinks

Bread and Pastry

Baby Foods

Confectionaries

Ice Creams

Other food items
By End Users:
Food and Beverages

Pharmaceuticals

Paper

Textile

Cosmetics

Oil drilling fluids
By Function:
Stabilisation

Texturing

Coating

Gelling

Fat replacer
Geographical Segmentation Analysis:
North America - the United States and Canada

Europe - United Kingdom, Spain, Germany, Italy, and France

The Asia Pacific - India, Japan, China, Australia, Singapore, Malaysia, South Korea, New Zealand, and Southeast Asia

Latin America - Brazil, Argentina, Mexico, and Rest of LATAM

The Middle East and Africa - Africa and Middle East (Saudi Arabia, UAE, Lebanon, Jordan, Cyprus)
Regional Insights:
North America had the largest volume share, reaching 44.0%. The United States accounted for a substantial portion of the North American bean gum market, with the rising oil and gas exploration activities across the area. The same trend is likely to follow in the coming years because of the presence of massive technically recoverable oil and gas sources. The expansion in the number of oil stages in the United States is one of the primary elements in the development of the territorial market. This has resulted in increased demand for products, leading to higher prices. Besides, the initiatives of the United States government to reinforce local exploration activities are likely to boost this market growth. The food processing sector is among the prominent consumers of bean gum in the European Union. The weight-loss benefits associated with this product are predicted to accelerate demand in this business. Despite disappointing exploration results and a lack of investment in the oil and gas sector, exploration drilling in Europe is expected to resume in 2018, increasing product consumption. Similarly, the increasing population, hike in disposable income, and urbanization in the Asia-Pacific has increased the intake of processed foods. As a result, the demand for products in the region is increasing. China and India are expected to become major consumers due to the rapid growth of oil and gas exploration activities and the presence of vast technologically recoverable resources.
Key Players in the Market:
Major Key Players in the Global Bean Gum Market are
Cargill

Kerry group

Scalzo Food Industries

LBG Sicilia ingredients

G Araouzos & Son

Ceamsa

TIC Gum Incorporation

CP Kelco

Fiberstar

FMC Specialty Chemicals

Gum Technology Corporation

E.I. DuPont De Nemours & Company