Cheese Market Analysis Report:
Cheese Market was valued at USD 69.8 billion in 2019. The market is estimated to reach USD 112.9 billion by 2025, at a growth rate of 8.4% during the forecast period 2021-2026.
Cheese has been a native of southern Italy and becomes a part of various pizzas and pasta dishes. Consumption of cheese has various health advantages as it is a rich source of minerals, proteins, and vitamins. In addition to various benefits, there are various health problems associated with its consumption, such as heart attacks. Cheese has been in the history of our world for almost 7,000 years and can be obtained from raw or pasteurized milk. Classified as the main source of protein and healthy fats, it is now an integral part of specialized diets, such as the ketosis diet. Cheese production goes through several imperative stages, such as curd, coagulation with proteins such as casein and whey, fermentation, maturation, etc.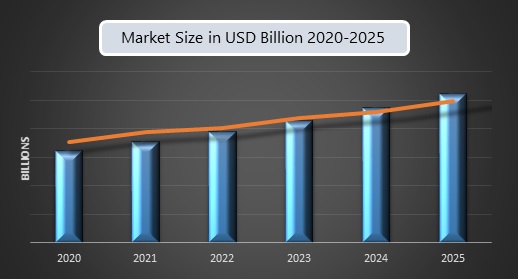 Global Cheese Industry Recent Developments:
Tofurky has launched a vegan cheese brand. This new brand included three flavors of vegan cheese such as mozzarella, cheddar, and fiesta, with flavors like plain, garden, and strawberry.

Arla foods announced that it acquired a kraft branded cheese business in the Middle East and Africa from Mondelez international.
Market Drivers and restraints:
Fast-food chains like McDonald's and Domino's Pizza have successfully created a pizza and burger culture around the world. Both products are topped with cheese and are also sold at subsidized prices, attracting consumers to the dishes. The most crucial trend in the progression of the cheese market reached the Asian market, which was non-existent for quite some time. China, for example, has been booming with a high demand for cheese since fast-food chains took over the Chinese taste buds. Chinese producers are now struggling to meet the demand for snowballs and are vigorously exporting cheese. As the world moves towards an exponential increase in urbanization, it can be established that households with disposable incomes multiply. This leads to frequent visits to supermarkets and the increasing use of exotic products. With a recent wave of fitness that has already engulfed the world's top countries, people are turning to home cooking using ingredients like cheese that are marketed as a healthy source of protein and fat. Cheese is a staple of the ketosis diet that has gained popularity and spreads the benefits of cheese consumption.
Veganism, which should be the first food trend in 2018, encourages people to innovate and develop alternative and healthier products that taste similar to cheese but do not have any adverse effects on the environment. The cheese market has caught up with the latest trend, as vegan cheese is selling hard worldwide. Veganism has resulted in a condition of herbal diets that easily incorporate vegan cheese. The demand for this product is motivated by its craft appeal and its biological nature. The cheese has a short shelf life, so it is advisable to consume it more quickly. The increasing demand and production of cheese along with its short shelf life have led to a perpetual waste of cheese. Expansive flavors arriving in our supermarkets, consumers prefer exotic flavors to traditional cheeses. This leads to a steady drop in sales and consumption of traditional cheeses. About 1.3 billion pounds of American cheese like Cheddar is in American warehouses that could be missed. This challenge can only be overcome if companies drive innovation in the cheese market and modify the quality of their products according to consumer needs.
Cheese Market Detailed Segmentation Analysis:
The global cheese market is segmented by Product, Type, Source, Distribution Channel, and Region.
Based on Source:
By source, the global cheese market is divided into cow milk, goat milk sheep milk, and buffalo milk. Cow milk is further divided into whole milk and skimmed milk. Cow milk dominated this segment as skimmed milk is more used for the production of cheese. The cow milk was valued for the largest revenue of USD 1310.5 million in 2016. This is due to the presence of protein and fat in cow milk gives flavor and texture to the cheese. And cow's milk pasteurized by heating at a normal temperature and then rapidly cooling it. Hot milk is harmful to bacteria.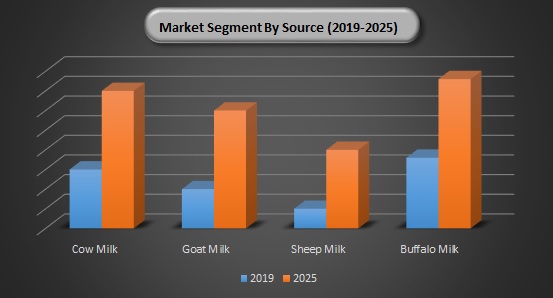 Based on Type:
By Type, the global cheese market is divided into natural cheese and processed cheese. Natural cheese is further categorized into hard cheese and soft cheese while the processed cheese is divided into spreadable cheese and block cheese. Processed spreadable cheese is expected to dominate this segment during the outlook period.
Based on Product:
By product, the global cheese market is classified into feta, parmesan, mozzarella, cheddar, Roquefort, and others. Mozzarella cheese is dominating this segment because the increasing demand for food rich in protein and calcium has raised the demand for mozzarella cheese. After mozzarella cheese, feta cheese shows the largest growth in this segment as it is exported internationally. In Greek, feta consumers involved the food industry, supermarket chains, and smaller retailers and wholesalers.
Based on Distribution Channels:
By distribution channels, the global cheese market is divided into supermarkets, food specialty stores, convenience stores, hypermarkets, online, and others.
Regional Share Insights:
The global Cheese market has been classified on the basis of geography as North America, Asia Pacific, Europe, Latin America, and the Middle East and Africa.
Europe contributed as the largest cheese market, posting a compound annual rate of around 2.0%, due to strong demand in France, Finland, Denmark, Germany, and other countries. Asia-Pacific is the fastest rising region, followed by LAMEA, owing to advanced cheese consumption in numerous developing economies. The Mexican cheese market was valued at $ 1,856 million in 2016 and is anticipated to reach $ 2,216 million by 2023, registering a CAGR of 2.5% during the forecast period.
Cheese flows in European tradition and is added to almost every dish in most homes. The Indian cheese market is foreseen to post notable growth as one of the most significant pizza markets, sourcing from mozzarella cheese. Due to the increasing consumption of cheese in India, several global companies such as Kraft Cheese and Fromageries Bel and Arla Cheese have begun to conquer the Indian market. The major cheese factory in India is retained and functioned by Go Cheese and is situated in Manchar, a small district in Maharashtra. According to the company, the cheese market has expanded its presence, supplying not only hotels and restaurants but also street vendors.
Top Major Leading Companies in the Global Cheese Market are:
Mother Dairy

Almarai

Bega Cheese

Cady Cheese Factory

Amul

Parag Milk Foods

Hook's Cheese Company

Bel Group

Brunkow Cheese Factory

Bletsoe Cheese

Kraft and Burnett Dairy
Leading Company:
America's Dairyland is the largest producer of cheese produced company in the world as well as it takes the largest share globally.
1.Introduction
1.1 Market Definition
1.2 Study Deliverables
1.3 Base Currency, Base Year and Forecast Periods
1.4 General Study Assumptions
2. Research Methodology
2.1 Introduction
2.2 Research Phases
2.2.1 Secondary Research
2.2.2 Primary Research
2.2.3 Econometric Modelling
2.2.4 Expert Validation
2.3 Analysis Design
2.4 Study Timeline
3. Overview
3.1 Executive Summary
3.2 Key Inferences
3.3 Epidemology
4. Drivers, Restraints, Opportunities, and Challenges Analysis (DROC)
4.1 Market Drivers
4.2 Market Restraints
4.3 Key Challenges
4.4 Current Opportunities in the Market
5. Market Segmentation
5.1 Product
5.1.1 Introduction
5.1.2 Fresh & Processed cheese
5.1.3 Cheese spreads
5.1.4 Flavored and specialty cheese
5.1.5 Y-o-Y Growth Analysis, By Product
5.1.6 Market Attractiveness Analysis, By Product
5.1.7 Market Share Analysis, By Product
5.2 Process
5.2.1 Introduction
5.2.2 Mozzarella Cheese
5.2.3 Cheddar Cheese
5.2.4 Y-o-Y Growth Analysis, By Process
5.2.5 Market Attractiveness Analysis, By Process
5.2.6 Market Share Analysis, By Process
5.3 Source
5.3.1 Introduction
5.3.2 Goat Milk Cheese
5.3.3 Cow Milk Cheese
5.3.4 Y-o-Y Growth Analysis, By Source
5.3.5 Market Attractiveness Analysis, By Source
5.3.6 Market Share Analysis, By Source
6. Geographical Analysis
6.1 Introduction
6.1.1 Regional Trends
6.1.2 Impact Analysis
6.1.3 Y-o-Y Growth Analysis
6.1.3.1 By Geographical Area
6.1.3.2 By Product
6.1.3.3 By Process
6.1.3.4 By Source
6.1.4 Market Attractiveness Analysis
6.1.4.1 By Geographical Area
6.1.4.2 By Product
6.1.4.3 By Process
6.1.4.4 By Source
6.1.5 Market Share Analysis
6.1.5.1 By Geographical Area
6.1.5.2 By Product
6.1.5.3 By Process
6.1.5.4 By Source
6.2 North America
6.1.1 Introduction
6.1.2 United States
6.1.3 Canada
6.3 Europe
6.2.1 Introduction
6.2.2 U.K
6.2.3 Spain
6.2.4 Germany
6.2.5 Italy
6.2.6 France
6.4 Asia-Pacific
6.3.1 Introduction
6.3.2 China
6.3.3 India
6.3.4 Japan
6.3.5 Australia
6.3.6 South Korea
6.5 Latin America
6.4.1 Introduction
6.4.2 Brazil
6.4.3 Argentina
6.4.4 Mexico
6.4.5 Rest of Latin America
6.6 Middle East & Africa
6.5.1 Introduction
6.5.2 Middle-East
6.5.3 Africa
7.Strategic Analysis
7.1 PESTLE analysis
7.1.1 Political
7.1.2 Economic
7.1.3 Social
7.1.4 Technological
7.1.5 Legal
7.1.6 Environmental
7.2 Porter's Five analysis
7.2.1 Bargaining Power of Suppliers
7.2.2 Bargaining Power of Consumers
7.2.3 Threat of New Entrants
7.2.4 Threat of Substitute Products and Services
7.2.5 Competitive Rivalry within the Industry
8.Market Leaders' Analysis
8.1 Mother Dairy
8.1.1 Overview
8.1.2 Product Analysis
8.1.3 Financial analysis
8.1.4 Recent Developments
8.1.5 SWOT analysis
8.1.6 Analyst View
8.2 Almarai
8.3 Bega Cheese
8.4 Cady Cheese Factory
8.5 Amul
8.6 Hook's Cheese Company
8.7 Brunkow Cheese Factory
9.Competitive Landscape
9.1 Market share analysis
9.2 Merger and Acquisition Analysis
9.3 Agreements, collaborations and Joint Ventures
9.4 New Product Launches
10.Market Outlook and Investment Opportunities
Appendix
a) List of Tables
b) List of Figures
Regional and country-level analysis and forecasts of the study market; providing Insights on the major countries/regions in which this industry is blooming and to also identify the regions that are still untapped
Segment-level analysis in terms of by Process, by Product along with market size forecasts and estimations to detect key areas of industry growth in detail
Identification of key drivers, restraints, opportunities, and challenges (DROC) in the market and their impact on shifting market dynamics
Study of the effect of exogenous and endogenous factors that affect the global market; which includes broadly demographic, economics, and political, among other macro-environmental factors presented in an extensive PESTLE Analysis
Study the micro environment factors that determine the overall profitability of an Industry, using Porter's five forces analysis for analysing the level of competition and business strategy development
A comprehensive list of key market players along with their product portfolio, current strategic interests, key financial information, legal issues, SWOT analysis and analyst overview to study and sustain the market environment
Competitive landscape analysis listing out the mergers, acquisitions, collaborations in the field along with new product launches, comparative financial studies and recent developments in the market by the major companies
An executive summary, abridging the entire report in such a way that decision-making personnel can rapidly become acquainted with background information, concise analysis and main conclusions
Expertly devised analyst overview along with Investment opportunities to provide both individuals and organizations a strong financial foothold in the market
Global Global Cheese Market By Region, From 2021-2026 ( USD Million )
Global Global Cheese Market By Product, From 2021-2026 ( USD Million )
Global Fresh & Processed cheese Market By Region, From 2021-2026 ( USD Million )
Global Cheese spreads Market By Region, From 2021-2026 ( USD Million )
Global Flavored and specialty cheese Market By Region, From 2021-2026 ( USD Million )
Global Global Cheese Market By Process, From 2021-2026 ( USD Million )
Global Mozzarella Cheese Market By Region, From 2021-2026 ( USD Million )
Global Cheddar Cheese Market By Region, From 2021-2026 ( USD Million )
Global Global Cheese Market By Source, From 2021-2026 ( USD Million )
Global Goat Milk Cheese Market By Region, From 2021-2026 ( USD Million )
Global Cow Milk Cheese Market By Region, From 2021-2026 ( USD Million )
North America Global Cheese Market By Product, From 2021-2026 ( USD Million )
North America Fresh & Processed cheese Market By Region, From 2021-2026 ( USD Million )
North America Cheese spreads Market By Region, From 2021-2026 ( USD Million )
North America Flavored and specialty cheese Market By Region, From 2021-2026 ( USD Million )
North America Global Cheese Market By Process, From 2021-2026 ( USD Million )
North America Mozzarella Cheese Market By Region, From 2021-2026 ( USD Million )
North America Cheddar Cheese Market By Region, From 2021-2026 ( USD Million )
North America Global Cheese Market By Source, From 2021-2026 ( USD Million )
North America Goat Milk Cheese Market By Region, From 2021-2026 ( USD Million )
North America Cow Milk Cheese Market By Region, From 2021-2026 ( USD Million )
United States Global Cheese Market By Product, From 2021-2026 ( USD Million )
United States Global Cheese Market By Process, From 2021-2026 ( USD Million )
United States Global Cheese Market By Source, From 2021-2026 ( USD Million )
Canada Global Cheese Market By Product, From 2021-2026 ( USD Million )
Canada Global Cheese Market By Process, From 2021-2026 ( USD Million )
Canada Global Cheese Market By Source, From 2021-2026 ( USD Million )
Europe Global Cheese Market By Product, From 2021-2026 ( USD Million )
Europe Fresh & Processed cheese Market By Region, From 2021-2026 ( USD Million )
Europe Cheese spreads Market By Region, From 2021-2026 ( USD Million )
Europe Flavored and specialty cheese Market By Region, From 2021-2026 ( USD Million )
Europe Global Cheese Market By Process, From 2021-2026 ( USD Million )
Europe Mozzarella Cheese Market By Region, From 2021-2026 ( USD Million )
Europe Cheddar Cheese Market By Region, From 2021-2026 ( USD Million )
Europe Global Cheese Market By Source, From 2021-2026 ( USD Million )
Europe Goat Milk Cheese Market By Region, From 2021-2026 ( USD Million )
Europe Cow Milk Cheese Market By Region, From 2021-2026 ( USD Million )
U.K. Global Cheese Market By Product, From 2021-2026 ( USD Million )
U.K. Global Cheese Market By Process, From 2021-2026 ( USD Million )
U.K. Global Cheese Market By Source, From 2021-2026 ( USD Million )
Germany Global Cheese Market By Product, From 2021-2026 ( USD Million )
Germany Global Cheese Market By Process, From 2021-2026 ( USD Million )
Germany Global Cheese Market By Source, From 2021-2026 ( USD Million )
France Global Cheese Market By Product, From 2021-2026 ( USD Million )
France Global Cheese Market By Process, From 2021-2026 ( USD Million )
France Global Cheese Market By Source, From 2021-2026 ( USD Million )
Italy Global Cheese Market By Product, From 2021-2026 ( USD Million )
Italy Global Cheese Market By Process, From 2021-2026 ( USD Million )
Italy Global Cheese Market By Source, From 2021-2026 ( USD Million )
Spain Global Cheese Market By Product, From 2021-2026 ( USD Million )
Spain Global Cheese Market By Process, From 2021-2026 ( USD Million )
Spain Global Cheese Market By Source, From 2021-2026 ( USD Million )
Asia-Pacific Global Cheese Market By Product, From 2021-2026 ( USD Million )
Asia-Pacific Fresh & Processed cheese Market By Region, From 2021-2026 ( USD Million )
Asia-Pacific Cheese spreads Market By Region, From 2021-2026 ( USD Million )
Asia-Pacific Flavored and specialty cheese Market By Region, From 2021-2026 ( USD Million )
Asia-Pacific Global Cheese Market By Process, From 2021-2026 ( USD Million )
Asia-Pacific Mozzarella Cheese Market By Region, From 2021-2026 ( USD Million )
Asia-Pacific Cheddar Cheese Market By Region, From 2021-2026 ( USD Million )
Asia-Pacific Global Cheese Market By Source, From 2021-2026 ( USD Million )
Asia-Pacific Goat Milk Cheese Market By Region, From 2021-2026 ( USD Million )
Asia-Pacific Cow Milk Cheese Market By Region, From 2021-2026 ( USD Million )
Japan Global Cheese Market By Product, From 2021-2026 ( USD Million )
Japan Global Cheese Market By Process, From 2021-2026 ( USD Million )
Japan Global Cheese Market By Source, From 2021-2026 ( USD Million )
China Global Cheese Market By Product, From 2021-2026 ( USD Million )
China Global Cheese Market By Process, From 2021-2026 ( USD Million )
China Global Cheese Market By Source, From 2021-2026 ( USD Million )
India Global Cheese Market By Product, From 2021-2026 ( USD Million )
India Global Cheese Market By Process, From 2021-2026 ( USD Million )
India Global Cheese Market By Source, From 2021-2026 ( USD Million )
Australia Global Cheese Market By Product, From 2021-2026 ( USD Million )
Australia Global Cheese Market By Process, From 2021-2026 ( USD Million )
Australia Global Cheese Market By Source, From 2021-2026 ( USD Million )
South Korea Global Cheese Market By Product, From 2021-2026 ( USD Million )
South Korea Global Cheese Market By Process, From 2021-2026 ( USD Million )
South Korea Global Cheese Market By Source, From 2021-2026 ( USD Million )
Latin America Global Cheese Market By Product, From 2021-2026 ( USD Million )
Latin America Fresh & Processed cheese Market By Region, From 2021-2026 ( USD Million )
Latin America Cheese spreads Market By Region, From 2021-2026 ( USD Million )
Latin America Flavored and specialty cheese Market By Region, From 2021-2026 ( USD Million )
Latin America Global Cheese Market By Process, From 2021-2026 ( USD Million )
Latin America Mozzarella Cheese Market By Region, From 2021-2026 ( USD Million )
Latin America Cheddar Cheese Market By Region, From 2021-2026 ( USD Million )
Latin America Global Cheese Market By Source, From 2021-2026 ( USD Million )
Latin America Goat Milk Cheese Market By Region, From 2021-2026 ( USD Million )
Latin America Cow Milk Cheese Market By Region, From 2021-2026 ( USD Million )
Brazil Global Cheese Market By Product, From 2021-2026 ( USD Million )
Brazil Global Cheese Market By Process, From 2021-2026 ( USD Million )
Brazil Global Cheese Market By Source, From 2021-2026 ( USD Million )
Argentina Global Cheese Market By Product, From 2021-2026 ( USD Million )
Argentina Global Cheese Market By Process, From 2021-2026 ( USD Million )
Argentina Global Cheese Market By Source, From 2021-2026 ( USD Million )
Mexico Global Cheese Market By Product, From 2021-2026 ( USD Million )
Mexico Global Cheese Market By Process, From 2021-2026 ( USD Million )
Mexico Global Cheese Market By Source, From 2021-2026 ( USD Million )
Rest of Latin America Global Cheese Market By Product, From 2021-2026 ( USD Million )
Rest of Latin America Global Cheese Market By Process, From 2021-2026 ( USD Million )
Rest of Latin America Global Cheese Market By Source, From 2021-2026 ( USD Million )
Middle East & Africa Global Cheese Market By Product, From 2021-2026 ( USD Million )
Middle East & Africa Fresh & Processed cheese Market By Region, From 2021-2026 ( USD Million )
Middle East & Africa Cheese spreads Market By Region, From 2021-2026 ( USD Million )
Middle East & Africa Flavored and specialty cheese Market By Region, From 2021-2026 ( USD Million )
Middle East & Africa Global Cheese Market By Process, From 2021-2026 ( USD Million )
Middle East & Africa Mozzarella Cheese Market By Region, From 2021-2026 ( USD Million )
Middle East & Africa Cheddar Cheese Market By Region, From 2021-2026 ( USD Million )
Middle East & Africa Global Cheese Market By Source, From 2021-2026 ( USD Million )
Middle East & Africa Goat Milk Cheese Market By Region, From 2021-2026 ( USD Million )
Middle East & Africa Cow Milk Cheese Market By Region, From 2021-2026 ( USD Million )
Middle East Global Cheese Market By Product, From 2021-2026 ( USD Million )
Middle East Global Cheese Market By Process, From 2021-2026 ( USD Million )
Middle East Global Cheese Market By Source, From 2021-2026 ( USD Million )
Africa Global Cheese Market By Product, From 2021-2026 ( USD Million )
Africa Global Cheese Market By Process, From 2021-2026 ( USD Million )
Africa Global Cheese Market By Source, From 2021-2026 ( USD Million )