Vegan Cheese Market Value, Size, Growth(2022-2027)
Vegan Cheese Market size was worth US$ 2,240 million in 2021 and is predicted to have the US$ 4,425.6 million by 2027 and register a CAGR of 15.5% during 2022-2027.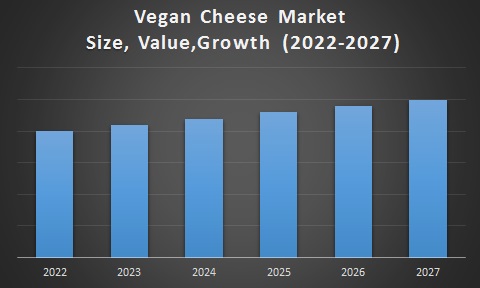 Vegan Cheese Market Scenario:
Lactose- and easily digestible cheese is nothing but vegan. Soy milk, almond milk, rice milk, as well as additional sources including peanut milk, coconut milk, and others are used to make vegan cheese, which is totally made of plant-based components. A few of the factors influencing the rise of the worldwide vegan sector include customer desire for environmentally friendly, animal-free sources of protein, increased consumer concern about the use of antibiotics, allergies, and hormones, and worries about animal welfare. The global vegan cheese market is growing as a result of the widespread usage of vegan cheeses in fast food snacks, bakeries, and confectioneries.
REPORT COVERAGE:
| | |
| --- | --- |
| REPORT METRIC | DETAILS |
| Market Size Available | 2021 – 2026 |
| Base Year | 2021 |
| Forecast Period | 2022 - 2027 |
| CAGR | 15.5% |
| Segments Covered | By Source, Application, Product Type and Region |
| Various Analyses Covered | Global, Regional & Country Level Analysis, Segment-Level Analysis, DROC, PESTLE Analysis, Porter's Five Forces Analysis, Competitive Landscape, Analyst Overview on Investment Opportunities |
| Regions Covered | North America, Europe, APAC, Latin America, Middle East & Africa |
| Market Leaders Profiled | Daiya Foods Inc, Galaxy Nutritional Foods Inc, Violife Foods, Kite Hill Cheese, Tofutti Brands Inc, Bute Island Foods Ltd, Follow Your Heart, Uhrenholt A / S, Angel Food, Miyoko's Kitchen, Punk Rawk Labs, Vtopian Artisan Cheeses and Others. |
Vegan Cheese Market Drivers:
The vegan cheese market is expanding as veganism becomes more and more popular, particularly among millennials. Consumers are being pushed to choose plant-based goods due to rising awareness of animal cruelty and the damaging effects the dairy sector has on the environment. A significant portion of the population is switching to a plant-based diet, which is fueling the growth of the vegan consumer goods industry. Growing customer demand for plant-based dairy products has caused producers to move quickly as a result of growing public awareness of animal cruelty and the negative environmental effects of a carnivorous diet. The majority of cheese consumed worldwide is made from dairy. Demand for plant-based vegan cheese has increased as the vegan market expands. Changes in consumer eating preferences and emerging trends in the food and beverage industries are driving the demand for vegan cheese on a global scale. Due to the rise in cases of lactose intolerance and other food-related allergies in both children and adults, consumer food preferences have changed recently.
Vegan Cheese Market Restraints:
Major changes in the food and beverage industry are anticipated to result from the arrival of the COVID-19 pandemic. The global vegan cheese market is anticipated to have slow growth, particularly in 2020 as consumer demand keeps falling, as a result of the ongoing health problem. As significant food displays and events are cancelled or delayed and restaurants continue to be closed due to the lockdown, demand for vegan cheese is also anticipated to decline. Brands are also expected to thoroughly examine the situation and address any financial issues brought up by the COVID-19 event. While it's possible that vegan cheese manufacturing will pick up again in the second half of 2020, it's expected that large brands will diversify their revenue streams and use e-Commerce platforms to boost sales and market share. In these difficult circumstances, brands are also expected to focus on logistics channels and work their way through them to find the best supply chain models.
Recent Developments in the Global Vegan Cheese Market:
Upfield released the vegan cheese line Violife in the Middle East. The product line is a dairy replacement that is allergen-free and comes in slices, boxes, and grated forms in two tastes, such as cheddar and mozzarella.

Violife, the top vegan cheese brand in the UK, has introduced two new flavours namely Tex Mex Flavour Grated and round Mozzarella Flavour Slices. The Mozzarella Flavour slices may be used in a sandwich or salad and are reported to stretch like regular mozzarella. The spicy Tex Mex Flavour is perfect for recipes like chilli and fajitas.
Global Vegan Cheese Market Segmentation:
By Product:
Mozzarella

Cheddar

Parmesan

Ricotta

Cream Cheese
Over 30.0% of the total revenue in 2021 came from the mozzarella segment, which is anticipated to continue to lead during the projection period in the global vegan cheese market. In Italian dishes including spaghetti, pizza, croquettes, and Caprese salad, mozzarella is widely used in the form of slices, cubes, shredded cheese, and spreads. The demand for mozzarella is especially high in countries where Italian food is popular. Ricotta is anticipated to experience the fastest CAGR of 14.0% over the course of the forecast period. This product's expanding range of uses in Italian cuisines like manicotti, lasagna, roll-ups, high tea, and ravioli has been driving demand and boosting category growth.
By Source:
The cashew segment had the highest revenue share of more than 35.0% in 2021, and it is anticipated that it will continue to hold a prominent place for the duration of the forecast. Vegan cheese made from cashews is low in fat and contains vitamins B2 and B12. This makes it popular with people that care about their health all over the world. Due to its health advantages, gluten-free and cholesterol-free cashew products are also becoming more popular.
The soy segment is anticipated to grow at the fastest rate, 13.1%, between 2022 and 2027. Soy milk is an affordable alternative to dairy and contains a perfect ratio of healthy fatty acids and amino acids. As a result, it is an economical choice for large-scale vegan cheese makers. Additionally, because soy-based cheese is simple to melt, it is becoming more popular among customers.
By End Use:
A revenue share of more than 50.0% put the B2C market segment in first place in 2021. Because of reasons like rising consumer disposable income levels and their willingness to spend on high-end items, the demand for plant-based products in the B2C sector has increased. The straightforward accessibility of goods in supermarkets and convenience stores has also contributed to the growth of this market.
Vegan Cheese Market Regional Analysis:
UAE

Israel

KSA

South Africa

Egypt
More than 35.0% of global revenue was generated in Europe in 2021, and this region will continue to hold the top spot throughout the coming years. Consumers are progressively adopting more environmentally friendly and vegan goods as a result of rising awareness of animal cruelty and the region's growing carbon footprint brought on by the use of commodities produced from animals, such as milk, honey, eggs, beef, pig, and seafood.
With a CAGR of 14.1% from 2022 to 2027, Asia Pacific is predicted to have the quickest rate of growth among all regions. The increased demand for plant-based baking and confectionery products in the Asia Pacific region is predicted to increase sales of the product. China, Japan, and Australia are the main proponents of the Asia Pacific vegan cheese market's growth.
Vegan Cheese Market Key Players:
Violife Foods

Daiya Foods

Tyne Chease Limited

Vtopian Artisan Cheese Company

Kite Hill

Miyoko's Kitchen Company

Vermont Farmstead Company

Good Planet Foods

Follow Your Heart

Galaxy Nutritional Foods, Inc.