Cheese Ingredients Market Size, Growth, Forecast (2023-2028)
The Global Cheese Ingredients Market Size was worth US$ 87.1 billion in 2022, and it is estimated to reach a valuation of US$ 102.2 billion by the end of 2028, expanding at an annual compound rate of 3.24% between 2023 and 2028. The growth of this market is proportional to the growth of the cheese industry.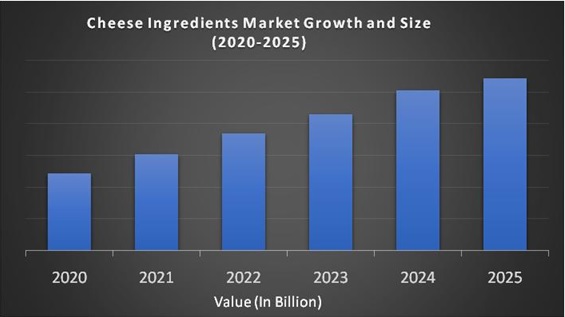 Market Overview:
Cheese is considered a complex dairy product when it comes to the manufacturing process. The cheese-making process includes chemical, biochemical and microbiological procedures. The whole process is different, such as acidifying milk packaging, coagulation and milk storage. Overall, there are almost 400 different cheeses, made from various sources of milk. Cheese is often considered one of the most complex dairy products, including chemical, biochemical, and microbial processes.
Recent Developments in Cheese Ingredients Industry:
In November 2019, Koninklijke DSM N.V. announced that it had contracted the acquisition of CSK Food Enrichment, a dairy solutions provider and one of the key players in the cheese ingredients market.

In October 2019, Arla Foods announced that it had opened a state-of-the-art cheese production plant in the Kingdom of Bahrain to help ensure a steady increase in demand for dairy in the Middle East and North Africa (MENA).

April 2019 Chr. Hansen launches CHY-MAX® Supreme, an innovative coagulant with outstanding functionality for the latest cheesemakers, helping to deliver more excellent business benefits by offering higher yields and faster, more accurate production.

In September 2018, DuPont completed a merger with Dow Chemical Company. The merger was expected to operate as a holding company under the name DowDuPont, along with the Department of Agriculture, Materials Science and Specialty Products.

November 2017 Chr. Hansen developed a series of second-generation FreshQ crops to expand its product portfolio. With the help of this product, dairy products can rely on natural freshness to help reduce food waste.

In November 2017, Fonterra announced the expansion of Waitoa's UHT site to respond to increased demand for milk and cream products.
REPORT COVERAGE:
| | |
| --- | --- |
| REPORT METRIC | DETAILS |
| Market Size Available | 2022 – 2028 |
| Base Year | 2022 |
| Forecast Period | 2023 - 2028 |
| CAGR | 3.24% |
| Segments Covered | By Cheese Type, Ingredients and Region |
| Various Analyses Covered | Global, Regional & Country Level Analysis, Segment-Level Analysis, DROC, PESTLE Analysis, Porter's Five Forces Analysis, Competitive Landscape, Analyst Overview on Investment Opportunities |
| Regions Covered | North America, Europe, APAC, Latin America, Middle East & Africa |
| Market Leaders Profiled | Fonterra Co-operative Group, Chr. Hansen Holding A/A, E. I. du Pont de Nemours and Company, Koninklijke DSM N.V., Archer Daniels Midland Company, CSK Food Enrichment and Others. |
Cheese Ingredients Market Growth:
Applying cheese to a variety of foods, including hamburgers and pizzas, is a crucial factor in positively driving growth in the global cheese ingredients market.
Drivers:
The market is fueled by increased demand for cheese, a key ingredient in the fast-food industry. In addition, factors such as the rapid growth of the fast-food industry are supposed to increase the demand for cheese, which will increase the demand for cheese ingredients. Also, consumer conversion to vegan food consumption is assumed to influence market growth. As the demand for dairy products in emerging countries such as India and China increases and the preference for natural cheese increases in developed countries, world cheese production increases significantly. The industry offers a wide range of cheeses in terms of texture, flavor, and taste, and the properties of these cheeses largely depend on the raw materials used in their manufacture. The food and dairy industries worldwide are undergoing significant changes driven by rapid technological advancements. New technologies, such as Ultra High-Temperature Processing (UHT), have made milk safe, sterile, stable, and shelf-friendly, but cheese production is rapidly evolving to keep up with demand every growing.
The global desire for cheese as ingredients continues to increase, driving significant growth in the cheese ingredients market. As the demand for cheese has increased due to the westernization of eating habits and the rise of mobile culture, a window of opportunity has opened in the cheese ingredients market. In terms of innovation, flavor and research are at the forefront of positive trends in the cheese ingredient space. As the busy consumer lifestyle paves the way for processed foods, cheese ingredient makers must get ahead of products that differentiate themselves from the competition. Popular trends like clean labels, organic, vegan and health awareness are expected to influence the development of the global cheese ingredient market. Consumption of processed cheese continues to be a significant growth impact for the cheese ingredient market among consumers as a snack option, especially in developing countries such as China and India.
The demand for cheese has increased significantly in recent years due to the rapid number of service outlets and the rapid adoption of gastronomic culture in these countries. Besides, the Indian cheese market represents approximately 45% of the total dairy market, and as a result, demand for cheese ingredients is presumed to increase. Stakeholders are seeking further developing markets from a manufacturing point of view, given the relatively large amounts of milk production in these countries.
Restraints:
Consumption of cheese made from crude oil poses a significant challenge to the growth of the world market for cheese ingredients due to the association of various microbial contaminations leading to health problems. Obesity, high cholesterol, and heart disease are the main conditions associated with consuming processed cheese. Rennet, preservatives, emulsifiers and other chemicals used in cheese production processes can have a detrimental effect on the body. In the United States, certain types of cheese have caused foodborne gastroenteritis, food sensitivity, lactose intolerance, allergies, and high-calorie content. Consumers now know the link between these diseases and cheese. This factor makes it difficult for various cheese and ingredient manufacturers to exceed and meet the needs of healthy food customers.
Cheese Ingredients Market Segmentation Analysis:
By Cheese Type:
Processed Cheese

Natural Cheese
By Ingredients:
Cultures

Enzymes

Additives
Geographical Segmentation Analysis:
North America - the United States and Canada

Europe - United Kingdom, Spain, Germany, Italy, and France

The Asia Pacific - India, Japan, China, Australia, Singapore, Malaysia, South Korea, New Zealand, and Southeast Asia

Latin America - Brazil, Argentina, Mexico, and Rest of LATAM

The Middle East and Africa - Africa and Middle East (Saudi Arabia, UAE, Lebanon, Jordan, Cyprus)
Regional Analysis:
By region, the market is divided into North America, Europe, Asia Pacific and South America, and RoW (South Africa and the Middle East). Large-scale milk production in Asian countries has resulted in low-cost, mass cheese production in Korea. North America cheese ingredients market dominated the revenue share and was the largest producer and exporter of cheese, making it the largest market in the world. As disposable income and urbanization increase, the growth of the fast-food industry is foreseen to increase the growth of the market.
Due to increasing demand in China, New Zealand, Australia and Japan, the market for cheese ingredients in the Asia Pacific region is growing. Australia and New Zealand constituted the largest domestic market in the Asia Pacific cheese ingredients market. Furthermore, the market is winning through favorable government initiatives and economic improvements. The rapid expansion of the cheese market in the Asia Pacific region may also contribute to the spread of the fast-food business throughout the region. Meal patterns and lifestyle changes have enhanced the cheese ingredient market by providing creative profitability for the cheese business.
Key Players in the Market:
Major Key Players in the Global Cheese Ingredients Market are
Fonterra Co-operative Group

Chr. Hansen Holding A/A

E. I. du Pont de Nemours and Company

Koninklijke DSM N.V.

Archer Daniels Midland Company

CSK Food Enrichment