Beta-Glucan Market Size, Growth, Share, Trends | 2022-2027
The Global Beta-Glucan Market size was worth US$ 410.5 million in 2021 and is anticipated to reach the valuation of US$ 630.5 million by 2027 and register a CAGR of 7.8% during 2022-2027.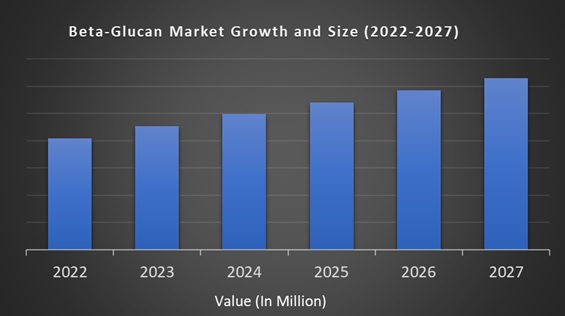 Market Scenario:
In nature, beta-glucan can be found in the cell walls of cereal grains, baker yeast, mushrooms, and other organisms. This is a natural substance obtained from plants that has been scientifically demonstrated to benefit human and animal health in a variety of ways, including maintaining the immune system, lowering blood sugar levels in the human body, and more. Beta-beneficial glucan's offerings are specifically designed to meet the changing nutritional diets and requirements of global consumers, and it has developed a strong association with a variety of applications in the global market place, including dietary supplements, functional food, personal care, and others.
The global beta-glucan market is primarily driven by consumers' rising preference for plant-derived foods and food ingredients that can meet nutrient needs and improve nutrient consumption in their daily diet.
In the next six years, the global beta-glucan market is expected to be driven and fueled by the growing global population, increased awareness of the importance of nutrition, and breakthrough extraction methods.
Recent Developments in the Global Beta-Glucan Industry:
Tate & Lyle PLC, established in the United Kingdom, is a global manufacturer of specialty food ingredients and solutions. Its manufacturing facility in Kimstad, Sweden, has formally inaugurated its enlarged capacity of oat ingredients.
REPORT COVERAGE:
| | |
| --- | --- |
| REPORT METRIC | DETAILS |
| Market Size Available | 2021 – 2027 |
| Base Year | 2021 |
| Forecast Period | 2022 - 2027 |
| CAGR | 7.8% |
| Segments Covered | By Source, Application, Category and Region |
| Various Analyses Covered | Global, Regional & Country Level Analysis, Segment-Level Analysis, DROC, PESTLE Analysis, Porter's Five Forces Analysis, Competitive Landscape, Analyst Overview on Investment Opportunities |
| Regions Covered | North America, Europe, APAC, Latin America, Middle East & Africa |
| Market Leaders Profiled | Cargill Inc, Tate & Lyle Plc, Kerry Group Plc, Koninklijke DSM N.V, Frutarom, Garuda International Inc, Ohly GmbH, Milliporesigma, Super Beta Glucan, Lesaffre Human Care and Others. |
Global Beta-Glucan Market Drivers:
The rapid rise of the nutraceutical sector around the world boosted the global beta-glucan market.
Consumers are incorporating functional foods and other dietary supplements into their normal diet in novel ways to meet their nutritional needs. The demand for such nutrient-added food products is fast increasing among consumers who are following a healthy diet, such as athletes, gym-goers, and other health-conscious people. Manufacturers of nutraceuticals are focusing on providing and formulating a wide range of natural supplements infused with beta glucan advantages, primarily to boost the gastrointestinal and immune health of the body. For the past several years, the increased use of beta glucan in the manufacturing process has been attributed to the growing popularity of the go-green trend and plant-derived food components around the world. Beta glucan's future expansion in the global marketplace is assured by the anticipated of the upcoming environment and rising need for such nutrient-infused supplements.
Because of its positive health benefits, beta-glucan is becoming increasingly popular around the world, resulting in an extension of its end-user range, which includes pharmaceuticals, cosmetics, and other products. To address the increased demand among end-users, manufacturers must introduce more and more diverse beta glucan. Oat is one of the most widely used sources of beta glucan in the world. In recent years, oat production has increased around the world, and its ample availability is one of the major causes motivating manufacturers to increase overall beta glucan output in the worldwide market.
Manufacturers are also revamping products to lower cholesterol, sugar, fats (both trans-fat and saturated), and sodium. They're moving away from artificial additives and toward goods that are high in protein, fibre, and other functional elements. These advances have also resulted in an increase in per capita expenditure in major North American and European countries, indicating that consumers are spending more on health and wellness than in previous years. Therefore, it is further estimated to increase the global beta-glucan market growth in the next six years.
Global Beta-Glucan Market Restraints:
The beta-glucan market is regulated by a variety of regulatory organizations that vary by area. Distinct countries have different laws addressing extraction, processing, formulation, and end-product manufacture. The use of beta-glucan in pharmaceuticals, as well as food and beverages, is hampered by the fact that health claims vary by country. End-product manufacturer claims and labelling standards are likewise governed and monitored by the rules. Despite the fact that Europe is the principal market for beta-glucan products, health claim regulations were standardized in late 2007 under art.13 and art.14 – Regulation of January 19th, 2007. Only beta-glucan isolated from oats is suitable for health-related claims, as oats are one of the key sources of greater beta-glucan content than yeast and barley. Therefore, these factors further acts as the major restraints in the global beta glucan market during the forecast period.
Geographical Segmentation Analysis:
North America - the United States and Canada

Europe - United Kingdom, Spain, Germany, Italy, and France

The Asia Pacific - India, Japan, China, Australia, Singapore, Malaysia, South Korea, New Zealand, and Southeast Asia

Latin America - Brazil, Argentina, Mexico, and Rest of LATAM

The Middle East and Africa - Africa and Middle East (Saudi Arabia, UAE, Lebanon, Jordan, Cyprus)
Global Beta-Glucan Market Segmentation Analysis:
By Source:
Mushroom

Cereal

Yeast

Seaweed
The global beta-glucan market is expected to be dominated by the grains and cereals segment. Beta-glucan, a glucose polymer found in the cell walls of cereals such as oats and barley, is one form of fibre that has recently gained attention. Cereal beta-glucans are dietary fibres found largely in oats and barley that are thought to provide a number of health benefits. Lowering the postprandial glucose response and improving blood cholesterol levels are two examples.
Cereal is the most abundant source of beta-glucan. Because they contain the most beta-glucan, oats and barley are the most common sources. 3 g of beta-glucans are found in 1.5 cups of cooked oats or three packets of instant oatmeal; 2.5 g of beta-glucans are found in 1 cup of cooked pearl barley. Cereal beta-glucans cause viscosity in the intestine, which is regarded to be the key mechanism of action for their beneficial health effects, further enhancing the use of cereal and grains as one of the major beta-glucan sources.
By Application:
Personal care

Food & Beverages

Pharmaceuticals

Dietary supplements

Animal Feed
Based on application, the dietary supplements category is expected to develop at the fastest CAGR in the global beta-glucan market in the next six years. The demand for beta-glucan in dietary supplements has been sparked by a rise in knowledge of the health benefits associated with the use of dietary supplements, as well as an increase in the number of health-conscious clients. Some dietary supplements are used in the pharmaceutical business to treat a variety of disorders and also play an active part in health maintenance.
By Category:
In the global beta-glucan market, the soluble sector is expected to increase at a faster rate. Fruit, vegetables, oats, barley, and pulses like beans, lentils, and peas all contain soluble beta-glucan in large amounts. It is a nutritious substance that is used for its benefits in improving a person's intestinal health. In the colon, it creates a gel that aids in the digestion and absorption of carbohydrates, particularly glucose. Beta-glucan also helps to maintain blood sugar levels, preventing decreases at regular intervals that can be life-threatening in the elderly. Oats, which are a big carrier of healthy cholesterol, include soluble beta-glucan fibre, which inhibits oils from being reabsorbed into the bloodstream, which further decreases the chance of liver and heart diseases.
Global Beta-Glucan Market Regional Analysis:
The Global Beta-Glucan Market Report includes the segmentation of Regions:
North America is one of the world's most important markets for beta glucan's utility and consumption in a various applications, including functional foods, dietary supplements, nutritional drinks, medicinal uses, and more. The region's growing obese population, as well as their growing health worries, are two significant factors driving them to prefer nutritional medication.

Asia Pacific is the fastest-growing region in the world, with enormous potential for beta glucan, and has had the fastest growth rate. The beta glucan market in the region is being driven by two primary pillars: the rapid expansion of pharmaceutical industries and the growing food and beverage sectors.
Impact of COVID-19 on Global Beta-Glucan Market:
As the world's most mature and competitive industry, it has long reaped the benefits of several unpriced environmental and social externalities. In recent years, there has been a shift toward include environmental impacts into the genuine cost of food. However, the pandemic is highlighting the importance of societal forces. With stakeholders and the supply chain (including customers and regulators) demanding change, food and beverage firms' long-term sustainability and financial performance will be determined, at least in part, by their ability to manage these expectations and address these challenges.
Key Players in the Market:
Major Key Players in the Global Beta-Glucan Market are
Cargill Inc.

Tate & Lyle Plc

Kerry Group Plc.

Koninklijke DSM N.V.

Frutarom

Garuda International Inc.

Ohly GmbH

Milliporesigma

Super Beta Glucan

Lesaffre Human Care