Healthy Snacks Market Growth and Forecast (2020-2025):
The global Healthy Snacks Market size was worth US$ 23.05 billion in 2020, and it is estimated to reach a valuation of US$ 32.88 billion by the end of 2025, rising at an annual compound rate of 5.2% between 2020 and 2025. The trend towards increasing consumption of mobile snacks has been increased in recent years.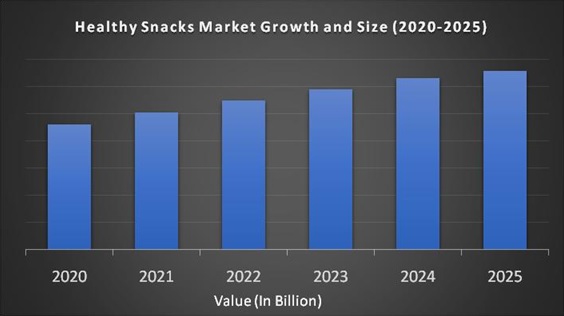 Market Overview:
Snacks became a vital part of your diet to help you get essential nutrients and maintain your body's energy levels. Snacks are small portions of food or drinks that are consumed between regular meals. A healthy snack is a type of bag that is low in sodium and low in sugar, vitamins, nutrients, and saturated fat. Healthy snacks are high in fiber and protein and help maintain energy levels throughout the day. Healthy snacks include hard-boiled eggs, whole grains, seeds, nuts, vegetables, fruits, and low-fat dairy products. Eating snacks is a big part of your diet, so it has a big impact on your health.
Healthy snacks have a number of benefits, including resistance to weight gain, suppressing the need for additional food, strengthening the brain, and promoting health. Healthy snacks also provide an effective alternative to essential nutrients like vitamins, minerals, carbohydrates, fiber, and protein in your diet. Snacks can always be eaten before or after meals, so avoid overeating during meals.
Recent Developments in Healthy Snacks Industry:
September 2019: Tyson Foods, Inc. launched a new Pact® brand that offers functional benefits, a refrigerated snack.

October 2018: PepsiCo, Inc. announces the acquisition of US-based nutrition company Health Warrior, Inc., expanding its presence in the nutritional bars category.

In February 2017, the Kellogg Kashi company launched Chewy Nut Butter Bars. This gluten-free bar is made from real nut kernels and kinds of butter.

In February 2017, Kellogg's Special K launched Special K Nourish and Protein Snack Bites. This product is added to various snacks and portable snacks.
REPORT COVERAGE:
| | |
| --- | --- |
| REPORT METRIC | DETAILS |
| Market Size Available | 2019 – 2025 |
| Base Year | 2019 |
| Forecast Period | 2020 - 2025 |
| CAGR | 5.2% |
| Segments Covered | By Product and Region |
| Various Analyses Covered | Global, Regional & Country Level Analysis, Segment-Level Analysis, DROC, PESTLE Analysis, Porter's Five Forces Analysis, Competitive Landscape, Analyst Overview on Investment Opportunities |
| Regions Covered | North America, Europe, APAC, Latin America, Middle East & Africa |
| Market Leaders Profiled | Nestlé S.A, PepsiCo, Kellogg Company, Tyson Foods, General Mills, Hormel Foods Corporation, Kind LLC, B&G Foods, The Hain Celestial Group, Calbee, Select Harvests and Others. |
Healthy Snacks Market Growth:
As consumer-related health problems increase, the demand for healthy snacks is increasingly focused on healthy eating habits.
Drivers:
Increased consumer interest in the nutritional value of products such as high vitamins and protein and low calories has benefited the market. The increasing need for snacks along the way, coupled with higher customer spending, may hinder the market growth. In addition, busy consumer lifestyles are expected to drive the market for years to come. Healthy snacks are widely consumed in mature economies. The rapid popularity of meat snacks is driving market growth. As consumer emphasis on high-end products increases in developed countries such as Europe and North America, the market will expand in the coming years as consumer production increases. The increase in the disposable income of consumers due to the modernization and expansion of the workforce is one of the central growth stimuli in the market. Families in the age group from the mid-30s to the mid-40s have been registered to increase spending on healthy snacks.
The increased investment in developing quality, innovative products and product branding initiatives by major players is supposed to revitalize the market. Customer health awareness due to awareness campaigns launched by governments, non-governmental organizations and companies are expected to spur demand for healthy snacks in the coming years. Changing individual lifestyles and increasing propensity for healthy foods around the world is a crucial driver of target market growth. Healthy snacks offer a variety of health benefits and also help to lose weight. It helps improve concentration, cognition, attention and memory. With attractive packaging, healthy meals of different flavors can be transported and used, increasing demand among children. It's also a healthy, versatile, edible snack that can be easily used at any age.
The need for meat snacks is assumed to increase in the coming years, as purchasing power has increased tremendously in recent years. This factor is expected to promote market growth during the outlook period. The increased popularity of healthy snacks is presumed to drive global market growth due to health awareness, people's propensity to choose a healthy lifestyle, and product approvals from manufacturing companies. The growth of digitization makes it easier for consumers to access information, raising awareness of healthy snack options. Other trends in the healthy snack industry include an increase in living standards and an increase in the elderly population. Expanding current business to emerging economies through online channels and increasing sales of healthy snacks will provide many opportunities to grow in the global healthy snack market.
Restraints:
Due to dependence on agricultural products and strict regulations stipulated by various regulatory authorities, volatile raw material prices are expected to limit the market growth. Additionally, the cost of making healthy snacks is relatively high compared to conventional snacks and is a significant factor that is anticipated to hinder the growth of the global healthy snack market. Strict government regulations related to the production of healthy snacks and the high costs associated with them will, to some extent, limit market growth.
Healthy Snacks Market Segmentation Analysis:
By Product:
Dried Fruit

Cereal & Granola Bars

Nuts & Seeds

Meat

Trail Mix
Geographical Segmentation Analysis:
North America - the United States and Canada

Europe - United Kingdom, Spain, Germany, Italy, and France

The Asia Pacific - India, Japan, China, Australia, Singapore, Malaysia, South Korea, New Zealand, and Southeast Asia

Latin America - Brazil, Argentina, Mexico, and Rest of LATAM

The Middle East and Africa - Africa and Middle East (Saudi Arabia, UAE, Lebanon, Jordan, Cyprus)
Regional Analysis:
North America is poised to become one of the top local healthy snack markets during the forecast period. As the preference for healthy alternative foods increases, the demand for products in this region is expected to increase as consumer habits, such as snacks rather than regular meals or snacks, change. Cereal bars are widely consumed in North America due to the attractive packaging used to attract and retain new customers, along with a wide variety of flavors and discounts. Additionally, changes in consumer perception of American diet patterns are leading to increased consumption of healthy snacks. The country's population is presumed to accelerate market growth in the coming years. The convenience and easy-to-carry options offered as healthy snacks are also driving the growth of the domestic market. The Asia Pacific market is foreseen to be the most promising region in the world during the outlook period. The increased demand for products in this region may be due to modernization and the growing need for ongoing snack options in emerging economies such as China and India. It is expected to adapt well to local markets in the coming years as consumer lifestyles in developing countries change due to increased disposable income.
Key Players in the Market:
Major Key Players in the Global Healthy Snacks Market are
Nestlé S.A

PepsiCo, Inc

Kellogg Company

Tyson Foods, Inc.

General Mills, Inc

Hormel Foods Corporation

Kind LLC

B&G Foods, Inc

The Hain Celestial Group, Inc

Calbee, Inc.

Select Harvests
1. Introduction
1.1 Market Definition
1.2 Study Deliverables
1.3 Base Currency, Base Year and Forecast Periods
1.4 General Study Assumptions
2. Research Methodology
2.1 Introduction
2.2 Research Phases
2.2.1 Secondary Research
2.2.2 Primary Research
2.2.3 Econometric Modelling
2.2.4 Expert Validation
2.3 Analysis Design
2.4 Study Timeline
3. Overview
3.1 Executive Summary
3.2 Key Inferences
3.3 Epidemology
4. Drivers, Restraints, Opportunities, and Challenges Analysis (DROC)
4.1 Market Drivers
4.2 Market Restraints
4.3 Key Challenges
4.4 Current Opportunities in the Market
5. Market Segmentation
5.1 Product
5.1.1 Introduction
5.1.2 Dried Fruit
5.1.3 Cereal & Granola Bars
5.1.4 Nuts & Seeds
5.1.5 Meat
5.1.6 Trail Mix
5.1.7 Y-o-Y Growth Analysis, By Product
5.1.8 Market Attractiveness Analysis, By Product
5.1.9 Market Share Analysis, By Product
6. Geographical Analysis
6.1 Introduction
6.1.1 Regional Trends
6.1.2 Impact Analysis
6.1.3 Y-o-Y Growth Analysis
6.1.3.1 By Geographical Area
6.1.3.2 By Product
6.1.4 Market Attractiveness Analysis
6.1.4.1 By Geographical Area
6.1.4.2 By Product
6.1.5 Market Share Analysis
6.1.5.1 By Geographical Area
6.1.5.2 By Product
6.2 North America
6.1.1 Introduction
6.1.2 United States
6.1.3 Canada
6.3 Europe
6.2.1 Introduction
6.2.2 U.K
6.2.3 Spain
6.2.4 Germany
6.2.5 Italy
6.2.6 France
6.4 Asia-Pacific
6.3.1 Introduction
6.3.2 China
6.3.3 India
6.3.4 Japan
6.3.5 Australia
6.3.6 South Korea
6.5 Latin America
6.4.1 Introduction
6.4.2 Brazil
6.4.3 Argentina
6.4.4 Mexico
6.4.5 Rest of Latin America
6.6 Middle East & Africa
6.5.1 Introduction
6.5.2 Middle-East
6.5.3 Africa
7. Strategic Analysis
7.1 PESTLE analysis
7.1.1 Political
7.1.2 Economic
7.1.3 Social
7.1.4 Technological
7.1.5 Legal
7.1.6 Environmental
7.2 Porter's Five analysis
7.2.1 Bargaining Power of Suppliers
7.2.2 Bargaining Power of Consumers
7.2.3 Threat of New Entrants
7.2.4 Threat of Substitute Products and Services
7.2.5 Competitive Rivalry within the Industry
8. Market Leaders' Analysis
8.1 Nestlé S.A.
8.1.1 Overview
8.1.2 Product Analysis
8.1.3 Financial analysis
8.1.4 Recent Developments
8.1.5 SWOT analysis
8.1.6 Analyst View
8.2 PepsiCo. Inc.
8.3 Kellogg Company
8.4 Tyson Foods, Inc.
8.5 General Mills, Inc.
8.6 Hormel
8.7 Select Harvests
9. Competitive Landscape
9.1 Market share analysis
9.2 Merger and Acquisition Analysis
9.3 Agreements, collaborations and Joint Ventures
9.4 New Product Launches
10. Market Outlook and Investment Opportunities
Appendix
a) List of Tables
b) List of Figures
Global, regional and country-level analysis and forecasts of the study market; providing Insights on the major countries/regions in which this industry is blooming and to also identify the regions that are still untapped

The Segment-level analysis in terms of By Product and along with market size forecasts and estimations to detect key areas of industry growth in detail

Identification of key drivers, restraints, opportunities, and challenges (DROC) in the market and their impact on shifting market dynamics

Study of the effect of exogenous and endogenous factors that affect the global market; which includes broadly demographic, economics, and political, among other macro-environmental factors presented in an extensive PESTLE Analysis

Study the micro environment factors that determine the overall profitability of an Industry, using Porter's five forces analysis for analyzing the level of competition and business strategy development

A comprehensive list of key market players along with their product portfolio, current strategic interests, key financial information, legal issues, SWOT analysis and analyst overview to study and sustain the market environment

Competitive landscape analysis listing out the mergers, acquisitions, collaborations in the field along with new product launches, comparative financial studies and recent developments in the market by the major companies

An executive summary, abridging the entire report in such a way that decision-making personnel can rapidly become acquainted with background information, concise analysis and main conclusions

Expertly devised analyst overview along with Investment opportunities to provide both individuals and organizations a strong financial foothold in the market
Global Healthy Snacks Market By Region, From 2020-2025 ( USD Billion )

Global Healthy Snacks Market By Product, From 2020-2025 ( USD Billion )

Global Dried Fruit Market By Region, From 2020-2025 ( USD Billion )

Global Cereal & Granola Bars Market By Region, From 2020-2025 ( USD Billion )

Global Nuts & Seeds Market By Region, From 2020-2025 ( USD Billion )

Global Meat Market By Region, From 2020-2025 ( USD Billion )

Global Trail Mix Market By Region, From 2020-2025 ( USD Billion )