Natural Source Vitamin E Market Size, Growth (2023-2028)
The global Natural Source Vitamin E Market size was estimated to be USD 622.29 billion in 2022, and it is likely to reach a value of USD 908.14 billion by the end of 2028 at a CAGR of 7.3% over the prediction period. The world's market for natural source vitamin E is fueled by growing consumer awareness of health and the intake of necessary vitamins and minerals.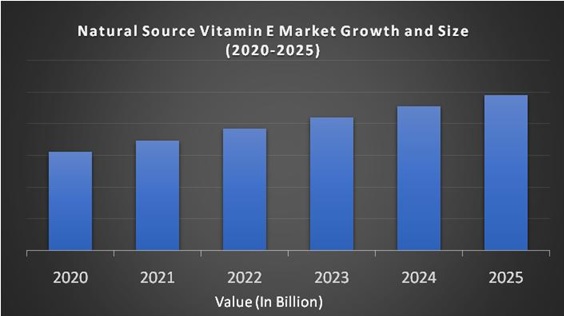 Market Overview:
The natural source vitamin E is a vital nutrient and a combination of fat-soluble vitamins. Natural vitamin E is commonly found in a variety of foods, such as green vegetables, nuts, oils, wheat, etc., and is also found in sunflower seeds, shellfish, almonds, sweet peppers, olive oil, mangoes, and fresh fish. Natural vitamin E acts as an antioxidant, as it helps protect human muscles from damage and protects against viral infections and bacteria. Additionally, the daily consumption of natural vitamin E is a known noble dietary supplement that helps prevent blood clotting. Vitamin E is a fat-soluble vitamin that has properties like offering antioxidant in the body. Vitamin E is found only in plant foods, including certain oils, nuts, grains, fruits, and wheat germs, and is necessary for the proper function of many organs, enzyme activities, and nerve processes. Increased medical awareness worldwide and rise in spending on vitamins and supplements are expected to be the main growth drivers for the natural source vitamin E market over the foreseen period.
Recent Developments in Natural Source Vitamin E Industry:
In December 2018, Pfizer Inc. and GlaxoSmithKline PLC signed a contract to create a leading global consumer healthcare company.

In February 2016, NBTY, Inc. agreed to sell the American retail chain Vitamin World to Center Lane Partners.

Archer Daniels Midland Company (ADM) launched two new products under the Novatol brand: Sunflower 5-67 Vitamin E and Sunflower Vitamin E Succinate.
REPORT COVERAGE:
| | |
| --- | --- |
| REPORT METRIC | DETAILS |
| Market Size Available | 2022 – 2028 |
| Base Year | 2022 |
| Forecast Period | 2023 - 2028 |
| CAGR | 7.3% |
| Segments Covered | By Product, Application and Region |
| Various Analyses Covered | Global, Regional & Country Level Analysis, Segment-Level Analysis, DROC, PESTLE Analysis, Porter's Five Forces Analysis, Competitive Landscape, Analyst Overview on Investment Opportunities |
| Regions Covered | North America, Europe, APAC, Latin America, Middle East & Africa |
| Market Leaders Profiled | BASF SE, ADM Company, Koninklijke DSM N.V, Cargill, Inc, American River Nutrition, Nutralliance, Vitae Caps, Sigma-Aldrich Co. LLC, Vance Group, Cayman Chemicals and Others. |
Natural Source Vitamin E Market Growth:
The increase in disposable income is raising the economy of the product, which is also driving the demand for a natural source vitamin E.
Drivers:
The increase in the population of people with vitamin E deficiency, especially the elderly, is an important factor that is expected to drive growth in the global market. Additionally, natural sources of vitamin E help prevent cancer, heart disease and disorders, Alzheimer's disease, diabetes, liver-related problems, treat cell infections, help recover from arthritis, and help prevent or overcome other skin related problems. Those mentioned above are the main factors that are supposed to significantly boost the growth of the global market for naturally occurring vitamin E. When you take naturally source vitamin E daily, you can improve your skin, prevent hair loss, improve eye strength, maintain hormonal balance, and control your body's cholesterol levels. This is expected to fuel the growth of the naturally occurring vitamin E market worldwide. In addition, the high demand for a variety of personal care medicines and herbs that use naturally occurring vitamin E is another key factor driving the growth of the global market. The high implementation of the natural source vitamin E in areas like functional dairy, dietary supplements, food and beverages is another factor promoting the growth of the market. Tocopherols and tocotrienols are classified forms of vitamin E in their naturally available form on the market. The use of tocopherol in the market is greater than that of tocotrienol. This is because demand has increased with the use of tocopherol in various applications. Furthermore, tocotrienols are not easily absorbed by the body and cannot be distributed evenly to all cells. Asa result, these tocotrienols have been used increasingly in areas like cosmetics and personal care products.
However, the use of natural source vitamin E supplements is higher in dietary products. It is also used in food and beverages, such as functional dairy products. The tocopherol component of the natural source vitamin E is used here. These are used to make facial powders, bases, blushes, lipsticks, and moisturizers. Tocotrienol is increasingly being used as a skin conditioning agent in beauty and personal care items. These characteristics are assumed to lead to strong growth in the world market for naturally occurring vitamin E in the coming years. As a result, many popular skincare brands use these skins for a variety of skincare products, so the global market for a natural source of vitamin E can grow. Also, although you need to take vitamin E from your daily diet, topical application of vitamin E can give your skin the desired result. This may support the development of the global natural source vitamin E market over the prediction period. Vitamins in the skin can protect us from UV rays and the formation of free radicals. This could serve as a driving force for growth in the natural vitamin E source market worldwide in the coming years.
Restraints:
Excessive consumption of natural vitamin E can have potential side effects such as headache, rash, vomiting, and hormonal imbalance, and are some of the main factors that can impede the progression of the global natural source vitamin E Market.
Natural Source Vitamin E Market Segmentation Analysis:
By Product:
By Application:
Dietary Supplements

Food and Beverages

Cosmetics
Geographical Segmentation Analysis:
North America - the United States and Canada

Europe - United Kingdom, Spain, Germany, Italy, and France

The Asia Pacific - India, Japan, China, Australia, Singapore, Malaysia, South Korea, New Zealand, and Southeast Asia

Latin America - Brazil, Argentina, Mexico, and Rest of LATAM

The Middle East and Africa - Africa and Middle East (Saudi Arabia, UAE, Lebanon, Jordan, Cyprus)
Regional Analysis:
North America is expected to rule the world market for naturally occurring vitamin E in the coming yeara. North American countries, like the United States, are seeing increasing patterns of medical spending, aging, advanced technology, better healthcare facilities, and an increasing number of insured people. These factors allow vitamin E to be applied in a variety of end-user industries. The area has also grown significantly with functional foods with additional health and wellness benefits. Market growth has been driven by an increase in the elderly population, higher health care costs, lifestyle changes, and food innovation. This allowed functional food manufacturers to find ingredients that provided improved benefits that could capture growing demand. The Asia-Pacific region is foreseen to remain the fastest-growing regional market during the evaluation period as spending on nutritional and vitamin products increases and spending on these products increases in major economies such as India, China and Japan. Growth in the Asia-Pacific region is anticipated to accelerate as awareness of the growing importance of vitamin E provides health, benefits, disposable income, and physical properties. It is expected to emerge as a profitable market during the outlook period. Growth is becoming increasingly important for health and nutrients, and the benefits of vitamin E as a dietary supplement are presumed to expand the global market for the natural source vitamin E.
Key Players in the market:
Major Key Players in the Global Natural Source Vitamin E Market are
BASF SE

ADM Company

Koninklijke DSM N.V

Cargill, Inc

American River Nutrition, Ltd

Nutralliance

Vitae Caps

Sigma-Aldrich Co. LLC

Vance Group

Cayman Chemicals