Vitamin D Market Size, Growth, Forecast (2023-2028)
The Global Vitamin D Market size was worth US$ 1.1 billion in 2022, and it is estimated to reach a valuation of US$ 1.7 billion by the end of 2028, expanding at an annual compound rate of 7.0% between 2023 and 2028. The vitamin D market is growing in response to increased demand for and consumption of food worldwide.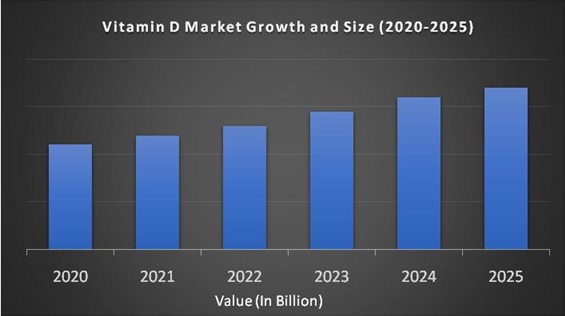 Market Overview:
A group of chemical components or compounds that the human body needs to maintain regular metabolic functions are called vitamins. They are divided into A, B, C, D, E and K according to the functions that human metabolism performs. Because it is fat-soluble, vitamin D occurs naturally in certain foods. It is found mainly in mushrooms, fish, cod liver oil, and egg yolks. Vitamin D is necessary for healthy bone growth. It is also essential for bone regeneration by osteoblasts and osteoclasts. It also helps prevent osteoporosis and osteoporosis in adults and rickets in children. Vitamin D is a steroid vitamin that promotes intestinal absorption and the metabolism of calcium and phosphorus. Under normal conditions of exposure to sunlight, no dietary supplements are needed, as sunlight promotes the adequate synthesis of vitamin D for the skin.
Vitamin D deficiency can lead to bone deformation (rickets) in children and bone weakness in adults. It is necessary for the average growth and development of bones and teeth, preventing muscle weakness and regulating cardiac function. Vitamin D is consumed in food and is found in eggs, fish, and dairy products, and is also produced in human skin. The production of skin in the active form of vitamin D depends on exposure to sunlight at the beginning of the day. People living in sunny areas produce most of the vitamin D necessary for the skin.
Recent Developments in Vitamin D Industry:
In January 2018, the FDA approved an increase in the consumption of vitamin D that would be added as an optional ingredient in milk. It is also used in soy, coconut, edible vegetable yogurt, and almond drinks. This approval allows manufacturers to add elements to various foods.

In December 2016, Professor John McGrath of the Queensland Cerebral Institute led the research team and found that babies of pregnant women who were not taking vitamin D supplements were more prone to autism. Therefore, medicines specially formulated for pregnant women will present future opportunities for the market.

In January 2019, Fermenta Biotech Limited (India) signed a 99-year lease to acquire approximately 40,000 square meters of land from the Gujarat Industrial Development Corporation (GIDC) authority, Ankleshwar, for future expansion.
REPORT COVERAGE:
| | |
| --- | --- |
| REPORT METRIC | DETAILS |
| Market Size Available | 2022 – 2028 |
| Base Year | 2022 |
| Forecast Period | 2023 - 2028 |
| CAGR | 7% |
| Segments Covered | By Analog, Application, End-User and Region |
| Various Analyses Covered | Global, Regional & Country Level Analysis, Segment-Level Analysis, DROC, PESTLE Analysis, Porter's Five Forces Analysis, Competitive Landscape, Analyst Overview on Investment Opportunities |
| Regions Covered | North America, Europe, APAC, Latin America, Middle East & Africa |
| Market Leaders Profiled | Nestlé S.A, BASF, Pfizer, Inc, Koninklijke DSM N.V., ADM Alliance Nutrition, Inc, Kraft Foods Group and Others. |
Vitamin D Market Growth:
The food industry is experiencing an increase in demand for improved food products, supporting the need for nutritional additives such as vitamin D.
Drivers:
The global vitamin D market is anticipated to expand with a notable growth rate over the outlook period. Vitamin D is a fat-soluble vitamin mainly found in foods such as meat and eggs and is absorbed by the body in the form of a supplement. Although body-specific synthesis or hydroxylation is necessary for vitamin D, exposure to the sun for sometime meets the requirement. Managing the blood circulation and preventing the development of hypocalcemia, osteoporosis, osteomalacia and rickets, along with thyroid function in the human body are some of the promoting aspects for the growth of the global vitamin D market. The surge in the incidence of the ailments mentioned above improved the intake of Vitamin D supplements and suggestions by certified professionals for the consumption of vitamin D intake are also influencing the market positively. Augmented illnesses due to deficiency of vitamin D, rise in medical referrals and child malnutrition are supposed to accelerate the expansion of the global vitamin D market size.
It is necessary for healthy growth, the development of teeth and bones, defense against muscle weakness, proper thyroid function and blood clotting, and regulates the heart. All of these critical factors are supposed to promote the growth of the global market in the coming years. The regulatory body's favorable regulation of trade in vitamin D ingredients is a significant growth driver in the worldwide vitamin D ingredient market. This allows vitamin D manufacturers to sell their products without any restrictions. This aspect is advantageous for pharmaceutical companies because it is easy to sell vitamin D-based products. Also, the global market for vitamin D ingredients is being activated due to increased investment by regulators to announce benefits related to using vitamin D products. This is provided to increase the demand for vitamin D ingredients in many food applications. Also, vitamin D drinks are easy to consume and digest. Therefore, vitamin D beverages are gaining immense popularity among consumers. The pharmaceutical sector may also strengthen the global market for vitamin D ingredients in the near future, thanks to the efforts of pharmaceutical companies to encourage the use of vitamin D products.
Restraints:
However, regulatory standards implemented to prevent extreme use will slowdown global market growth in some regions. Overdose can cause vomiting, loss of appetite, nausea, headache, and depression. Vitamin D absorbs phosphorus and calcium from the intestine. Pharmaceutical products that inhibit market growth include regulatory standards imposed in certain regions to prevent undesirable vitamin D toxicity.
Vitamin D Market Segmentation Analysis:
By Analog:
By Application:
Functional Food and Beverage

Pharmaceuticals

Animal Feed and Pet Food

Personal Care

Other Applications
By End-User:
Children

Adult

Pregnant Women
Geographical Segmentation Analysis:
North America - the United States and Canada

Europe - United Kingdom, Spain, Germany, Italy, and France

The Asia Pacific - India, Japan, China, Australia, Singapore, Malaysia, South Korea, New Zealand, and Southeast Asia

Latin America - Brazil, Argentina, Mexico, and Rest of LATAM

The Middle East and Africa - Africa and Middle East (Saudi Arabia, UAE, Lebanon, Jordan, Cyprus)
Regional Analysis:
North America is expected to dominate the global vitamin D market. This growth is primarily due to America's prosperity in the vitamin D market, and this trend is likely to continue in the future. Most of the United States population is deficient in vitamin D. This has increased the demand for ingredients in this area because deficiencies cause diabetes, skin cancer, and heart disease. Research published in North America suggests a link between vitamin D supplementation to reduce autoimmune symptoms, reduced risk of fractures, and the prevention of certain cancers in specific subsets of the US population. And the scientific evidence supports opposing views. It has been regarded as one of the most lucrative opportunities in the vitamin D supplement market.
As the trend of vegetarianism increases throughout the world, North American consumers have shown a preference for supplements adapted to vitamin D2 rather than vitamin D3. In the United States, for example, vitamin D2 is most commonly used to strengthen milk. The North American population is greatly affected by vitamin D deficiency, causing rickets. This leads to a demand for vitamin D supplements. Fostering government policy and increasing consumer interest in health are factors that are anticipated to spur regional growth. The global vitamin D market in Europe is mainly driven by France, Germany, the United Kingdom, and Italy. This growth may have been attributed to significant gains, as the range of applications in the pharmaceutical and personal care industries has been expanded to promote the growth of the market in the region.
Growth in the Asia-Pacific region in the world market is fueled by Korea, India, China and Japan. China and India are among the most favorable markets for the expansion of vitamin D manufacturers due to the increased demand for animal feed, food fortification and the easy availability of raw materials.
Key Players in the Market:
Major Key Players in the Global Vitamin D Market are
Nestlé S.A

BASF

Pfizer, Inc.

Koninklijke DSM N.V.

ADM Alliance Nutrition, Inc.

Kraft Foods Group