Rice Protein Market Size, Growth, Forecast (2023-2028)
The Global Rice Protein Market size was worth US$ 113.6 million in 2022, and it is estimated to reach a valuation of US$ 198.5 million by the end of 2028, rising at an annual compound rate of 8.2% between 2023 and 2028. The global rice protein market is expected to witness a path in the market due to the variety of benefits that the market offers.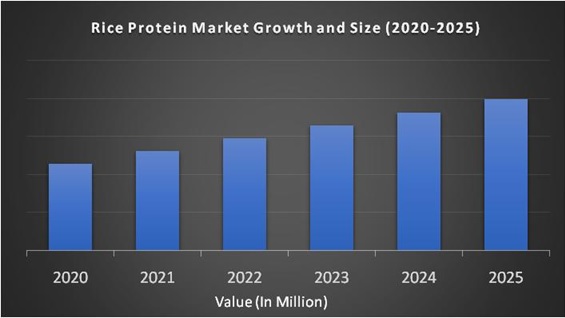 Market Overview:
Rice protein is rich in vitamin E, amino acids, ferulic acid, starch, and allantoin. It helps maintain the health of the body and skin. It is a type of vegetable protein and acts as a substitute for whey and oy based additives. It is also rich in sulfur, cysteine and methionine-containing amino acids. This is ideal for use in the pharmaceutical industry. Eating rice protein lowers blood sugar levels, helps burn fat, and helps lose fat. Rice protein also contains significant amounts of alanine and glutamine, which improves the hydration of skin cells. It is widely used in various bakery items and energy supplements due to its high nutritional value and functional properties.
Additionally, rice protein helps strengthen the body's metabolism and regulate sugar levels. It is a vegetarian food extracted from brown rice and white rice. Rice protein is derived from brown rice and white rice by separating carbohydrates from protein. It can also replace soy protein and whey.
Recent Developments in Rice Protein Industry:
In 2018, Kerry Group PLC launched the "ProDiem" mix of rice and pea protein. This product was launched as an alternative to soy protein to increase the demand for plant-based protein in the food processing industry.

In 2019, Axiom Foods Inc. entered into a contract with Univar Solutions as a major distributor and supplier in the United States. The agreement focused on the distribution of plant-based products, including rice protein, using Univar Solutions' extensive distribution network.

In 2019 Healy Group Limited released 'PrimaPro'. This product is a trace of pea and rice protein, intended to increase palatability and application.

In 2020 Milk Specialties launched 'PROriz Brown Rice Protein' and introduced the product at 'Natural Products Expo West 2020'. PROriz aims to meet various nutritional requirements, as well as functional properties such as thermal stability.
REPORT COVERAGE:
| | |
| --- | --- |
| REPORT METRIC | DETAILS |
| Market Size Available | 2022 – 2028 |
| Base Year | 2022 |
| Forecast Period | 2023 - 2028 |
| CAGR | 8.2% |
| Segments Covered | By Product, Type, Application, Form and Region |
| Various Analyses Covered | Global, Regional & Country Level Analysis, Segment-Level Analysis, DROC, PESTLE Analysis, Porter's Five Forces Analysis, Competitive Landscape, Analyst Overview on Investment Opportunities |
| Regions Covered | North America, Europe, APAC, Latin America, Middle East & Africa |
| Market Leaders Profiled | RiceBran Technologies, AIDP Inc, Nutrition Resource Inc, Axiom Foods Inc, Golden Grain Group Ltd, Nutribiotic, Bioway Organic Ingredients Co., Ltd, Shafi Gluco Chem Pvt. Ltd, Shaanxi Fuheng (FH) Biotechnology and Others. |
Rice Protein Market Growth:
The latest trend of a healthy and balanced lifestyle is likely to act as a propellant for the rapid expansion of the global rice protein industry.
Drivers:
Verticals like pharmaceutical, sports nutrition and cosmetic industries are finding huge demand, which is likely to propel the global rice protein market in the coming years. In addition, as per capita income and consumer preferences for nutritional diets intensify, the overall demand for rice protein across the globe has strengthened. The vegan population has grown in recent years as the demand for organic rice protein increases on the verge of several medicinal benefits. As the world's vegan group expands, the number of consumers opting for healthy and clean food increments. This further promotes the growth of the global rice protein market. The need for organic cosmetic products that reduce the risk of side effects is assumed to result in a positive impact on the future growth of the global rice protein business. Rising demand in the nutrition, cosmetics and sports industries is presumed to lead the world market for rice proteins in the following years.
The rice protein industry serves as a platform for waste utilization. During the polishing process, rice bran gradually becomes the production of value-added products, and protein is one of them. Rice protein isolates and concentrates are increasingly produced from rice bran. Functional foods, especially dietary supplements, are emerging as one of the leading applications in the rice protein market, and manufacturers are taking a mixed approach for plant-based protein products. With increased diet and nutrition awareness and increased purchasing power, the demand for rice protein increases. Therefore, it is promoting a broad expansion of the rice protein market worldwide. The vegan population expects alternative sources of protein and increases the demand for rice protein, making rice protein worldwide grow substantially.
Expanding needs from the food and beverage industry is anticipated to spur the expansion of the global rice protein market in foreseen years. The ability to leave carbohydrates and intake of proteins makes them healthier. Therefore, the presence of high proteins expands the demand for these rice proteins. The advent of new players in the rice protein trade and the introduction of new products have been the supporting aspects of growth. This is expected to be further augmented with the non-soy protein enrichment solutions persevered by end-use industries. Rice protein producers are making efforts to launch distinct products, which are suspected of quickening market growth as demand surges. Rice protein is also rich in antioxidants and amino acids, making it a prominent factor in the boom of the global rice protein market.
Furthermore, the high protein content has increased the demand for organic rice protein, which has become a trend factor that plays a catalyst in the expansion of the fructose market worldwide. Natural rice protein can accommodate a population with lactose intolerance. Furthermore, gluten is not supposed to provide growth opportunities for the global rice protein market.
Restraints:
Low consumer awareness is expected to be a factor hindering the growth of the global rice protein market. Regardless of limitations, demand for clean, non-allergenic, gluten-free, and GMO-free alternatives is assumed to accelerate growth in the worldwide rice protein market.
Rice Protein Market Segmentation Analysis:
By Product:
Concentrates

Isolates

Hydrolysates
By Type:
Organic Rice Protein

Inorganic Rice Protein
By Application:
Pharmaceuticals

Food & Beverages

Sports and Energy Nutrition

Bakery & Confectionary

Meat Analogues & Extenders

Dairy Alternatives

Cosmetics

Animal Feed
By Form:
Geographical Segmentation Analysis:
North America - the United States and Canada

Europe - United Kingdom, Spain, Germany, Italy, and France

The Asia Pacific - India, Japan, China, Australia, Singapore, Malaysia, South Korea, New Zealand, and Southeast Asia

Latin America - Brazil, Argentina, Mexico, and Rest of LATAM

The Middle East and Africa - Africa and Middle East (Saudi Arabia, UAE, Lebanon, Jordan, Cyprus)
Regional Analysis:
North America was the largest market, accounting for about 47% of total volume due to the high demand in the food and beverage industry. It has helped increase the global market share in the region due to a large number of manufacturers. The production was dominated by the United States, which accounted for most of the volume and revenue share. Advances in technology, along with the rate of new product adoption in the region, are likely to play an essential role in increasing demand during the projection period. The main Asia Pacific markets are Japan, China and India. As consumer awareness of a healthy lifestyle increases, demand for protein-based nutritional products is presumed to drive demand for these products during the forecast period. The Food Safety Standards Act of India, the Japan Food and Nutrition Association and the Japan Food and Drug Administration are some of the agencies that regulate the use of various ingredients in food and beverages to ensure the quality of the food. These organizations also promote the consumption of nutritious foods and participate in R&D activities in this field to create awareness among consumers and support the development of new products, respectively. Europe is estimated to dominate the global rice protein market in the near future due to the high demand for products in this region. This growth may be due to the high demand in France, Germany, and the United Kingdom that can motivate local growth by focusing on increased demand for allergen and gluten-free products, as well as a healthy lifestyle.
Leading Company:
Founded in 2005, based in the United States, Axiom Foods Inc. was one of the industry's leading suppliers of this product under the Oryzatein Brown Rice Protein Powder brand.
Key Players in the Market:
Major Key Players in the Global Rice Protein Market are
RiceBran Technologies

AIDP Inc.

Nutrition Resource Inc

Axiom Foods Inc

Golden Grain Group Ltd

Nutribiotic

Bioway Organic Ingredients Co., Ltd

Shafi Gluco Chem Pvt. Ltd.

Shaanxi Fuheng (FH) Biotechnology Co., Ltd