Anti-Caking Agents Market Size, Growth, Forecast (2023-2028)
The Global Anti-Caking Agents Market Size was worth US$ 599 million in 2022, and it is estimated to reach a valuation of US$ 810 million by the end of 2028, rising at an annual compound rate of 4.4% between 2023 and 2028. With more applications in the food industry, the consumption of caking inhibitors is increasing.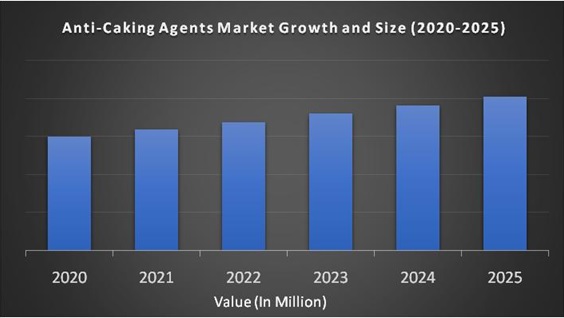 Market Overview:
The anti-caking agent is a processed or thick material, which is used as an additive to avoid agglomerations in the mass. Anti-caking agents are incorporated into the powder product to facilitate consumption, packaging and transport. Caking inhibitors are soluble in water, alcohol, and other organic solvents. They work by absorbing excess moisture or creating a water-repellent layer on the particles. These are used in foods such as milk and cream powder, salt, flour-based mixes, baking powders, cocoa and mixed coffee drinks, cheese, feed nutrients and other products.
Caking inhibitors are also used in non-food industries such as cosmetics, synthetic detergents, and fertilizers in manufacturing applications such as screening equipment, conveyors, and drying and mixing equipment. In addition, coffee and tea vending machines in which tube clogging is avoided allow a constant flow of beverages, in industrial automation, for example, coffee and tea vending machines involving handling, storage and administration controlled powdered food ingredients. In the fertilizer industry, the causes of coking are moisture content, particle size, hygroscopicity, room temperature, pressure, and storage conditions. This agent is used to preserve the granular properties of fertilizers.
Recent Developments in Anti-Caking Agents Industry:
In February 2017, Brenntag completed the acquisition of Lionheart Chemical Enterprises (Pty) Ltd (South Africa). Lionheart's product portfolio also supported Brenntag's other activities for the Multisol and Crest Industrial Chemical businesses in South Africa.

Evonik opens a new plant in Thailand to increase the production capacity of precipitated silica in Southeast Asia. Precipitated silica finds application in automotive, food and animal feed industries.

Brenntag expanded its business in Spain by acquiring the industrial chemical distributor Quimicas Meroño. With this acquisition, Brenntag's local distribution network in eastern Spain has allowed the company to access several important European markets, creating growth opportunities mainly in crucial sectors such as food, oil and gas.

Univar is an active Chemical Associates Inc. (United States). The strategic acquisition has enabled the company to strengthen its market position by entering new markets and sectors, such as the food and personal care industries.

Solvay launched its largest sodium bicarbonate plant in Southeast Asia, based in Thailand, to meet the growing demand for high-quality products in the markets for medical, food and consumer products across Asia.
REPORT COVERAGE:
| | |
| --- | --- |
| REPORT METRIC | DETAILS |
| Market Size Available | 2022 – 2028 |
| Base Year | 2022 |
| Forecast Period | 2023 - 2028 |
| CAGR | 4.4% |
| Segments Covered | By Type, Application and Region |
| Various Analyses Covered | Global, Regional & Country Level Analysis, Segment-Level Analysis, DROC, PESTLE Analysis, Porter's Five Forces Analysis, Competitive Landscape, Analyst Overview on Investment Opportunities |
| Regions Covered | North America, Europe, APAC, Latin America, Middle East & Africa |
| Market Leaders Profiled | Sasol Wax, Fuji Chemicals Industries, Chemipol S.A, Huber Engineered Materials, Agropur Ingredients, PPG Industries Inc, Grain Corporation, IMAC Inc, Evonik Industries AG, BASF, Norkem Group, Kao Chemicals and Others. |
Anti-Caking Agents Market Growth:
Growth in the market maintains the sensory properties of food products due to its moisture absorbing functionality and improves the shelf life of food manufacturing and processing.
Drivers:
The global anti-caking agent market is expected to grow as demand from various industries such as food, feed and fertilizers increases.
The anti-caking agent is mainly used to prevent the formation of lumps in powder materials. Caking inhibitors are soluble in alcohol, water, and other organic solvents. They absorb excess moisture or create a water repellent layer of dust particles. The surge in the number and diversity of food applications, changes in consumer tastes, and increased consumer willingness towards better food quality have led to the expansion and innovation of the multi-ingredient consumer base ingredients, including food coating ingredients, food and beverage premixes, etc. It is employed in baking powder, milk and cream powder, cake mix and instant soup powder. The high diversity of K-King inhibitors is expected to further strengthen demand during the outlook period.
Factors like ease of packaging, transportation and consumption are also supposed to increase demand for anti-caking agents. Increased imports of disposable medicines and increased demand for packaged foods are the main drivers of the market worldwide.
Increased consumer demand for fast food, takeout and processed foods is also responsible for the application of anti-caking agents to food and beverages. Some of the commercially available anti-caking agents are reinforced cellulose tricalcium phosphate, sodium bicarbonate, potassium silicate, polydimethylsiloxane, magnesium trisilicate, and stearic acid. The widespread use of K-King inhibitors, the growth of the food and beverage industry and the increase in disposable income are key drivers of market growth.
Furthermore, a greater awareness of packaged foods will accelerate market growth. However, factors such as potential health risks and government regulations may be struggling with the growth of this market. An increase in demand from emerging markets and technological advancements are assumed to provide numerous opportunities for the market.
Restraints:
However, in the food and beverage sector, only specific amounts of anti-caking agents are allowed, further limiting consumption in the industries as mentioned earlier. This is presumed to hurt the growth of the global market. Various health risks and side effects associated with anti-caking agents are assumed to have a negative impact on the anti-caking agent market worldwide.
Anti-Caking Agents Market Segmentation Analysis:
By Type:
Calcium Compounds

Sodium Compounds

Magnesium Compounds

Microcrystalline Cellulose

Silicon Dioxide
By Application:
Spice

Seasoning & Condiments

Bakery

Flavor

Beverages

Dairy

Fruits & Vegetables

Chocolates
Anti-Caking Agents Market Geographical Segmentation Analysis:
North America - the United States and Canada

Europe - United Kingdom, Spain, Germany, Italy, and France

The Asia Pacific - India, Japan, China, Australia, Singapore, Malaysia, South Korea, New Zealand, and Southeast Asia

Latin America - Brazil, Argentina, Mexico, and Rest of LATAM

The Middle East and Africa - Africa and Middle East (Saudi Arabia, UAE, Lebanon, Jordan, Cyprus)
Regional Analysis:
Europe has become a famous region in terms of demand for food cake inhibitors. The growth is primarily due to increased demand for food for packaged foods and lifestyle changes. Furthermore, as demand for high-quality food increases and awareness of the nutritional value of packaged foods increases, demand for anti-caking agents in food is expected to increase in Europe. North America is another important regional market, and significant growth is expected in the near future as demand for prepared foods, technological advances and product innovations increase.
The Asia Pacific region is anticipated to be the fastest-growing market for food anti-caking agents as western eating habits and adoption of the nutritional supplement industry increase. Furthermore, the growing population and urbanization of the middle class are increasing the consumer base of quality packaged foods and dietary supplements in countries like India, China and Japan. Increased demand for processed foods and increased demand for dairy products in Brazil and Argentina are foreseen to complement the growth of the Latin American market during the outlook period. The Middle East and Africa regions are expected to experience stable growth in the food caking inhibitors market as demand for premium food, bakery and confectionery products increases.
Key Players in the Market:
Major Key Players in the Global Anti-Caking Agents Market are
Sasol Wax

Fuji Chemicals Industries

Chemipol S.A

Huber Engineered Materials

Agropur Ingredients

PPG Industries Inc

Grain Corporation

IMAC Inc

Evonik Industries AG

BASF

Norkem Group

Kao Chemicals

PQ Corporation

Bogdány Petrol Ltd

Sweetener Supply Corp