Butter Market Size, Growth, Forecast (2022-2027)
The Global Butter Market size was worth US$ 18.4 billion in 2021, and it is estimated that it will reach US$ 27.8 billion by 2027 with a compound annual growth rate of 3.9% between 2022 and 2027.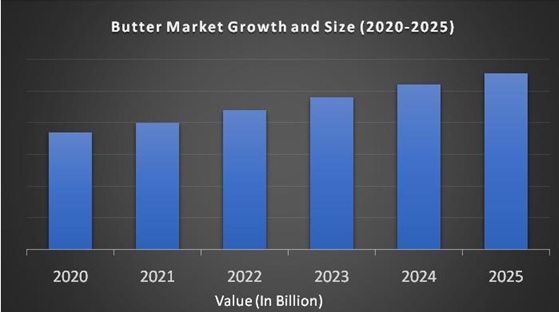 Market Overview:
Butter is made by whipping cream or fresh/fermented milk to separate the milk fat from the buttermilk. Butter is one of the most consumed dairy products and is used as a basic ingredient in the food industry. It is also one of the fastest-growing food sectors across the world. Like all food products, butter is at the mercy of supply and demand. Butter supply depends on milk production. This shortage is communicated to consumers through higher prices. Extreme temperatures or droughts reduce supply.
Recent Developments in Butter Industry:
Land O'Lakes, Inc. launched the first reduced sodium butter for health-conscious boomers and millennials. The company released less soda butter with canola oil.
Butter Market Growth:
The key factors contributing to the growth of the global butter market are population growth, increasing urbanization rate, and Western influence on traditional cooking methods.
REPORT COVERAGE:
| | |
| --- | --- |
| REPORT METRIC | DETAILS |
| Market Size Available | 2021 – 2027 |
| Base Year | 2021 |
| Forecast Period | 2022 - 2027 |
| CAGR | 3.9% |
| Segments Covered | By Product Type, Processing, Usage, Distribution Channel and Region |
| Various Analyses Covered | Global, Regional & Country Level Analysis, Segment-Level Analysis, DROC, PESTLE Analysis, Porter's Five Forces Analysis, Competitive Landscape, Analyst Overview on Investment Opportunities |
| Regions Covered | North America, Europe, APAC, Latin America, Middle East & Africa |
| Market Leaders Profiled | Groupe Lactalis, Unilever PLC, Koninklijke FrieslandCampina NV, Fonterra Co-operative Group Limited, Gujarat Co-operative Milk Marketing Federation Ltd, Nestlé SA, Land O'Lakes, Inc, Hatsun Agro Product Limited, Arla Foods, Glanbia plc and others. |
Drivers:
Growing demand for butter in food processing is majorly driving the growth of global butter market. In addition, the growth of the hotel/restaurant/cafe industry is accelerating market growth. Butter is widely used in the food processing industry, especially in bakery and confectionery. The world butter market is expected to register significant growth during the forecast period. Cakes, biscuits and cookies have a low melting point, so they melt in your mouth to provide texture and flavor. Overall, it helps add flavor, balance salt and moisture content, and ferment flour to trap steam. The market for salt and unsalted butter is growing as demand for these products increases. The demand for breads, ready-to-eat products, cakes, muffins, cookies, donuts, breakfast cereals, and pastries is increasing due to low prices, rapid urbanization, product diversity, and a busy lifestyle. The global dairy industry is now experiencing a period of turmoil. Demand for dairy products is experiencing slow and slow growth during the forecast period due to a number of factors including health concerns, regulatory scenarios, and changes in consumer diets and habits. Despite slow growth, the long-term outlook for the dairy sector remains positive. Butter is obtained from pure heavy cream and can be spread at room temperature from cold to solid and liquid at high temperatures. Butter is expected to see significant growth and profitability in developing countries due to increasing urbanization and increasing urbanization coupled with increasing consumers' per capita disposable income, breakfast habits, and home baking culture of consumers, Western culinary influences, and the revitalization of hotel culture.
Restaurants and cafes, and innovations in traditional butter products from manufacturers in developing countries. Butter is a popular dairy product used by consumers around the world as a breakfast delicacy for bread, bakery ingredients, and molding agents in chocolate and confectionery. The butter market is in increasing demand due to the convenience and flexibility associated with packaging. Butter is available in boxes, cartons, and cups, providing consumers with added comfort and convenience. Increased urbanization and changes in consumer eating habits have led to increased demand for butter during the forecast period. Additionally, increased product launches and innovations from leading manufacturers active in the table butter market are again driving consumer demand for butter. The growing demand for butter in developing countries is due to consumer eating habits and rising trends in breakfast. The demand for butter among consumers is sensory indulgence and the flavor associated with it. Also, the growing trend of home baking and the influence and popularity of western cuisines are increasing the butter market sooner or later. Increased investment in R&D to launch innovative products is expected to create profitable opportunities for players operating in global markets. Manufacturers and large brands operating in the table butter market are focusing on the evolution of traditional butter to win a broader customer base. Manufacturers are releasing flavored butters to provide consumers with a sensational indulgence and tasty products, while manufacturers are also offering organic and non-GMO butter varieties to captivate health-conscious individuals. In addition, we adopt convenient and flexible packaging to bring the convenience and ease of use of our products to consumers.
Restraints:
The growing awareness of health is limiting the growth of the global butter market. Due to changes in lifestyle and eating habits, health problems are increasing among the population. Consumers are increasingly aware of the benefits and side effects of ingredients in their diet. Growing awareness of the negative effects of excessive butter consumption on the body has led consumers to limit its use and favor products that are low in calories and saturated fat, which in turn hinders the growth of the global butter market. The increasing demand for vegan and vegetable butter is hampering the growth of the market. Also, strict government regulations such as licensing, labeling and many other regulations for the manufacture and marketing of food products such as butter and margarine are expected to hamper the growth of the industry. Furthermore, the rise in consumer obesity is having a negative impact on market growth at the moment.
Butter Market Segmentation Analysis:
The global butter market has been segmented by type, processing, usage and distribution channel.
By type, the market is segmented into non-cultured butter, cultured butter, whipped, salt, etc.
By processing, the global market is bifurcated into processed and non-processed), andby usage, the market is separated into spreadable and non-spreadable.
By distribution channel, the market has been categorized into convenience stores, supermarkets/hypermarkets, online retail stores, specialty stores, etc. The food retail sector is expected to dominate the global market and be valued at USD 26,133.4 million by the end of 2025, recording the fastest CAGR of 2.43% from 2020 to 2025. Food retail is an important distribution channel for butter in markets around the world, with most of the segment's revenue coming from retail stores. Product packaging, brand name, and shelf space are the most important factors influencing butter sales in store retail channels. The growth of e-commerce in the retail sector is driving the growth of the sector and the growth rate of the sector is expected to increase during the outlook period.
Geographical Segmentation Analysis:
North America - the United States and Canada

Europe - United Kingdom, Spain, Germany, Italy, and France

The Asia Pacific - India, Japan, China, Australia, Singapore, Malaysia, South Korea, New Zealand, and Southeast Asia

Latin America - Brazil, Argentina, Mexico, and Rest of LATAM

The Middle East and Africa - Africa and Middle East (Saudi Arabia, UAE, Lebanon, Jordan, Cyprus)
Regional Analysis:
The supply of butter from Asia Pacific has always been strongly influenced by increasing volumes in the domestic market, mainly the confectionery and bakery industries. Butter processing plants in the Asia Pacific region have been greatly expanded to meet consumer demand, which has driven market growth. The growth of the Asia Pacific market can also be attributed to the growth of the chocolate industry in the region. South and East Asia are expected to show significant growth rates during the forecast period. However, the risks associated with high cholesterol in butter are preventing the market from reaching its full potential. Various rules and regulations for butter set by food authorities in different regions can hamper the growth of the global butter market. Butter is a key ingredient in the chocolate industry, so the growth of the chocolate industry is driving the growth of the region's butter market. In addition, the European market occupies a significant part of the world butter market due to the expansion in the industry. Growing consumer health awareness is prompting market participants to focus on R&D activities to launch new healthy butters on the European market.
Key Players in the Market:
Major Key Players in the Global Butter Market are
Groupe Lactalis

Unilever PLC

Koninklijke FrieslandCampina NV

Fonterra Co-operative Group Limited

Gujarat Co-operative Milk Marketing Federation Ltd

Nestlé SA

Land O'Lakes, Inc

Hatsun Agro Product Limited

Arla Foods

Glanbia plc
1. Introduction
1.1 Market Definition
1.2 Scope of the report
1.3 Study Assumptions
1.4 Base Currency, Base Year and Forecast Periods
2. Research Methodology
2.1 Analysis Design
2.2 Research Phases
2.2.1 Secondary Research
2.2.2 Primary Research
2.2.3 Data Modelling
2.2.4 Expert Validation
2.3 Study Timeline
3. Report Overview
3.1 Executive Summary
3.2 Key Inferencees
4. Market Dynamics
4.1 Impact Analysis
4.1.1 Drivers
4.1.2 Restaints
4.1.3 Opportunities
4.2 Regulatory Environment
4.3 Technology Timeline & Recent Trends
5. Competitor Benchmarking Analysis
5.1 Key Player Benchmarking
5.1.1 Market share analysis
5.1.2 Products/Service
5.1.3 Regional Presence
5.2 Mergers & Acquistion Landscape
5.3 Joint Ventures & Collaborations
6. Market Segmentation
6.1 Butter Market, By Product Type
6.1.1 Uncultured Butter
6.1.2 Cultured Butter
6.1.3 Whipped
6.1.4 Salted
6.1.5 Market Size Estimations & Forecasts (2022-2027)
6.1.6 Y-o-Y Growth Rate Analysis
6.1.7 Market Attractiveness Index
6.2 Butter Market, By Processing
6.2.1 Processed
6.2.2 Non-Processed
6.2.3 Market Size Estimations & Forecasts (2022-2027)
6.2.4 Y-o-Y Growth Rate Analysis
6.2.5 Market Attractiveness Index
6.3 Butter Market, By Usage
6.3.1 Spreadable
6.3.2 Non-Spreadable
6.3.3 Market Size Estimations & Forecasts (2022-2027)
6.3.4 Y-o-Y Growth Rate Analysis
6.3.5 Market Attractiveness Index
6.4 Butter Market, By Distribution Channel
6.4.1 Convenience Stores
6.4.2 Supermarkets/Hypermarkets
6.4.3 Online Retail Stores
6.4.4 Specialty Stores
6.4.5 Market Size Estimations & Forecasts (2022-2027)
6.4.6 Y-o-Y Growth Rate Analysis
6.4.7 Market Attractiveness Index
7. Geographical Landscape
7.1 Global Identity Governance and Administration Market, by Region
7.2 North America - Market Analysis (2022-2027)
7.2.1 By Country
7.2.1.1 USA
7.2.1.2 Canada
7.2.2 By Product Type
7.2.3 By Processing
7.2.4 By Usage
7.2.5 By Distribution Channel
7.3 Europe
7.3.1 By Country
7.3.1.1 UK
7.3.1.2 France
7.3.1.3 Germany
7.3.1.4 Spain
7.3.1.5 Italy
7.3.1.6 Rest of Europe
7.3.2 By Product Type
7.3.3 By Processing
7.3.4 By Usage
7.3.5 By Distribution Channel
7.4 Asia Pacific
7.4.1 By Country
7.4.1.1 China
7.4.1.2 India
7.4.1.3 Japan
7.4.1.4 South Korea
7.4.1.5 South East Asia
7.4.1.6 Australia & NZ
7.4.1.7 Rest of Asia-Pacific
7.4.2 By Product Type
7.4.3 By Processing
7.4.4 By Usage
7.4.5 By Distribution Channel
7.5 Latin America
7.5.1 By Country
7.5.1.1 Brazil
7.5.1.2 Argentina
7.5.1.3 Mexico
7.5.1.4 Rest of Latin America
7.5.2 By Product Type
7.5.3 By Processing
7.5.4 By Usage
7.5.5 By Distribution Channel
7.6 Middle East and Africa
7.6.1 By Country
7.6.1.1 Middle East
7.6.1.2 Africa
7.6.2 By Product Type
7.6.3 By Processing
7.6.4 By Usage
7.6.5 By Distribution Channel
8. Key Player Analysis
8.1 Groupe Lactalis
8.1.1 Business Description
8.1.2 Products/Service
8.1.3 Financials
8.1.4 SWOT Analysis
8.1.5 Recent Developments
8.1.6 Analyst Overview
8.2 Unilever PLC
8.3 Koninklijke FrieslandCampina NV
8.4 Fonterra Co-operative Group Limited
8.5 Gujarat Co-operative Milk Marketing Federation Ltd
8.6 Nestlé SA
8.7 Land O'Lakes, Inc
8.8 Hatsun Agro Product Limited
8.9 Arla Foods
8.10 Glanbia Plc
9. Market Outlook & Investment Opportunities
Appendix
List of Tables
List of Figures
Global Butter Market By Region, From 2022-2027 ( USD Billion )

Global Butter Market By Product Type, From 2022-2027 ( USD Billion )

Global Uncultured Butter Market By Region, From 2022-2027 ( USD Billion )

Global Cultured Butter Market By Region, From 2022-2027 ( USD Billion )

Global Whipped Market By Region, From 2022-2027 ( USD Billion )

Global Salted Market By Region, From 2022-2027 ( USD Billion )

Global Butter Market By Processing, From 2022-2027 ( USD Billion )

Global Processed Market By Region, From 2022-2027 ( USD Billion )

Global Non-Processed Market By Region, From 2022-2027 ( USD Billion )

Global Butter Market By Usage, From 2022-2027 ( USD Billion )

Global Spreadable Market By Region, From 2022-2027 ( USD Billion )

Global Non-Spreadable Market By Region, From 2022-2027 ( USD Billion )

Global Butter Market By Distribution Channel, From 2022-2027 ( USD Billion )

Global Convenience Stores Market By Region, From 2022-2027 ( USD Billion )

Global Supermarkets/Hypermarkets Market By Region, From 2022-2027 ( USD Billion )

Global Online Retail Stores Market By Region, From 2022-2027 ( USD Billion )

Global Specialty Stores Market By Region, From 2022-2027 ( USD Billion )