Egg replacers Market Size, Growth, Forecast (2023-2028)
The global Egg Replacers Market size was assessed at USD 1.4 billion in 2022 and it is foreseen that it will reach a valuation of USD 1.6 billion by 2028 at a CAGR of about 6% during the determined period. Consumers are switching to egg replacement ingredients for a variety of reasons, such as increased egg consumption and increased market growth associated with heart disease.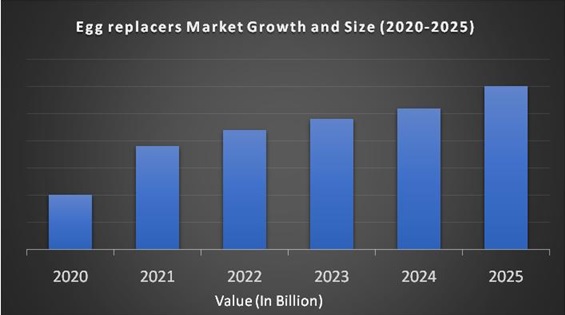 Market Overview:
Egg replacement ingredients promote a decrease in egg content without affecting the appearance and taste of food. Egg replacer is a low-fat or low-cholesterol alternative to whole eggs. Such egg substitutes are prepared using various ingredients, such as modified food starch, milk, and the like. Egg replacers are used as substitutes to conventional eggs and decrease egg content without compromising the taste and nutritional benefits of food. Egg replacers are basically made from a variety of food ingredients, such as starch, milk, and soy milk. Egg replacement ingredients provide similar nutritional and health benefits to eggs. Eggs are a very rich source of protein, vitamins, and other minerals found in other foods such as apple sauce, mashed bananas, flaxseed, and silk tofu.
Recent Developments in Egg Replacers Industry:
In March 2015, US Ingredion Inc. began replacing or reducing egg white products from baked goods.

In January 2020, Noblegen INC launched the Whole Egg Powder Vegetable under the unite brand.
REPORT COVERAGE:
| | |
| --- | --- |
| REPORT METRIC | DETAILS |
| Market Size Available | 2022 – 2028 |
| Base Year | 2022 |
| Forecast Period | 2023 - 2028 |
| CAGR | 6% |
| Segments Covered | By Source, Form, Application, Ingredient and Region |
| Various Analyses Covered | Global, Regional & Country Level Analysis, Segment-Level Analysis, DROC, PESTLE Analysis, Porter's Five Forces Analysis, Competitive Landscape, Analyst Overview on Investment Opportunities |
| Regions Covered | North America, Europe, APAC, Latin America, Middle East & Africa |
| Market Leaders Profiled | Florida Food Products, Fiberstar, Danone Nutricia, MGP Ingredients, Corbion, Puratos, Tate & Lyle PLC, Glanbia PLC, E.I. Dupont De Nemours and Company, Cargill and Others. |
Egg Replacers Market Growth:
Egg replacers are designed to help manufacturers overcome the rising cost of egg whites and increase profitability by improving the appearance and texture of egg whites. Therefore, this advantage will lead to the future egg replacement market.
Drivers:
The growth of vegan populations and the increasing number of people with egg allergies are the main drivers of the growth of the global egg replacers market. With the increasing adoption of healthy eating habits among consumers, the increasing demand for vegetarian and vegan products is also a key factor in promoting the growth of the global market. Also, the incidence of bird flu is favored by vegans among individuals. If you can change your eating habits at a reasonable price and be able to buy a variety of vegetarian food products, the growth of the worldwide egg replacement food market is expected to thrive in the future. The consumption of plant ingredients is increasing due to the nutritional benefits, one of the main driving forces in the global market for nutritional alternatives than dairy, gluten and non-vegetarian products. Food tastes around the world have changed dramatically in the past decade. Consumers around the world are shifting demand from non-vegetarian food to vegan food. As health problems for non-vegetarian foods increase, consumers prefer plant foods. Egg replacement ingredients are readily available from plant-based food chains that have similar nutritional benefits. In addition to these oversupply and supply chain problems, the egg market is becoming more vulnerable, causing more and more consumers to consume egg substitutes. The plant-based alternative to eggs solves price and supply chain problems, so consumers can easily consume these products. Egg replacement ingredients offer similar benefits to eggs, but cannot replace the taste of eggs somewhere. The consumer's preference for the true taste of eggs is a major inhibitor of egg replacement ingredients worldwide. Various egg dishes, such as omelets, scrambled eggs, and fried eggs, have a unique flavor that makes it difficult to replace with other dishes, and some consumers cannot compromise their taste. Because eggs provide different functional properties to different egg products or dishes, egg replacement ingredients will have difficulty providing similar properties due to a large number of egg-related products.
Due to the low availability of eggs, the world market for egg replacers is expected to grow rapidly in the coming years. The growing demand for vegetable ingredients and high egg prices are other factors that are expected to drive the global market for egg replacement ingredients during the estimated period. Egg replacement ingredients promote a decrease in egg content without affecting the appearance and taste of food. Such egg substitutes are prepared using various ingredients, such as modified food starch, milk, and the like. As consumers changed their preferences for egg replacers, manufacturers began to produce egg substitutes. Global egg manufacturers face a number of problems related to egg production, including handling and storage, allergen separation and cleaning, price, and sustainability. Egg replacers provide better functionality than eggs with no related issues, which could be a better opportunity for egg replacement manufacturers in the future. However, the introduction of a variety of egg replacement products, vegan products, especially emerging economies, can create huge profit opportunities for players in the target market.
Restraints:
The higher cost of the final product and the fact that egg replacers do not provide the same flavor have the potential to limit the growth of the global egg replacers market during the forecast period. Demand for eggs and egg-based foods can hinder the growth of the global egg replacers market. Also, egg substitutes do not offer the same flavor as eggs in food, another factor that can affect the growth of the global market.
Egg Replacers Market Segmentation Analysis:
By Source:
By Form:
By Application:
Bakery & Confectionery

Savories

Sauces, Dressings, and Spreads

Others
By Ingredient:
Dairy Protein

Starch

Algal Flour

Soy-Based Products

Others
Geographical Segmentation Analysis:
North America - the United States and Canada

Europe - United Kingdom, Spain, Germany, Italy, and France

The Asia Pacific - India, Japan, China, Australia, Singapore, Malaysia, South Korea, New Zealand, and Southeast Asia

Latin America - Brazil, Argentina, Mexico, and Rest of LATAM

The Middle East and Africa - Africa and Middle East (Saudi Arabia, UAE, Lebanon, Jordan, Cyprus)
Regional Analysis:
The regional ranking of the world market for egg substitute ingredients includes North America, Latin America, Europe, Asia Pacific, the Middle East and Africa. The North American market currently represents a large percentage of sales and is expected to show high growth during the outlook period. The presence of a technologically advanced food processing industry and the adoption of an interpersonal vegan diet are factors that drive the growth of the global market in the region. The European market is supposed to occupy the second-highest share of revenue in the region. The European egg replacer market is expected to show the highest growth rate during the prediction period due to the increased consumption of non-dry diets, and the egg replacement market also shows better growth as an interest in nutritional diets. The Asian egg replacers market shows modest growth during the forecast period due to a lack of knowledge of egg replacement ingredients. The Asia Pacific region is expected to be the fastest-growing market during the study period due to increased demand for egg substitutes in bakeries and other industries and the low cholesterol levels provided by egg substitutes. Due to the risk of cardiovascular disease and growing concerns about the side effects of eggs, China is ready to accept the concept of egg substitutes in recipes. Combining cheap regulated raw materials and low production costs with free regulation, the Asia Pacific region is a better place to establish manufacturing facilities. Producers of these egg substitutes can offer the product at an affordable price.
Key Players in the Market:
Major Key Players in the Global Egg Replacers Market are
Florida Food Products, LLC

Fiberstar, Inc.

Danone Nutricia

MGP Ingredients

Corbion

Puratos

Tate & Lyle PLC

Glanbia PLC

E.I. Dupont De Nemours and Company

Cargill