Food Grade Alcohol Market Size, Growth, Forecast (2023-2028)
The global Food Grade Alcohol Market size was worth US$ 2.26 billion in 2022, and it is estimated to reach a valuation of US$ 2.90 billion by the end of 2028, expanding with an annual rate of 3.7% between 2023 and 2028. The growing personal interest in Food Grade Alcohol and other spirits is a major driving force in the market.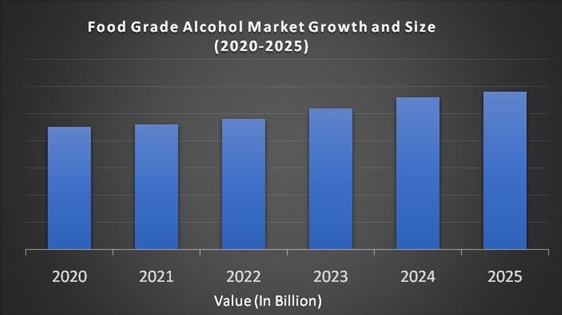 Market Overview:
Alcohol, also known as ethanol, is a versatile product that can be used for a variety of purposes, from food and pharmaceuticals to industrial solvents. The food-grade alcohol is used in the manufacture of vinegar, spices and extracts, caramel icing, food colors, yeast, animal feed supplements and various food sprays. In general, the main difference between the production of fuel-grade ethanol and food-grade ethanol is adding a small amount of solvent or gasoline to fuel-grade ethanol so that it cannot be decoupled. The alcohol production process does not necessarily use food-grade equipment. The rest of the alcohol production process is mostly similar. Food grade alcohol has three types of fermentation: 'industrial' ethanol from fermentation or synthetic origin, 'FCC (Food Chemical Codex)' grade ethanol with most impurities removed, heavy metal specification restrictions and ' GNS '.
Recent Developments in Food Grade Alcohol Industry:
In May 2017, Cargill acquired BioBased technologies from Rogers, Arkansas, and its plant-based polyol family, Agrol.

In December 2018, Lab Alley announced that it would launch a line of pure food-grade absolute ethanol products as market demand for products increases.

Andersons, Inc., in January 2019, declared the acquisition of Lansing Trade Group, LLC for about US$ 324 million. With this acquisition, you can increase your participation in the agricultural business and increase your profitability in all applications.
REPORT COVERAGE:
| | |
| --- | --- |
| REPORT METRIC | DETAILS |
| Market Size Available | 2022 – 2028 |
| Base Year | 2022 |
| Forecast Period | 2023 - 2028 |
| CAGR | 3.7% |
| Segments Covered | By Type, Application, Source and Region |
| Various Analyses Covered | Global, Regional & Country Level Analysis, Segment-Level Analysis, DROC, PESTLE Analysis, Porter's Five Forces Analysis, Competitive Landscape, Analyst Overview on Investment Opportunities |
| Regions Covered | North America, Europe, APAC, Latin America, Middle East & Africa |
| Market Leaders Profiled | Archer Daniels Midland Company, Cargill, Jiangsu Huating Biotechnology, Grain Processing, Malindra, Wilmar International, Roquette Freres S.A, MGP Ingredients, Cristalco, Muby Chemicals and Others. |
Food Grade Alcohol Market Growth:
The global food-grade alcohol market is promoted by the rise in demand for this kind of alcohol in numerous food and beverage and health and personal care sectors.
Drivers:
Growth has been driven by increased application of food-grade alcohol to personal care in food and beverage, healthcare and pharmaceutical, and other industries. The increase in the liquor and beverage trade is driving demand for food-grade alcohol. This product is manufactured using plant and grain fermentation processes such as wheat, corn, and barley, and is found in alcoholic beverages such as brandy, whiskey, and beer. Increased sales of these products are expected to have a positive impact on market growth. Additionally, expanded beer and alcohol production has increased the use of ethanol in the beverage industry, increasing overall demand for food-grade alcohol. Population growth and rapid urbanization have required quality food. Also, food-grade alcohol is used for food preservation. These factors are supposed to drive the market for food-grade alcohol during the forecast period.
Alcohol is a vital ingredient in the manufacture of extracts, spices, yeast and vinegar. Due to changes in eating habits and the adoption of ready-to-eat foods in the food industry, the demand for ethanol has increased to extend the shelf life of food. Food-grade alcohol plays an essential role in the medical sector because it sterilizes a variety of medical equipment before preparing and using pharmaceuticals. The European market is assumed to continue creating market growth opportunities due to high alcohol consumption in the region. In countries like India, China and Brazil, the market is suspected of growing exponentially due to increased demand for alcohol and trade. The growing demand for different types of food-grade alcohol in various end-use industries is a crucial factor driving the growth of the global market for food-grade alcohol. Ethanol is primarily used for the production of spirits, making it a larger market share in the food-grade alcohol market. The demand for alcoholic beverages is increasing worldwide. Food grade ethanol is also used as a preservative in food products and drinks to increase the shelf life of food.
In addition, it is used as an ingredient that improves the color and aroma of food. Therefore, ethanol has various functional properties as a coloring/flavoring agent and preservative and is also used to coat many foods. These properties are anticipated to help the food-grade alcohol market by increasing demand for food-grade ethanol worldwide. Moreover, increasing the adoption of food-grade alcohol in alcohol and pharmaceutical production are other factors that are presumed to accelerate the growth of the world market for food-grade alcohol during the outlook period. Furthermore, urbanization and population growth are expected to lead the market further. Alcohol flavored foods will provide a favorable opportunity for food-grade alcohol in the near future.
Restraints:
Strict regulations on the production and distribution of alcohol are the main factors that are likely to hinder the growth of the global food-grade alcohol market. Furthermore, raising awareness of the negative impacts associated with alcohol consumption is another factor that is expected to inhibit the growth of the worldwide market for food-grade alcohol during the prediction period. Fluctuations in raw material prices and strict regulations for the use of alcohol in food and beverages and health and personal care products are the main challenges facing the market.
Food Grade Alcohol Market Segmentation Analysis:
By Type:
By Application:
Food

Beverages

Healthcare

Pharmaceuticals
By Source:
Sugarcane & Molasses

Grains

Fruits
Geographical Segmentation Analysis:
North America - the United States and Canada

Europe - United Kingdom, Spain, Germany, Italy, and France

The Asia Pacific - India, Japan, China, Australia, Singapore, Malaysia, South Korea, New Zealand, and Southeast Asia

Latin America - Brazil, Argentina, Mexico, and Rest of LATAM

The Middle East and Africa - Africa and Middle East (Saudi Arabia, UAE, Lebanon, Jordan, Cyprus)
Regional Analysis:
Currently, the North American market is dominating the global food-grade alcohol market in terms of sales due to the high consumption of alcoholic beverages in the region and the high use of food-grade alcohol in beverage production. The European market has the second-highest proportion of sales in the world market for food-grade alcohol as demand for select food-grade alcohol increases, and disposable income is high. Europe held a prominent market share of 35.70% by volume in 2018. In order to meet the needs of the large consumer base, an increase in applications in the food and beverage industry is estimated to spur growth in this region. Furthermore, the European food industry tends to outpace innovation and improvements in food products, competition and meet the growing demand for products.
The Asia Pacific market is prophesized to be the leading region based on value and volume in the global food-grade alcohol business. The area is made up of developing countries such as China, Japan and India, the world's largest consumers of food-grade alcohol. In India and China, where raw materials are abundantly supplied, rising population and per capita income are deemed to lead the food-grade alcohol market. India's food-grade alcohol market is envisioned to grow at the highest rate among Asia Pacific countries.
Key Players in the Market:
Major Key Players in the Global Food Grade Alcohol Market are
Archer Daniels Midland Company

Cargill Incorporated

Jiangsu Huating Biotechnology

Grain Processing

Malindra

Wilmar International

Roquette Freres S.A

MGP Ingredients

Cristalco

Muby Chemicals