Egg Processing Market Size, Growth, Forecast (2023-2028)
The global Egg Processing Market size was estimated to be USD 27.3 billion in 2022 and is determined to reach USD 32.3 billion by 2028 at a CAGR of 3.4% during the anticipated years. Increased consumption of bakery processed egg products and functional foods is driving the egg processing business worldwide.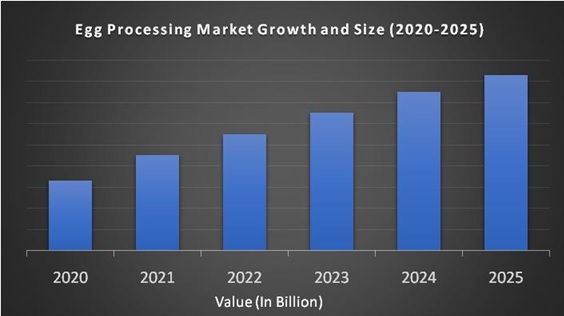 Market Overview:
The processed egg is a unique technique that can be employed to improve conventional egg properties like storage, freshness, shelf life, and other transportation needs. It is done with the help of various technologies and devices. Some of the common processes employed in the processing of eggs are the discarding of eggshells, filtration, mixing, stabilization, pasteurization, freezing or drying and packaging. Different equipment is used at multiple phases of the egg processing business. Egg processing equipment is an integrated set of machines commonly used at various stages of egg processing. Processed eggs are widely used as ingredients in various foods, such as baked goods, dairy products, and dairy products and confectionery. Process eggs have excellent functional properties, such as improved freshness, long shelf life, simple storage, and transport requirements.
Recent Developments in Egg Processing Industry:
In June 2018, MOBA B.V. launched an automatic egg handling device. We use big data to process eggs according to customer requirements.

Sanovo Technology Group, a leading food processing equipment manufacturer, has launched innovative pasteurization equipment. This device minimizes Salmonella in egg products, which is a major cause for poisoning in eggs.

Cal-Maine Foods, Inc. in Oct 2018 declared the purchase of all of the assets of Featherland Egg Farms, Inc. The acquisition allowed the company to increase sales in various parts of the United States, including Texas.
REPORT COVERAGE:
| | |
| --- | --- |
| REPORT METRIC | DETAILS |
| Market Size Available | 2022 – 2028 |
| Base Year | 2022 |
| Forecast Period | 2023 - 2028 |
| CAGR | 3.4% |
| Segments Covered | By Type, Application and Region |
| Various Analyses Covered | Global, Regional & Country Level Analysis, Segment-Level Analysis, DROC, PESTLE Analysis, Porter's Five Forces Analysis, Competitive Landscape, Analyst Overview on Investment Opportunities |
| Regions Covered | North America, Europe, APAC, Latin America, Middle East & Africa |
| Market Leaders Profiled | Actini Group, Avril SCA, Cal-Maine Foods Inc, Moba B.V, Eurovo S.R.L, Igreca S.A, Interovo Egg Group B.V. S.P.A, Bouwhuis Enthovan, Sanovo Technology Group and Others. |
Egg Processing Market Growth:
The trend towards health awareness and a healthy lifestyle is further improving the market for processed eggs.
Drivers:
The global market for egg processing equipment is expected to shift consumer preferences for processed foods, along with a growing demand for high-quality egg products, the main egg in the next six years. As demand for protein-rich foods and nutritional supplements increases, growth in the global egg processing market is expected to accelerate during the forecast period. Technological advancements like integrated assembly lines with increased production speeds and reduced operating costs are estimated to have a positive impact on market boom during the conjecture period. Companies in the egg processing industry are implementing high-quality manufacturing procedures and are constantly involved in product development. The egg processing market is supposed to grow at a significant rate in the coming years. This is primarily due to several advantages of processed eggs, such as the reduced risk of contamination, long shelf life, and ease of transportation. The aspects such as unique and different consumer choices and the call for increasing the quality of the products are anticipated to fuel the market growth. In addition to this, the increasing demand for high-quality products in the fast-growing food industry may increase the prospects for the egg processing market in the future. As demand increases, major players focus on launching high-end products, such as integrated assembly lines that improve production speed and reduce operating costs. This is presumed to improve the developments of the global egg processing business.
Additionally, the rise in the usage of eggs in the bakery and confectionery and dairy sectors is another factor propelling demand for egg processing devices. This is expected to lead the egg processing market in the future. Strict government regulations for substances and methods used in egg processing and processing to increase consumer awareness of the high quality and nutritional benefits of eggs also increase the growth of the egg processing market. Furthermore, as the demand for egg identification increases to eliminate the entry of unsafe eggs, it is gaining considerable traction, leading to the growth of the global egg processing market. These unsafe contaminated eggs lead to food-related illnesses and other microbiological risks associated with eggs and are expected to be further eliminated through egg processing machines. Also, eggs are highly nutritious and protein supplements. The obstacles are expected to be overcome in the egg processing market as demand for protein-rich foods and dietary supplements increases worldwide. The development of new and innovative technologies in the manufacture of egg products that reduce egg waste can create potential opportunities for key players in the global egg processing market.
Restraints:
Strict FDA regulations on functional foods and egg protein are expected to slow market growth in the coming years. The high initial cost of investment in manufacturing and processing equipment is a major impediment to the growth of the global egg processing industry. The recent trend towards vegan foods and the provision of egg substitutes may hinder the growth of the global market for egg processing during the estimated period.
Egg Processing Market Segmentation Analysis:
By Type:
By Application:
Bakery

Confectionery

Ready to Eat

Soups and Sauces

Others
Geographical Segmentation Analysis:
North America - the United States and Canada

Europe - United Kingdom, Spain, Germany, Italy, and France

The Asia Pacific - India, Japan, China, Australia, Singapore, Malaysia, South Korea, New Zealand, and Southeast Asia

Latin America - Brazil, Argentina, Mexico, and Rest of LATAM

The Middle East and Africa - Africa and Middle East (Saudi Arabia, UAE, Lebanon, Jordan, Cyprus)
Regional Analysis:
In terms of regional demand, North America accounted for the lion's share in the global egg processing market. North America dominated the processed egg market. The growth rate of the North American processed egg industry is stable compared to other markets. In developed countries, Europe is another important market for processed egg products. The market in this region is characterized by the development of extraction technology, along with an increase in health awareness among the average consumer. The egg processing and equipment market is expected to show the highest growth rates in the Asia Pacific region during the projection period. Increased demand for processed egg products, along with increased health awareness among consumers, are expected to drive market growth in the region during the forecast period. In developing countries like Asia Pacific, the total growth rate is higher. This is credited to the population growth, urbanization, and awareness of the nutritional aspects of processed egg products in this area. The call for processed egg products is overgrowing in developing economies like China and India. Europe, the Middle East and Africa are also expected to experience significant growth in the global food processing machinery market during the determined period.
Key Players in the Market:
Major Key Players in the Global Egg Processing Market are
Actini Group

Avril SCA

Cal-Maine Foods Inc

Moba B.V

Eurovo S.R.L

Igreca S.A

Interovo Egg Group B.V. S.P.A

Bouwhuis Enthovan

Sanovo Technology Group