Global EHR Market Size (2022 to 2027)
During the forecast period, the global electronic health records (EHR) market size is estimated to be growing at a CAGR of 4.24% and worth USD 36.18 billion by 2027 from USD 29.4 billion in 2022. Epic Systems and Cerner Corporation accounted for a significant share of the global EHR market.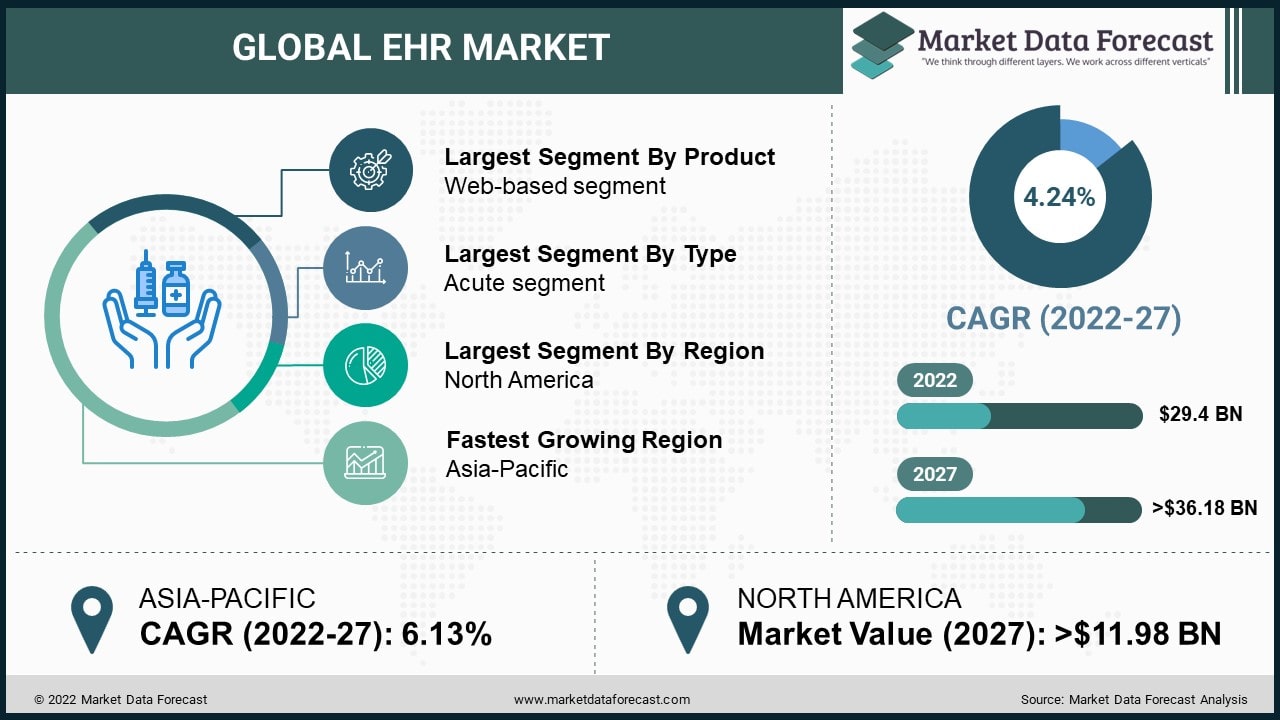 The electronic health record, or EHR system, is primarily used for the structured electronic gathering and storage of patient medical data in a digital format. EHR systems aid in expanding patient data accessibility, hence improving the overall productivity and efficiency of patient care. Electronic health records' usage is expected to increase in the future due to their numerous features, applications, and interoperability across a variety of healthcare settings. Electronic health records' use and features across various healthcare facilities are predicted to become increasingly common in the future. Approved physicians can create and maintain health information in a digital format that can be shared with other clinicians across numerous health care organizations, which is one of the primary benefits of an EHR. EHRs are designed to share data with other healthcare providers and organizations, such as laboratories, specialists, medical imaging facilities, pharmacies, emergency rooms, and school and workplace clinics. They contain information from all clinicians involved in a patient's treatment.
MARKET DRIVERS:
Y-O-Y growth in EHR adoption worldwide, increased usage of cloud-based EHR software, a rapid increase in the aging population, and growing prevalence of chronic diseases are primarily accelerating the global EHR market growth.
EHR also allows for better patient engagement while reducing the number of time experts spend on paperwork. Incorporating artificial intelligence (AI) to anticipate EHR-based clinical outcomes has also benefited in enhancing patient experience by facilitating improved care delivery. In addition to these developments, the market expansion will be boosted by supportive government initiatives and funding in the field.
In the recent past, new expansion activities, product approvals, product launches, partnerships, and acquisitions have had a favorable impact on the global EHR market. Furthermore, as the world becomes more digital, there has been a significant increase in demand for electronic health records, fueling market growth. In addition, the rising need for healthcare administration centralization and streamlining is projected to drive market growth. The global EHR market is further expected to see significant development as more attempts to utilize digital platforms for pandemic management emerge and ongoing usage of digital technology in the future.
MARKET RESTRAINTS:
The high cost of EHR and growing concerns about patient data safety and security due to the rise in cyber-crime are a few of the significant restraints to the global EHR market. In addition, information technology, a lack of uniform definitions and concepts, cultural issues, and a lack of needs assessment before implementation are challenges for electronic health record infrastructure. In contrast, structural challenges are caused by enforced instability, privacy violations, and legal cases.
Impact of COVID-19 on the global EHR market:
Due to the expanding number of COVID-19 patients, electronic medical record systems have been built for tracking and invoicing patients rather than providing optimal care, which is the need of the hour. Furthermore, COVID-19 instances are on the rise, and whether existing software can track such an outbreak remains to be seen. Individuals at various risk levels for COVID-19 infection can be identified in advance, which can help prevent the virus from spreading by ensuring the appropriateness of care in all healthcare settings and attaining high-quality outcomes. Electronic health records proved to be a helpful tool for population health and data management during the coronavirus pandemic. Government initiatives to collect and analyze COVID-19 population data, as well as individual electronic health records held by healthcare organizations, have received widespread support from the public. The global EHR market is anticipated to see significant development as more attempts to utilize digital platforms for pandemic management develop and ongoing usage of digital technology in the future.
REPORT COVERAGE:
| | |
| --- | --- |
| REPORT METRIC | DETAILS |
| Market Size Available | 2021 to 2027 |
| Base Year | 2021 |
| Forecast Period | 2022 to 2027 |
| Segments Covered | By Product, Type, End-User, Business Model, and Region |
| Various Analyses Covered | Global, Regional & Country Level Analysis, Segment-Level Analysis, DROC, PESTLE Analysis, Porter's Five Forces Analysis, Competitive Landscape, Analyst Overview on Investment Opportunities |
| Regions Covered | North America, Europe, APAC, Latin America, Middle East & Africa |
This research report on the global electronic health records market has been segmented and sub-segmented into the following categories and analyzed market size and forecast for each segment until 2027.
Electronic Health Records (EHR) Market – By Product:
Client-server-based

Web-based
In 2020, the web-based segment dominated the global EHR market. The popularity of web-based EHRs among smaller-scale physicians and healthcare providers can be attributed to the fact that they can be set up without in-house servers and can also accommodate significant updates and improvements as needed.
Electronic Health Records (EHR) Market – By Type:
Acute

Ambulatory

Post-acute
In 2020, the acute segment accounted for the most significant share of the global EHR market. Government initiatives to install EHRs in small facilities, such as acute hospitals in the United States covered by the inpatient prospective payment system (IPPS) and eligible for the Medicare Incentive Payment System, have fuelled the rise. Ambulatory EHRs, often known as outpatient EHRs, are designed in outpatient care facilities and small offices. Government support for the implementation of outpatient EHRs is likely to drive market growth, particularly during the Covid-19 pandemic.
Electronic Health Records (EHR) Market – By End-User:
Hospitals

Ambulatory Care

Physician's Clinic

Laboratories

Pharmacies
In 2020, the hospital segment held the largest share in the global EHR market and is estimated to continue during the forecast period. The market's growth is fuelled by a vast volume of medical data generated in hospitals.
Electronic Health Records (EHR) Market – By Business Models:
Licensed Software

Technology Resale

Subscriptions

Professional Services

Others
In 2020, the professional services segment led the global EHR market. The segment is estimated to be driven by the growing demand for professional services such as project management, clinical process optimization, technical & application expertise, regulatory consulting, and training & education of clients' workforce to aid in designing and implementing systems.
Electronic Health Records (EHR) Market – By Region:
North America

Latin America

Europe

Asia Pacific

Middle East & Africa
Geographically, the North American EHR market is estimated to dominate the global market and is anticipated to remain so for the foreseeable future. Technological developments, significant government and private sector investments in healthcare, and the presence of prominent industry players are some of the factors driving market expansion in the North American region. In contrast to other geographical locations, the healthcare IT market in the United States is one of the most established. Due to strict regulatory requirements, most hospitals and clinics in the region have deployed EHR solutions. The top countries in this region that have deployed EHR systems are Canada and the United States.
During the forecast period, the European EHR market is anticipated to register a CAGR of 3.44% from 2022 to 2027. The APAC EHR market is expected to be worth USD 9.01 billion by 2027. The EHR market in the Latin American region was valued at USD 2.29 billion in 2022.
KEY MARKET PLAYERS:
Cerner Corp., GE Healthcare, NextGen Healthcare, Inc., eClinicalWorks, Medical Information Technology, Inc., HMS, CPSI, AdvancedMD, Inc., DXC Technology Company, CureMD Healthcare, Greenway Health, LLC, Allscripts Healthcare, LLC, McKesson Corp., and Epic Systems Corp. are some of the noteworthy players operating in the global EHR market profiled in this report.
RECENT HAPPENINGS IN THE GLOBAL EHR MARKET:
SimboAlpha, Simbo.ai's main cloud-based API (Application Programming Interface) technology platform, was launched in March 2021. It enables EMR providers, health app providers, and hospital chains to give smart voice based EMR to their physicians.

Epic Systems launched the Epic EHR in 190 health systems in October 2020, making it the vendor's most effective implementation globally.

COVID-19 test ordering is now available through Health Gorilla's platform, a leader in healthcare data interchange, as of March 2020.