Oral Care Market Size (2022 to 2027)
At a CAGR of 3.1%, the global oral care market size is estimated to grow by USD 61.4 billion by 2027. Product innovations and massive investment in marketing and promotional activities by the key players positively impact the global oral care market. Nevertheless, low awareness in consumers about technological innovations in the oral care market hinders the growth rate.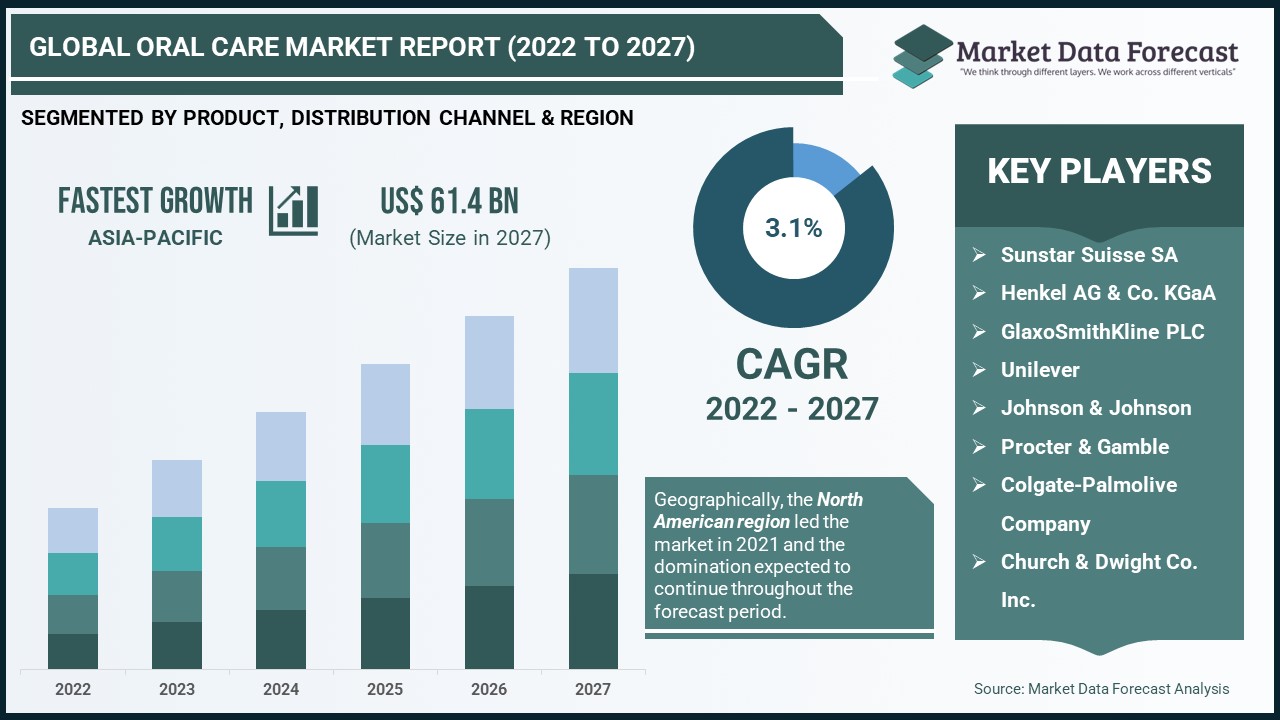 The concern towards oral hygiene among people has been significantly growing worldwide. Increasing awareness regarding maintaining healthy oral hygiene and fresh and pleasant breath influence the demand for the oral care products market. Many new oral care products have been introduced with technological advancements. According to the World Health organization reports, it is stated that over 530 million children suffer from dental caries of primary teeth. Key market participants such as Procter & Gamble and Colgate-Palmolive have taken initiatives to spread dental hygiene awareness. Leading market players are focussing on innovative products concerning customer interest. Products consist of innovative features such as a linear magnetic drive, a smart display with personalized brushing mode, and a redesigned brush head to offer optimal oral health.
MARKET DRIVERS:
The rigorous efforts made by the dentists and market participants to increase the awareness levels of having good oral hygiene among people primarily contribute to the growth of the global oral care market.
Y-O-Y growth in the prevalence of dental caries in children and adults is expected to drive the oral hygiene market during the forecast period. Additionally, factors such as periodontal diseases and other diseases, growing awareness about oral hygiene, and the rising number of small and medium private clinics worldwide propel market growth. Besides, government initiatives to conduct medical camps to create oral hygiene awareness in emerging countries and investments from private organizations for improving healthcare infrastructure are further anticipated to expand the global oral care market growth. Companies operating in this market focus on innovative dental products that enable the patients to opt for suitable products. Other factors such as growing technological advancements and introducing new procedures and treatments are estimated to create betterment in the market's growth rate. Earlier, Orthodontic treatments were mainly used for children and teens, and now many adults are opting for these treatments is considered a significant growth factor. Moreover, increased variety and targeted solution-seeking customers accelerate the development of the market.
The growing number of players working at the regional level has further increased the competition in the market. The rise of local players in developing markets such as India, China, and Brazil also increases global players' pricing pressure. Regional players offer similar products at lower prices than the multi-national companies and sell the products on e-commerce websites at low prices, creating pricing pressure on international players. Prominent players in the market are highly dependent on consumer stores, as they are the manufacturers' immediate clients.
MARKET RESTRAINTS:
Competitive pricing burden on the prominent market players, the risk associated with the oral care treatments, and unfavorable healthcare reforms hamper the global oral care market growth. In addition, supermarkets such as Wal-Mart, Target, and Costco have a high negotiating strength; retailer consolidation could create cost and margin pressure on production companies. Furthermore, the increased bargaining power of buyers may negatively impact the business of manufacturers.
Impact of COVID-19 on the global oral care market:
Like all other consumer staples markets, the Oral care market will positively affect its growth due to COVID-19 and is predicted to record a higher growth rate than the global GDP. Market growth in 2020 is anticipated to increase compared to 2019 and accelerate at a CAGR of more than 4%. The impact on the market will normalize by Q3-2021 in the best-case scenario and Q1-2022 in the worst.
On the other side, the market has experienced a slight slowdown in the market growth rate between Q2 2020 to Q3 2020 due to the sudden introduction of lockdown. The distribution channel was disrupted in the early pandemic periods. Moreover, the oral care treatments had been stopped and postponed. As a result, all the investment and funding for healthcare were diverted into the fight against corona. As a result, the market experienced a growth decline in the first half of 2020. Still, with the governments unlock guidelines, the government shares are eventually falling into the same position.
REPORT SCOPE:
| | |
| --- | --- |
| REPORT METRIC | DETAILS |
| Market Size Available | 2021 to 2027 |
| Base Year | 2021 |
| Forecast Period | 2022 to 2027 |
| Segments Covered | By Product, Distribution Channel, and Region |
| Various Analyses Covered | Global, Regional & Country Level Analysis, Segment-Level Analysis, Drivers, Restraints, Opportunities, Challenges, PESTLE Analysis, Porter's Five Forces Analysis, Competitive Landscape, Analyst Overview on Investment Opportunities |
| Regions Covered | North America, Europe, APAC, Latin America, Middle East & Africa |
This research report on the global oral care market has been segmented based on the product, distribution channel, and region.
Oral care market - By Product:
Toothpaste

Toothbrushes & accessories

Mouthwashes/Rinses

Dental Accessories/Ancillaries

Denture Products

Dental Prosthesis Cleaning Solutions
The toothpaste segment controlled the largest market share in 2020 due to its increased adoption and utility in maintaining proper oral hygiene and preventing dental problems. Teeth whitening toothpaste is one of the most popular products holding the largest share. Manufacturers continually focus on implementing innovative strategies and introducing a broad portfolio of products to improve their market position.
However, the introduction of advanced variants of toothbrushes like electric and battery-powered is expected to increase the toothbrush segment and project the fastest growth over the forecast period and emerge dominant by 2025. These products offer additional advantages like total mouth improvement, including different modes for usage such as deep clean, daily clean, tongue cleaning, whitening, and massaging.
Mouthwash is anticipated to point out profitable growth over the forecast period because of its increasing oral hygiene maintenance usage. However, despite its benefits, side effects are similar to staining teeth, damage to the oral tissue layer, and adverse reactions if ingested, particularly in kids. These factors are likely to restrain their usage.
Denture products expect to witness significant growth over the forecast period. New product development and launch are key factors influencing the market.
Oral care market - By Distribution Channel:
General convenience Stores

Retail Pharmacies

Online Distribution

Dental Dispensaries
Convenience stores control a significant share of the oral care distribution channels due to their numbers and close to consumers.
Oral care market - By Region:
Asia Pacific

Europe

North America

Latin America

The Middle East and Africa
In 2020, the global market was dominated by the Asia Pacific oral care market and is predicted to show the highest growth rate from 2022 to 2027. The high growth rate of the Asia Pacific Oral Care Market can mainly be attributed to an increase in the number of geriatric populations associated with edentulism, an increase in the prevalence of dental caries and other periodontal diseases in children and adults, an increase in healthcare expenditure, increased awareness of oral healthcare, and a greater willingness to spend more on dental care. Increased focus on market leaders in emerging Asian countries will also further facilitate the growth in this region. Consumers in developed countries like China and Japan are aware of oral health techniques, so the demand for oral care products is high. Ayurvedic or natural ingredient products drive the oral care market in India. Ayurvedic revolution products are the focus of major companies in India.
In 2021, the European oral care market was second in capturing the market share due to the growing prevalence of oral diseases, especially in its eastern parts. In addition, a massive geriatric population base boosts market growth.
The U.S. oral care market is estimated to be growing at a CAGR of 5.02% from 2022 to 2027. Higher affordability in developed countries like the US has fuelled the demand for the latest products like electric toothbrushes and fresh breath strips, leading to a significant revenue share of the North American market in 2019. Moreover, skilled dental hygienists project higher growth in the US.
KEY MARKET PARTICIPANTS AND SHARE INSIGHTS:
Sunstar Suisse SA, Henkel AG & Co. KGaA, GlaxoSmithKline PLC, Unilever, Johnson & Johnson, Procter & Gamble, Colgate-Palmolive Company, and Church & Dwight Co. Inc. are some of the key players in the global oral care market.
R&D and new product launches are the most used strategies by the key market participants to maximize their share in the global oral care market.
GlaxoSmithKline Consumer Healthcare Limited (India) and Hindustan Unilever Limited (HUL) merger in April 2020 made HUL responsible for distributing GSK's Consumer Healthcare brands like its leading oral healthcare brand, Sensodyne, in India.
In April 2020, Perrigo Company plc (Ireland) acquired the oral care assets of High Ridge Brands (US), which includes Dr. Fresh, LLC.
In January 2020, Perrigo Company plc's Ranir subsidiary acquired Steripod, Bonfit America Inc (US), a leading toothbrush accessory and inventor brand.
In December 2019, Colgate-Palmolive Company launched Colgate Optic White Renewal Toothpaste.