Pea Starch Market Size, Growth, Forecast (2023-2028)
The Global Pea Starch Market size was worth US$ 84.9 million in 2022, and it is estimated to reach a valuation of US$ 134.7 million by the end of 2028, progressing at an annual compound rate of 8.0% between 2023 and 2028. New developments in the food and beverage industry in North America and Europe will drive the growth of the pea starch industry worldwide.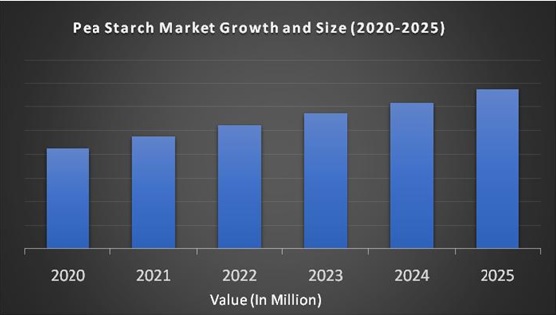 Market Overview:
Pea starch is a polysaccharide abundantly filled with carbohydrates and has applications in different verticals like food and beverages, pharmaceuticals, animal feed, textiles, cosmetics and so on. Dried peas are also used for the extraction of protein and starch, and the polysaccharide extracted from dried peas has a variety of functional properties that can be used for a variety of applications. Pea starch is used in a range of ready-to-mix and meal products, such as baked goods, curries, and dessert mixes. The gelation, binding and concentration of starch depend on the ratio of amylose to amylopectin. Therefore, it can be applied to a variety of convenience foods, and starch is primarily accessible as a by-product of protein extraction. As a result, it is considered an inexpensive source of carbohydrate, unlike wheat, potato, and corn starch. It can also form a gel in the water at a much lower dose than other variants. Pea starch is the primary choice for products like meat, gums, cereals, coatings and others due to its less elasticity.
Recent Developments in Pea Starch Industry:
July 2018: Cosucra announced that it would expand Belgium's pea protein production capacity by investing $ 44 million in the Warcoing facility.

May 2018: Roquette announced the establishment of a new production unit dedicated to unique pea protein in France. This expansion is part of the investment plan of 40 million euros in 2017.

In December 2018, a global supplier of plant-based ingredients RoquetteFreres acquired a majority stake in Crest Cellulose, an India-based company operating in a pharmaceutical related business.

In August 2019, Cargill announced a $ 75 million investment in PURIS based in the United States. With this investment, the latter is supposed to double production using the existing 200,000-square-foot facility in Dawson, Minnesota, and continue to increase demand for key ingredients such as pea protein, starch, and fiber.
REPORT COVERAGE:
| | |
| --- | --- |
| REPORT METRIC | DETAILS |
| Market Size Available | 2022 – 2028 |
| Base Year | 2022 |
| Forecast Period | 2023 - 2028 |
| CAGR | 8% |
| Segments Covered | By Type, Application, End-User and Region |
| Various Analyses Covered | Global, Regional & Country Level Analysis, Segment-Level Analysis, DROC, PESTLE Analysis, Porter's Five Forces Analysis, Competitive Landscape, Analyst Overview on Investment Opportunities |
| Regions Covered | North America, Europe, APAC, Latin America, Middle East & Africa |
| Market Leaders Profiled | ROQUETTE, Sanstar Bio - Polymers Ltd, American Key Food Products, COSUCRA (SOCODE), Shandong Jianyuan Group, Parrheim Foods, Emsland Group, Meelunie B.V., Vestkorn and Others. |
Pea Starch Market Growth:
Market growth is expected to accelerate as demand for pea starch increases due to applicable industries and increased adoption of pea starch.
Drivers:
The growing consumer demand for pea starch and protein has primarily fueled growth, resulting in a surplus of pea starch. This product is considered one of the new starch-based ingredients in the food and feed industry. It provides many nutritional benefits and is useful for preparing allergen-free, lactose-free and gluten-free solutions. Pea starch also helps provide clean labels for processed foods such as baked goods and meat products due to organic products. Peas are produced in almost every country in the world.
Along with the demand for functional starch, starch extracted from vegetables like peas and other legumes like soy helps control the glycemic index of foods, which is similar to resistant starch and is not absorbed by the body and intestines. It happens due to its clean label profile, food manufacturers use pea starch as a variety of product formulations as an alternative to modified starch, promoting the growth of the pea starch market worldwide.
Growth is primarily driven by a surge in demand from the health food industry and increased consumer propensity for GMO-free and gluten-free diets. Market demand around the world will be driven mainly by advantages over products obtained from other conventional sources such as corn, maize, rice, and potatoes. Dried peas have a starch content of approximately 48%, while rice, corn, and potatoes, one of the most widely used sources have content of roughly 28%, 19%, and 18%. The most commonly recognized variant of pea starch around the world is the one that has a higher concentration of amylose. This unique feature provides relatively good thickening and gelling properties in the final product, making it an ideal ingredient for foods that require a short, tight texture.
The high amylose content provides more excellent stability under higher heat, shear and acid conditions than other products. These unique features will increase demand for products for food applications and increase the global pea starch market growth during the outlook period. Technological advancements have made innovations like pea starch an alternative to plastics. In other words, bioplastic films made from pea starch can be used for food packaging and wound dressing. It offers tremendous opportunities for pea starch manufacturers.
Restraints:
For consumers, a lack of knowledge of the product's superior properties and benefits will be an essential factor in disrupting market prospects. The spread of other products on the market, such as those obtained from potatoes, corn and maize, exacerbated the lower demand for products due to lack of knowledge. These factors can impede the expansion of the global pea starch industry during the projection period.
Pea Starch Market Segmentation Analysis:
By Type:
Food Grade

Feed Grade

Industrial Grade
By Application:
Stabilizing and gelling agent

Soups

Sauces

Meat Products
By End-User:
Pharmaceuticals

Feed

Food

Textile

Livestock
Geographical Segmentation Analysis:
North America - the United States and Canada

Europe - United Kingdom, Spain, Germany, Italy, and France

The Asia Pacific - India, Japan, China, Australia, Singapore, Malaysia, South Korea, New Zealand, and Southeast Asia

Latin America - Brazil, Argentina, Mexico, and Rest of LATAM

The Middle East and Africa - Africa and Middle East (Saudi Arabia, UAE, Lebanon, Jordan, Cyprus)
Regional Analysis:
Asia Pacific, Europe, North America, and other regions accounted for the bulk in 2019. In Asian countries such as China, Japan, Korea, and Singapore, the consumption of noodles, soups, and starch sauces is the main reason for the growth of the pea starch market. Starch application and consumption scenarios have changed in developed markets such as North America and Europe, especially as consumer awareness has altered preferences. Asia Pacific had a significant market share in 2018 and is expected to expand to the fastest CAGR during the projection period. The region has contributed significantly to the growing demand for convenience foods, such as confectionery, sauces, and soups. Factors such as increased use of pea starch in the manufacture of processed foods, a large consumer base, and increased demand for native starch are assumed to contribute significantly to the growth of the regional market.
North America is the world's largest manufacturer and exporter of pea starch and is expected to have the largest market share by 2025. The region is also likely to remain a major consumer in the market due to the increased consumption of processed foods and the increased demand for adhesives in a wide range of industrial applications. Significant increases in production in Mexico's food processing sector are anticipated, primarily due to increased imports of machinery, growth in the baked goods and processed meat industry sector, growing demand of starch from green peas and as a texture theme for bakery and meat products during the forecast period.
Leading Company:
Roquette is a leader in the pea starch market with offices and sales networks in more than 100 countries worldwide. The company's new pea processing plant in Manitoba, Canada, which will be operational in 2019, will help maintain the best position in the industry during the prediction period.
Key Players in the Market:
Major Key Players in the Global Pea Starch Market are
ROQUETTE

Sanstar Bio - Polymers Ltd.

American Key Food Products

COSUCRA (SOCODE)

Shandong Jianyuan Group

Parrheim Foods

Emsland Group

Meelunie B.V.

Vestkorn