Probiotic Dietary Supplement Market Size, Growth (2023-2028)
The Global Probiotic Dietary Supplement Market size was worth US$ 3.3 billion in 2022, and it is estimated to reach a valuation of US$ 7.0 billion by the end of 2028, expanding at an annual compound rate of 7.6% between 2023 and 2028. The market is driven by strong consumer demand for health-based products, especially the younger generation.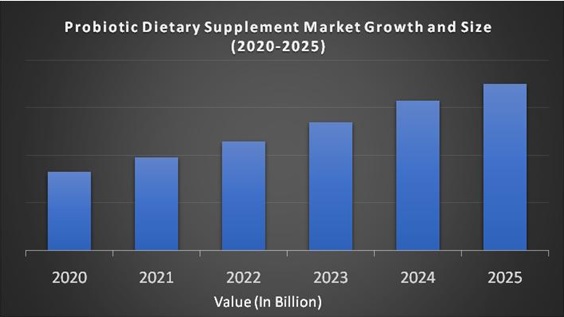 Market Overview:
Probiotics are defined as live microbial food ingredients that offer various benefits for human health. The probiotic dietary supplement is a living microorganism and, when ingested, improves the balance of bacteria in the intestine, which is beneficial to health. In general, around 400 probiotic bacteria are present in a healthy digestive tract of humans, which can curb the expansion of harmful bacteria and smooth functioning of the digestive system. Probiotic dietary supplements are additions made by integrating various types of probiotics to treat or prevent the onset of disease. The company has developed customized products for different customer needs. Consuming probiotic supplements improves the functioning of the digestive tract by improving nutrient absorption and bowel movements. Additionally, drinking probiotic yogurt can help protect the immune system from the colon, bladder, and breast cancer, reduce tooth decay, prevent oral candida infections, and control periodontitis.
Recent Developments in Probiotic Dietary Supplement Industry:
March 2017: The General Fund Mills Venture invested in agricultural culture, a probiotic-rich food and beverage maker.

BIO-CAT OPTI-BIOME ™ produces Babioussubtilis MB40, a fungicide that is safe for consumption. This variant provides a better shelf life and does not require refrigeration, making it ideal for use in bars and powders as well as supplements.

In April 2017, BioGaia agreed to manufacture a probiotic supplement for oral foods containing Prodentis and Lactobacillus reuteriProdentis.

June 2018 Chr. Hansen has expanded its library of product strains to develop next-generation probiotics.
REPORT COVERAGE:
| | |
| --- | --- |
| REPORT METRIC | DETAILS |
| Market Size Available | 2022 – 2028 |
| Base Year | 2022 |
| Forecast Period | 2023 - 2028 |
| CAGR | 7.6% |
| Segments Covered | By Type and Region |
| Various Analyses Covered | Global, Regional & Country Level Analysis, Segment-Level Analysis, DROC, PESTLE Analysis, Porter's Five Forces Analysis, Competitive Landscape, Analyst Overview on Investment Opportunities |
| Regions Covered | North America, Europe, APAC, Latin America, Middle East & Africa |
| Market Leaders Profiled | NutraScience Labs, Probium LLC, Deerland Enzymes, Chr. Hansen Holding A/S, ProbioFerm, Custom Probiotics, Inc, Contract NUTRA, Mercola Probiotics, Bifodan and Others. |
Market Drivers:
Probiotics are part of functional foods and drinks and are known to improve bowel function along with other benefits, including increased immunity. Health problems and increased efficacy of probiotic dietary supplements are expected to drive market growth during the forecast period. The industry is highly competitive, and there are numerous industry participants. Participants focus on expanding product offerings by introducing improved versions of existing products by developing new ingredient formulations. R&D is supposed to be an essential success factor in the market.
Furthermore, companies are using the Internet as an efficient platform for product marketing and positioning. Preventive healthcare, a broad product portfolio, and a high appreciation for use are supposed to benefit applications. The increasing health awareness among people, along with the many health benefits that probiotic dietary supplements offer is one of the main drivers of the growth of the probiotic dietary supplement market worldwide.
Demand from the preventive medicine business is increasing as the number of baby boomers suffering from digestive system-related illnesses increases, and the enthusiasm of middle-aged adults to maintain digestive health on an unbalanced diet is high. The benefits of probiotics for other health conditions, such as sports nutrition, immunity, and women's health, are becoming more common as clinical studies continue to introduce ways in which bacterial strains improve health. Other factors that are expected to contribute to growth are an increase in the prevalence of diseases caused by obesity, diabetes, blood pressure, busy lifestyles and inappropriate diets, improve the immune system, and treat various gastrointestinal disorders, breast cancer, dental caries.
The increasing adoption of probiotic dietary supplements for the manufacture of particular nutrients is a child-friendly formula to prevent stomach-related diseases, improve growth and development in children, and increased use in the animal feed industry are other important factors supporting the growth of this market. With a substantial focus on satiety, calorie consumption, and the properties of fat-burning components, the emphasis is on the obesity rates and weight management solutions has changed. The increased demand for weight control is one of the main factors that have a positive impact on the global probiotic dietary supplement market.
Restraints:
Various side effects resulting from high consumption of probiotic dietary supplements such as bloating, vomiting, diarrhea, and other gastrointestinal issues, and high competition among players are vital factors inhibiting the growth of the global probiotic dietary supplement market. The easy availability of different supplements on the market is another factor that is supposed to hinder the growth of this market during the outlook period.
Probiotic Dietary Supplement Market Segmentation Analysis:
By Type:
Sports Supplements

Food Supplements

Infant Formula

Nutrition supplements

Specialty Nutrients
Geographical Segmentation Analysis:
North America - the United States and Canada

Europe - United Kingdom, Spain, Germany, Italy, and France

The Asia Pacific - India, Japan, China, Australia, Singapore, Malaysia, South Korea, New Zealand, and Southeast Asia

Latin America - Brazil, Argentina, Mexico, and Rest of LATAM

The Middle East and Africa - Africa and Middle East (Saudi Arabia, UAE, Lebanon, Jordan, Cyprus)
Regional Analysis:
Europe dominated the world market for probiotic dietary supplements with a market share of approximately one third. Probiotic use, easy availability and keen consumer awareness of the presence of the industry's top manufacturers and a focus on product innovation are assumed to play a crucial role in the rapid growth of the market. Asia-Pacific probiotic dietary supplements market is presumed to emerge as the fastest-growing market, with a compound annual rate of 8.2% per year for the next nine years. As living standards rise and disposable incomes rise, population growth is anticipated to help local demand. Strong demand from countries like India and China will increase the regional market.
The North American probiotic dietary supplements market was valued at $ 899 million in 2015 and is expected to reach $ 1.7 billion by 2025. North America is characterized by the presence of key industry participants with reliable distribution channels. North America is also anticipated to witness significant growth during the projection period. Continued investment from manufacturers of cosmetics and pharmaceuticals is foreseen to contribute to the growth of the regional market. Local players are investing in R&D to develop products for consumers of different ages and genders. These factors are supposed to accelerate market growth during the prediction period.
Leading Company:
BioGaia and Probi AB demonstrate such integration in the value chain. Suppliers play an essential role in the combination of the value chain by providing quality raw materials.
Key Players in the Market:
Major Key Players in the Global Probiotic Dietary Supplement Market are
NutraScience Labs

Probium LLC

Deerland Enzymes

Chr. Hansen Holding A/S

ProbioFerm

Custom Probiotics, Inc

Contract NUTRA

Mercola Probiotics

Bifodan