Soybean Derivatives Market Size, Growth, Forecast (2023-2028)
The Global Soybean Derivatives Market size was worth US$ 180.3 billion in 2022, and it is estimated to reach a valuation of US$ 265.54 billion by the end of 2028, rising at an annual growth rate of about 8% between 2023 and 2028. Soy derivatives have recently been found in many different industries, such as animal feed and automotive, as a consumer still dominated by the food industry, seeking a variety of applications.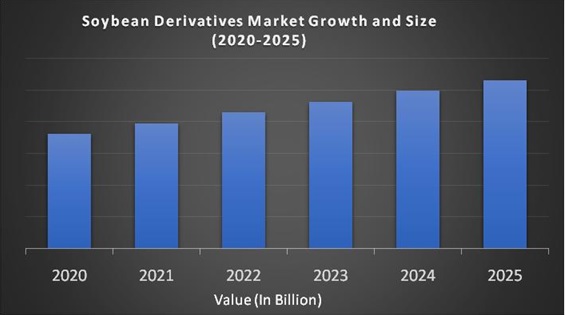 Market Overview:
Soybeans, commonly known as glycine maxima, are legumes produced mainly in East Asia. Soybeans are widely grown as edible beans with many end-uses. In addition, fat-free (skim) soy flour is considered an inexpensive source of protein for animal feed and packaged foods. Soy contains significant amounts of phytic acid, minerals, and vitamins. Soybean vegetable oil is mainly used in food and industrial applications. Also, soy and its derivatives are used in the food and various industries, such as animal feed, automotive, and other industries. In the food industry, it is used in the production of mayonnaise, spreads, sauces, snacks, baked goods and bread. After extracting the oil from the beans, it produces residual fiber and then uses it for the production of feed for cattle, pigs, farms and cattle.
Recent Developments in Soybean Derivatives Industry:
The Thai government announced that it would finance $3.1 billion to increase production in the national bioplastics industry.

In 2017 ADM expanded its existing GMO-free soybean processing capabilities in Germany to meet the growing demand for GMO-free and high-protein soybean meals across Europe.

In March 2019, ADM Company and Cargill Inc. officially launched Grainbridge, LLC to complete the deal. The joint venture will produce digital tools to enable North American farmers to consolidate information on the economy of production and grain marketing activities for free on a single digital platform.
REPORT COVERAGE:
| | |
| --- | --- |
| REPORT METRIC | DETAILS |
| Market Size Available | 2022 – 2028 |
| Base Year | 2022 |
| Forecast Period | 2023 - 2028 |
| CAGR | 8% |
| Segments Covered | By Type, Application, Lecithin Processing and Region |
| Various Analyses Covered | Global, Regional & Country Level Analysis, Segment-Level Analysis, DROC, PESTLE Analysis, Porter's Five Forces Analysis, Competitive Landscape, Analyst Overview on Investment Opportunities |
| Regions Covered | North America, Europe, APAC, Latin America, Middle East & Africa |
| Market Leaders Profiled | Du Pont Nutrition and Health, Ruchi Soya Industries Limited, AG Processing Inc, CHS Inc, Noble Group Ltd, Wilmar International Limited, Cargill, Incorporated, Louis Dreyfus Commodities B.V., Archer Daniels Midland and Company, Bunge Ltd and Others. |
Soybean Derivatives Market Growth:
Soy derivatives have become a relevant food product as public awareness of health problems has grown significantly in recent years.
Drivers:
The global soy derivatives market is driven by the primary use of soy derivatives in the food and beverage industry due to increased protein consumption. Soy derivatives are processed to make salad dressings, baked goods, sauces, bread, mayonnaise, and potato chips. The residual fibers obtained from the extraction of soybean oil are roasted and used to feed for farms, livestock, pigs and pets. As meat production increases and demand for animal protein products increases, the growth of the animal feed industry is expected to stimulate market demand during the forecast period. Soy derivatives are also used in the manufacture of paints, coatings, bioplastics, and biodiesel. Increased environmental awareness of greenhouse gas reductions has accelerated the growth of the naturally-derived product's market. This trend is supposed to stimulate market demand as raw material for biodiesel production during the outlook period. As the importance of recycling increases and the need to replace rare resources such as wood increases, the application of soy derivatives for the production of biocomposites increases.
Biocomposites are increasing applications in the construction, automotive, aerospace and packaging industries due to their biological properties. Competitive pricing and respect for the environment are assumed to have a positive impact on the global soy derivatives market in the near future as the application of biocomposites in the plastics industry to manufacture carpet backings and coatings increases. Due to their excellent insulation properties and low VOC emission levels, soy derivatives are increasingly used as insulation to save heating and cooling costs for businesses and homes. This trend is presumed to have a positive impact on the market during the projection period. Elastic soy derivatives are increasingly used to produce high-cost agricultural plastics because they exhibit properties such as good elasticity, good surface quality, and excellent corrosion resistance.
The increase in demand for bioplastics due to the tendency of chemical manufacturers to choose raw materials from nature is expected to have a positive impact on the market during the outlook period. Increased demand for other sugar derivatives, such as sucrose for biomass and bioplastics production, is likely to hamper the growth of the soy derivatives market in the next seven years. Low toxicity, high flash point and low VOC emissions are the main properties of soy derivatives and are anticipated to facilitate the manufacture of cleaning solvents. In the construction and automotive industry, the growing demand for increased carbon demand for green coatings is expected to accelerate the market for soy derivatives in the near future.
Restraints:
Making sugar cane and wood pulp readily available in industrial applications for bioplastics and biogas production will limit market growth to some extent worldwide. Besides, some of the main challenges in this sector are the presence of numerous products in the market, such as tofu, textured vegetable protein (TVP) and seitan. Lecithin is the main reason that causes a soy allergy.
Soybean Derivatives Market Segmentation Analysis:
By Type:
Soy Oil

Refined Oil

Others (Gums, Chemicals)

Soybean

Soy Meal

Soy Milk

Soy Protein Concentrate

Others
By Application:
Feed

Poultry Feed

Swine Feed

Ruminants

Aquafeed

Food

Other Industrial Applications
By Lecithin Processing:
Geographical Segmentation Analysis:
North America - the United States and Canada

Europe - United Kingdom, Spain, Germany, Italy, and France

The Asia Pacific - India, Japan, China, Australia, Singapore, Malaysia, South Korea, New Zealand, and Southeast Asia

Latin America - Brazil, Argentina, Mexico, and Rest of LATAM

The Middle East and Africa - Africa and Middle East (Saudi Arabia, UAE, Lebanon, Jordan, Cyprus)
Regional Analysis:
Asia Pacific is expected to be one of the largest markets during the forecast period. Due to the increase in domestic consumption, the positive prospects for the food and beverage sector in China and India are supposed to be a favorable factor for the soy derivatives market shortly. As a result, the regulatory propensity to promote growth in the bioplastics industry in the Asia Pacific region is foreseen to drive market demand in the near future. As the tariff rate is low, and the need for food increases, the increase in imports of soy derivatives in Europe is presumed to have a positive impact on the market during the forecast period. The implementation of the Soy 20/20 project in Canada has demonstrated partnerships between governments, academic institutions, and soybean manufacturers, which are anticipated to open up new market opportunities during the forecast period. In light of government support, the increasing availability of soybean crops in Brazil, along with the growth in biodiesel application, is expected to promote manufacturers to keep production units close. North America follows the same trend with high demand for soy derivatives. The Middle East is a significant contributor to soy derivatives. It shows tremendous growth opportunities in the near future. Furthermore, the leading conglomerates are in high demand to invest in the global soy derivatives market.
Key Players in the Market:
Major Key Players in the Global Soybean Derivatives Market are
Du Pont Nutrition and Health

Ruchi Soya Industries Limited

AG Processing Inc.

CHS Inc.

Noble Group Ltd.

Wilmar International Limited

Cargill, Incorporated

Louis Dreyfus Commodities B.V.

Archer Daniels Midland and Company

Bunge Ltd