Food Safety Testing Market Size, Growth, Forecast (2023-2028)
The global Food Safety Testing Market size was assessed at USD 17.0 billion in 2022 and is likely to develop up to USD 24.6 billion by 2028 with a CAGR of 7.7% during the envisioned period.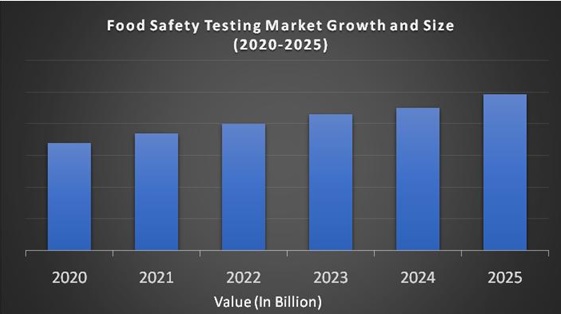 Market Overview:
Food safety testing refers to validation of food products for identifying disease-causing organisms, chemicals, and other harmful substances. It generally helps identify contaminants like pathogens, chemicals, and genetically modified organisms (GMOs). This testing ensures the safety from foodborne illness and reduces the risk of contamination. Food testing is crucial for maintaining food quality based on taste, ingredients, and visual appearance. Food analysis technology involves chemical analysis and microbial contamination, which are the reasons of safe production, delivery of food and processing to the consumers. Food testing helps to regulate allergens and pathogens by offering consumers with healthy products.
Increased convenience and demand for packaged foods, increased incidence of chemical contamination in the food processing industry, and increased consumer awareness of food safety are majorly driving demand in this market.
Recent Developments in Food Safety Testing Industry:
In October 2018, Eurofins which is a group of EnvironeXInc, is providing some testing services to the agricultural, healthcare, environmental, food and pharmaceutical sectors with three laboratories in Canada.

In April 2018, Eurofins signed a contract with LabCorp to acquire Covance Food Solutions, a food testing and consulting company, for $ 670 million.
Food Safety Testing Market Growth:
The global outbreak of food poisoning disease is increasing and the globalization of the food trade is driving demand for food safety testing services.
REPORT COVERAGE:
| | |
| --- | --- |
| REPORT METRIC | DETAILS |
| Market Size Available | 2022 – 2028 |
| Base Year | 2022 |
| Forecast Period | 2023 - 2028 |
| CAGR | 7.7% |
| Segments Covered | By Contaminat, Food Type and Region |
| Various Analyses Covered | Global, Regional & Country Level Analysis, Segment-Level Analysis, DROC, PESTLE Analysis, Porter's Five Forces Analysis, Competitive Landscape, Analyst Overview on Investment Opportunities |
| Regions Covered | North America, Europe, APAC, Latin America, Middle East & Africa |
| Market Leaders Profiled | IDDEX Laboratories INC, Douglas Scientific, Agilent Technologies Incorporated, Biocontrol Systems Incorporated, Bio-Rad Laboratories Incorporated, Roka Bioscience, 3M Company, Ecolab Incorporated and Ohers. |
Drivers:
The global food safety testing market is growing as the safety issues increase due to the increased incidence of foodborne illness. Business growth is fueled by increased consumer awareness of food safety, increased chemical contamination, and rapid inspection. Additionally, product quality is improving by modifying regulations to reduce the number of people affected by foodborne illnesses such as nausea, food poisoning, and diarrhea. The food and beverage industry has grown significantly due to factors such as urbanization, rising disposable income, and economic development. As imports and exports increase, the levels of pollutants increase due to incorrect control and monitoring, which supports the participation of the industry. Furthermore, as the demand for pesticide residues and other contaminants for fruits and vegetables increases, along with the increase in global fruit and vegetable trades, industrial development will improve during the forecast period. The increasing level of adultery to increase the shelf life of the product is one of the key aspects of adjusting testing needs on import. Meats, poultry and seafood, fruits and vegetables, and processed products are among the top contributors to the global food safety testing market. Emerging economic trends for processed foods and convenience foods will drive product development along with government initiatives to reduce foodborne illness and business expansion. Intensified competition among service providers has resulted in patent applications for new contaminant detection technologies.
Technological advancements for the development of reliable and rapid testing technology are driving the growth of the food safety testing business. The industry said the innovation focused on reducing the time it takes to get test results and improving accuracy. Globally, food supply and quality are constantly at risk, increasing the demand for effective test products that certify safety. This is because food processors are obstructing industrial growth by skipping routine food inspections to reduce operational food. Also, generous food contamination laws and penalties in developing countries can limit industrial growth. However, as consumer concerns increase, the government has urged actions such as increasing the level of evidence to reduce food contamination and disease outbreaks. Furthermore, the high costs of technology may affect adoption rates in the coming years. Technological innovations and new technological developments have been made in spectroscopy and chromatography, with a focus on reducing delivery times, sample utilization, testing costs, and deficiencies associated with multiple technologies. The wide adoption of these technologies is an opportunity to expand the provision of services in small and medium laboratories and compete with large market players in the industry. These technologies also have other advantages, including high sensitivity, the accuracy of results, reliability, non-target detection with multiple contaminants, and short processing times.
Restraints:
Lack of food management infrastructure can hinder the market growth. The complexity of testing technology and the lack of regulation are expected to hamper business growth in food safety tecting.
Impact of COVID 19 on the Food Safety Testing Market:
The stringent regulations implemented by various governments across the world that allow smooth labeling during the pandemic are foreseen to creature lucrative growth potential for the food safety testing market. Covid-19's impact on the region's food safety testing market is primarily due to increased consumer awareness of food safety. The region is also the largest consumer of packaged and processed foods.
Food Safety Testing Market Segmentation Analysis:
By contamination, the microbial testing sector emerged as a major segment in 2018, accounting for 28.0% of the market revenue share. This segment helps detect microorganisms in edible products using chemical, biological, molecular and biochemical methods, so it expects a boost as it provides very accurate results with respect to the components. Microbial tests are performed to confirm the presence of indicator microorganisms in edible products, including acid-resistant microorganisms, heat-resistant microorganisms, and faecal contamination.
According to the food type, the meat, poultry and seafood sectors has a dominant share of food safety testing revenue of over 29.6% in 2018, and the trend is expected to continue over the prognosis period. As the consumption of meat and seafood products increases worldwide, it is expected to lead to the growth of the segment during the forecast period. Processed foods have become the second-largest sales segment in 2018, and they are expected to post notable gains as demand for packaged goods such as frozen foods, snacks, ready-to-eat convenience products, and blends for cakes. In addition, the high shelf life of processed products imposes strict regulations regarding such products.
Geographical Segmentation Analysis:
North America - the United States and Canada

Europe - United Kingdom, Spain, Germany, Italy, and France

The Asia Pacific - India, Japan, China, Australia, Singapore, Malaysia, South Korea, New Zealand, and Southeast Asia

Latin America - Brazil, Argentina, Mexico, and Rest of LATAM

The Middle East and Africa - Africa and Middle East (Saudi Arabia, UAE, Lebanon, Jordan, Cyprus)
Regional Analysis:
Europe has become the dominant region of the food safety testing industry and accounted for 35.3% of the market revenue share in 2018. The increasing cases of food allergies among local consumers are foreseen to increase the call for safety testing procedures in this area. North America has a significant share of the global food safety testing market. A key factor driving the growth of the North American food safety testing market is strict regulation by regulatory agencies. The market is also driven by increased production in the North American food sector. The large market in North America is also due to the outbreak of foodborne illness. Food safety testing is essential at all stages of production and processing, ensuring consumers' food safety and market supply. Microbial testing and GMO testing are the main types of tests conducted in North America. In the North American food safety market, there are various companies like NSF International, Intertek, Eurofins Scientific, etc.
Industries in the Asia-Pacific region are expected to record notable benefits from related agency efforts regarding the safety of edible products. The Latin American market continues to grow in demand for these tests due to the increased consumption of packaged and processed foods. The region was seriously affected by JBS's meat scandals in Brazil, which are expected to further reinforce market growth by implementing strict regulations in the country.
Key Players in the Market:
Major Key Players in the Global Food Safety Testing Market are
IDDEX Laboratories INC

Douglas Scientific

Agilent Technologies Incorporated

Biocontrol Systems Incorporated

Bio-Rad Laboratories Incorporated

Roka Bioscience

3M Company

Ecolab Incorporated