Gluten Free Prepared Food Market Size, Growth (2023-2028)
The global Gluten Free Prepared Food Market size was estimated to be USD 4.3 billion in 2022, and it is supposed to reach a value of USD 7.5 billion by 2028 at a CAGR of above 9% during the calculated period. The market is leading with increased awareness of celiac disease and the adoption of a special dietary lifestyle.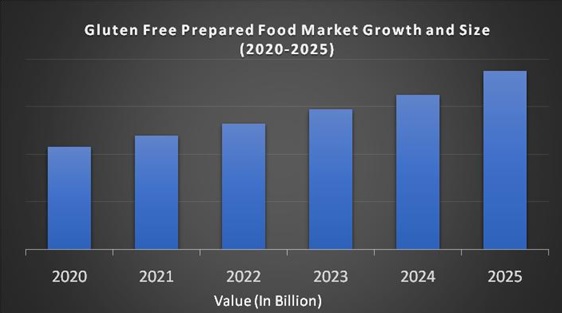 Market Overview:
Gluten is a kind of protein that is found in barley, wheat, rye and its derivatives or hybrid varieties. It is also used as a binder to prevent crushing in baked goods. Foods containing gluten are a major cause of food intolerance for consumers with celiac disease, which are autoimmune and genetic disorders. In these cases, eating gluten-rich foods damages the small intestine and is life-threatening. The only solution for these consumers is to follow a strict diet of foods made without gluten. Another group of users who prefer gluten-free foods are those who suffer from wheat allergies and autism disorders. In addition to medical reasons, some users adopt prepared gluten-free foods as part of their health and fitness routine. These are widely used in the preparation of various products in the food and beverage industry, such as pasta, bread, chocolate and croissants. This gluten-free product helps control medical conditions related to a gluten allergy and digestive disorders.
Recent Developments in Gluten Free Prepared Food Industry:
In 2016, Scottsdale gluten-free food maker Mikey's LLC launched gluten-free pizza dough.

In January 2016, Boulders Brands partnered with Pizza Hut to launch two gluten-free pizzas in the pepperoni and cheese markets using Udi's flagship crust.

In October 2019, London Food Corporation completed the acquisition of Big Oz, a UK-based company dedicated to the manufacture of cereals and gluten-free foods. The firm provides numerous gluten-free foods, such as crispy flakes, puff pastry, porridge and granola.
REPORT COVERAGE:
| | |
| --- | --- |
| REPORT METRIC | DETAILS |
| Market Size Available | 2022 – 2028 |
| Base Year | 2022 |
| Forecast Period | 2023 - 2028 |
| CAGR | 9% |
| Segments Covered | By Product Type, Distribution Channel and Region |
| Various Analyses Covered | Global, Regional & Country Level Analysis, Segment-Level Analysis, DROC, PESTLE Analysis, Porter's Five Forces Analysis, Competitive Landscape, Analyst Overview on Investment Opportunities |
| Regions Covered | North America, Europe, APAC, Latin America, Middle East & Africa |
| Market Leaders Profiled | Ener-G Foods, Inc, General Mills Inc, Enjoy Life Foods, Udi's Healthy Foods, B&G Foods, Dr. Schär AG / SPA , Mrs Crimble's, Hain Celestial, Genius Foods and Others. |
Gluten Free Prepared Food Market Growth:
The use of a gluten-free alternative to bakery preparations improves blood cholesterol and lipid profiles by reducing the fat content in preparations such as cakes and strudels, speeding up metabolism that promotes healthy digestion and improves market growth.
Drivers:
Gluten-free prepared foods should be adopted globally due to the rapid rise in demand as a result of rising prices due to a lack of general awareness about health maintenance. Growing concern about food allergies and consumer intolerance is driving the global gluten-free prepared food market. Prepared food manufacturers are investing in products designed to meet specific dietary requirements. Consumer preferences have shifted from regular products to gluten-free foods, such as baked goods, confectionery, and dairy products. Market growth is also accelerating as demand for gluten-free foods increases among non-celiac consumers. Having products available in almost every grocery store is also supposed to have a significant impact on market growth. The increased incidence of irritable bowel syndrome (IBS) and celiac disease is assumed to increase the demand for gluten-free foods in developed and developing countries. People with the syndrome are gluten sensitive, and eating gluten exacerbates the problems caused by the syndrome. Celiac disease is an autoimmune disease in which gluten digestion damages the small intestine. In developed countries in North America and Europe, including the United States, Canada, Germany, and France, the spread of these diseases is presumed to drive demand for the products. As the incidence of IBS and celiac disease increases, the demand for gluten-free products is expected to increase in developed and developing countries.
People suffering from IBS syndrome are sensitive to gluten and the consumption of ingredients worsens the disease system. Technology trends include product innovations to improve the taste of gluten-free prepared foods. In addition, technological advances are taking place in the manufacturing process to reduce product prices. The new manufacturing process includes extrusion cooking and annealing to increase product robustness and reduce the loss of cooking. The availability of gluten-free foods through a wide range of distribution channels, such as supermarkets, hypermarkets and health food stores, is likely to accelerate the growth of the global gluten-free prepared food market. Gluten-free food product manufacturers are launching innovative products to improve taste and nutritional value. The availability of these various products is expected to spur the growth of the global market.
Restraints:
The price of gluten-free prepared food is a major barrier to adoption among non-users, which is deemed to hinder the growth of this market worldwide. The concept of gluten-free prepared food worldwide is relatively new and is limited due to the absence of existing companies. Another limitation is that logistics problems related to material storage are a serious lack of consumer awareness in developing countries. The relatively high cost of gluten-free products compared to conventional gluten products is due to the additional production cost by the manufacturer, along with the requirements for additional ingredients such as xanthan gum, guar gum, chicory, inulin, and others. That is, the additional preparation steps necessary to produce an equivalent product increase the cost of producing a gluten-free product. This leads to the high cost of gluten-free products for consumers, hindering the market growth.
Gluten Free Prepared Food Market Segmentation Analysis:
By Product Type:
Bakery Products

Pasta

Ready to Eat Products

Bread and Rolls
By Distribution Channel:
Grocery Store

Supermarkets and Hypermarkets

Health or Natural Food Store

Drug Store
Geographical Segmentation Analysis:
North America - the United States and Canada

Europe - United Kingdom, Spain, Germany, Italy, and France

The Asia Pacific - India, Japan, China, Australia, Singapore, Malaysia, South Korea, New Zealand, and Southeast Asia

Latin America - Brazil, Argentina, Mexico, and Rest of LATAM

The Middle East and Africa - Africa and Middle East (Saudi Arabia, UAE, Lebanon, Jordan, Cyprus)
Regional Analysis:
The global gluten-free prepared food market can be divided into five regions: North America, Latin America, Europe, Asia Pacific (APAC), and the Middle East and Africa (MEA). North America represents more than half of the world market share for gluten-free foods. In North America, the United States has a significant market share, as the number of consumers with celiac disease and food allergies increases, and consumers are adopting gluten-free food products for health benefits. Europe is determined to register the most substantial growth rate over the outlook period. As the number of children and adults affected by obesity increases and awareness of healthy lifestyles increases, the region's gluten-free cooked food market is foreseen to grow. APAC is estimated to maintain a significant share with a high growth rate over the calculated period. This is due to disposable income, population growth, and rapid growth in the local allergenic food market. With increasing awareness of allergen-friendly foods among Latin American and MEA consumers, moderate CAGRs are considered in these areas during the projection period.
Key Players in the Market:
Major Key Players in the Global Gluten Free Prepared Food Market are
Ener-G Foods, Inc.

General Mills Inc.

Enjoy Life Foods

Udi's Healthy Foods, LLC

B&G Foods, Inc

Dr. Schär AG / SPA

Mrs Crimble's

Hain Celestial

Genius Foods