Wood Vinegar Market Growth and Forecast (2022 - 2027):
The global Wood Vinegar Market size was worth USD 3.7 billion in 2021, and it is estimated to reach a valuation of USD 7.2 billion by the end of 2027, expanding at a CAGR of 6.7% during the forecast period. The rapid expansion of organic agriculture in the Asia Pacific region is expected to further increase market demand.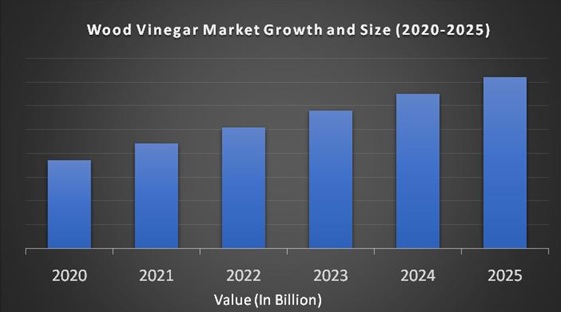 Market Overview:
Wood vinegar is known as pyrolysin acid in chemistry. Wood vinegar is used in organic agriculture because it is used as a bio fertilizer and bio pesticide. It was first investigated by the German chemist Johann Rudolph Glauber. It is a brown scented liquid created by distilling wood and other plant materials in the absence of air. The main chemical components of pyrolysin acid are acetic acid, formaldehyde, and methanol. Multiple kinds of wood are used to create various types of wood vinegar, including eucalyptus, oak, bamboo, mangrove, coconut husk, and apple. Wood vinegar or pyrolysin acid is a carbon derivative. It is a dark liquid obtained by carbonization by heating biomass in a closed container. The smoke from charcoal making is cooled with liquid and then separated into tar, grass and bio-oil. Wood vinegar comprises approximately 80% to 90% water and more than 200 organic compounds, which often include phenol, acetic acid, ketones, esters, formic acidand methanol.
Recent Developments in Wood Vinegar Industry:
Japan-based Mizkan Group has acquired the Sarsos and Dufrais wood vinegar business from British food manufacturers that offer premium food that supports the targeted production capacity of the North American vinegar market.
REPORT COVERAGE:
| | |
| --- | --- |
| REPORT METRIC | DETAILS |
| Market Size Available | 2021 – 2027 |
| Base Year | 2021 |
| Forecast Period | 2022 - 2027 |
| CAGR | 6.7% |
| Segments Covered | By Pyrolysis Method, Application and Region |
| Various Analyses Covered | Global, Regional & Country Level Analysis, Segment-Level Analysis, DROC, PESTLE Analysis, Porter's Five Forces Analysis, Competitive Landscape, Analyst Overview on Investment Opportunities |
| Regions Covered | North America, Europe, APAC, Latin America, Middle East & Africa |
| Market Leaders Profiled | Canada Renewable Bioenergy Corp, Nettenergy BV, ACE (Singapore) Pte Ltd, TAGROW CO., LTD, Byron Biochar and Others. |
Wood Vinegar Market Growth:
Market demand for wood vinegar is likely to skyrocket as consumer acceptance increases worldwide.
Drivers:
There is a growing need around the world for soil fertility resistant to pesticides and chemical pesticides that improve the natural feeding of animals. It is produced through sustainable methods and can be used not only as animal feed, but also as an organic pesticide that has been proven as an attractive alternative to synthetic chemicals. Most Asian countries have set renewable energy targets. Therefore, they have a policy that encourages the production and use of energy from biomass. Pyrolyne acid is a bi-product produced from the biomass pyrolysis method, and the company has recently started commercial sales of pyroligne acid due to its wide application in various sectors such as agriculture, livestock, pharmaceutical and cosmetic industries. Growth in the global wood vinegar market over the forecast period is supposed to accelerate as demand increases in various industries. The growth of the pharmaceutical and food industry worldwide is assumed to have a remarkable impact on the global wood vinegar business. Additionally, the surge in the cosmetics and personal care industry is expected to stir demand for this product in the future. Increasing government regulations on the use of chemicals for crop protection, improved crop yields, and increased adoption of organic foods among individuals are key factors driving global Wood Vinegar Market growth during the outlook period.
Furthermore, the mounting urge for wood vinegar in end-users like pharmaceuticals and cosmetics is another factor driving growth in the worldwide market. In addition, increasing the use of wood vinegar in various industries, increasing cost-effective manufacturing and increasing the application of wood vinegar in the food business to improve the aroma, color and firmness of vinegar are important factors in supporting the growth of this market in the future. The arrival of numerous skincare products, such as anti-aging, anti-wrinkle and anti-wrinkle creams, is expected to spur market growth in the coming years. As consumer awareness of the harmful effects of dust, the environment, and sunlight has increased, it has helped consume a variety of skincare products from different countries. However, R&D initiatives to develop quality products offer a wide range of opportunities for industry participants. The widespread adoption of wood vinegar in many applications can create a favorable opportunity for players operating in target markets around the world.
Restraints:
Some limitations that potentially limit the growth of the global wood vinegar market are that wood vinegar is produced from a variety of organic sources. Demand for coal and its by-products, including wood vinegar for energy creation, is also increasing as living standards rise in developed and developing countries. This has resulted in government restrictions on the production and distribution of coal and its derivatives, limiting overall coal production and limiting the production of wood vinegar market. Additionally, most of the trees needed for charcoal originate from natural forests, leading to logging. However, there are a variety of challenges associated with sourcing and manufacturing wood vinegar from these similar natural sources, which can lead to repetitive results, limiting its use in various industrial sectors. Charcoal production is one of the main causes of deforestation worldwide.
Wood Vinegar Market Segmentation Analysis:
By Pyrolysis Method:
Slow Pyrolysis

Fast Pyrolysis

Intermediate Pyrolysis
By Application:
Agriculture

Animal Feed

Food, Medicinal, and Consumer Products

Others
Geographical Segmentation Analysis:
North America - the United States and Canada

Europe - United Kingdom, Spain, Germany, Italy, and France

The Asia Pacific - India, Japan, China, Australia, Singapore, Malaysia, South Korea, New Zealand, and Southeast Asia

Latin America - Brazil, Argentina, Mexico, and Rest of LATAM

The Middle East and Africa - Africa and Middle East (Saudi Arabia, UAE, Lebanon, Jordan, Cyprus)
Regional Analysis:
By region, we estimate the largest market share in terms of revenue in the Asia Pacific region. The industry is expected to be driven by the growing demand for pesticides and biofertilizers in countries like India, China and Japan. Population growth and rapid westernization in the Asia-Pacific area are leading to increased intake of meat products. This is expected to intensify the usage of processed meat products, promoting the need for liquid vinegar to provide flavor and preservation. Important observations highlight the fact that people in regions such as North America and Europe have a high preference for smoked foods, and consumers in other areas such as Asia and Africa have a taste for non-smoked foods. North America is not estimated to grow significantly in the coming years. This is primarily due to the demand for the wood vinegar market in animal feed products, and feed additives have increased the development of the wood vinegar market in North America. The Middle East and Africa is foreseen to show significant growth due to increased demand for organic products and strict environmental regulations. In addition, as the implementation of wood vinegar in agriculture is anticipated to increase for the development of disease-resistant crops, root stimulation, improved seed germination and soil enrichment, the demand for vinegar will increase wood in the area.
Key Players in the Market:
Major Key Players in the Global Wood Vinegar Market are
Canada Renewable Bioenergy Corp

Nettenergy BV (Netherlands)

ACE (Singapore) Pte Ltd

TAGROW CO., LTD. (China)

Byron Biochar (Australia)
1.Introduction
1.1 Market Definition
1.2 Study Deliverables
1.3 Base Currency, Base Year and Forecast Periods
1.4 General Study Assumptions
2. Research Methodology
2.1 Introduction
2.2 Research Phases
2.2.1 Secondary Research
2.2.2 Primary Research
2.2.3 Econometric Modelling
2.2.4 Expert Validation
2.3 Analysis Design
2.4 Study Timeline
3. Overview
3.1 Executive Summary
3.2 Key Inferences
3.3 Epidemology
4. Drivers, Restraints, Opportunities, and Challenges Analysis (DROC)
4.1 Market Drivers
4.2 Market Restraints
4.3 Key Challenges
4.4 Current Opportunities in the Market
5. Market Segmentation
5.1 Pyrolysis
5.1.1 Introduction
5.1.2 Slow Pyrolysis
5.1.3 Fast Pyrolysis
5.1.4 Intermediate Pyrolysis
5.1.5 Y-o-Y Growth Analysis, By Pyrolysis
5.1.6 Market Attractiveness Analysis, By Pyrolysis
5.1.7 Market Share Analysis, By Pyrolysis
5.2 Application
5.2.1 Introduction
5.2.2 Agriculture
5.2.3 Animal Feed
5.2.4 Food, Medicinal, and Consumer Products
5.2.5 Others
5.2.6 Y-o-Y Growth Analysis, By Application
5.2.7 Market Attractiveness Analysis, By Application
5.2.8 Market Share Analysis, By Application
6. Geographical Analysis
6.1 Introduction
6.1.1 Regional Trends
6.1.2 Impact Analysis
6.1.3 Y-o-Y Growth Analysis
6.1.3.1 By Geographical Area
6.1.3.2 By Pyrolysis
6.1.3.3 By Application
6.1.4 Market Attractiveness Analysis
6.1.4.1 By Geographical Area
6.1.4.2 By Pyrolysis
6.1.4.3 By Application
6.1.5 Market Share Analysis
6.1.5.1 By Geographical Area
6.1.5.2 By Pyrolysis
6.1.5.3 By Application
6.2 North America
6.1.1 Introduction
6.1.2 United States
6.1.3 Canada
6.3 Europe
6.2.1 Introduction
6.2.2 U.K
6.2.3 Spain
6.2.4 Germany
6.2.5 Italy
6.2.6 France
6.4 Asia-Pacific
6.3.1 Introduction
6.3.2 China
6.3.3 India
6.3.4 Japan
6.3.5 Australia
6.3.6 South Korea
6.5 Latin America
6.4.1 Introduction
6.4.2 Brazil
6.4.3 Argentina
6.4.4 Mexico
6.4.5 Rest of Latin America
6.6 Middle East & Africa
6.5.1 Introduction
6.5.2 Middle-East
6.5.3 Africa
7.Strategic Analysis
7.1 PESTLE analysis
7.1.1 Political
7.1.2 Economic
7.1.3 Social
7.1.4 Technological
7.1.5 Legal
7.1.6 Environmental
7.2 Porter's Five analysis
7.2.1 Bargaining Power of Suppliers
7.2.2 Bargaining Power of Consumers
7.2.3 Threat of New Entrants
7.2.4 Threat of Substitute Products and Services
7.2.5 Competitive Rivalry within the Industry
8.Market Leaders' Analysis
8.1 Doi & Co., Ltd
8.1.1 Overview
8.1.2 Pyrolysis Analysis
8.1.3 Financial analysis
8.1.4 Recent Developments
8.1.5 SWOT analysis
8.1.6 Analyst View
8.2 Penta Manufacturer
8.3 Nakashima Trading Co. Ltd.
8.4 Verdi Life
8.5 New Life Agro
8.6 Byron Biochar
8.7 Tagrow Co., Ltd.
8.8 Nettenergy Bv
8.9 Canada Renewable Bioenergy Corp.
8.10 ACE (Singapore) Pte Ltd
9.Competitive Landscape
9.1 Market share analysis
9.2 Merger and Acquisition Analysis
9.3 Agreements, collaborations and Joint Ventures
9.4 New Product Launches
10.Market Outlook and Investment Opportunities
Appendix
a) List of Tables
b) List of Figures
Global Wood Vinegar Market By Region, From 2022 - 2027 ( USD Billion )

Global Wood Vinegar Market By Pyrolysis, From 2022 - 2027 ( USD Billion )

Global Slow pyrolysis Market By Region, From 2022 - 2027 ( USD Billion )

Global Fast pyrolysis Market By Region, From 2022 - 2027 ( USD Billion )

Global Intermediate pyrolysis Market By Region, From 2022 - 2027 ( USD Billion )

Global Wood Vinegar Market By Application, From 2022 - 2027 ( USD Billion )

Global Agriculture Market By Region, From 2022 - 2027 ( USD Billion )

Global Animal feed Market By Region, From 2022 - 2027 ( USD Billion )

Global Food, medicinal, and consumer products Market By Region, From 2022 - 2027 ( USD Billion )

Global Others Market By Region, From 2022 - 2027 ( USD Billion )

North America Wood Vinegar Market By Pyrolysis, From 2022 - 2027 ( USD Billion )

North America Slow pyrolysis Market By Region, From 2022 - 2027 ( USD Billion )

North America Fast pyrolysis Market By Region, From 2022 - 2027 ( USD Billion )

North America Intermediate pyrolysis Market By Region, From 2022 - 2027 ( USD Billion )

North America Wood Vinegar Market By Application, From 2022 - 2027 ( USD Billion )

North America Agriculture Market By Region, From 2022 - 2027 ( USD Billion )

North America Animal feed Market By Region, From 2022 - 2027 ( USD Billion )

North America Food, medicinal, and consumer products Market By Region, From 2022 - 2027 ( USD Billion )

North America Others Market By Region, From 2022 - 2027 ( USD Billion )

United States Wood Vinegar Market By Pyrolysis, From 2022 - 2027 ( USD Billion )

United States Wood Vinegar Market By Application, From 2022 - 2027 ( USD Billion )

Canada Wood Vinegar Market By Pyrolysis, From 2022 - 2027 ( USD Billion )

Canada Wood Vinegar Market By Application, From 2022 - 2027 ( USD Billion )

Europe Wood Vinegar Market By Pyrolysis, From 2022 - 2027 ( USD Billion )

Europe Slow pyrolysis Market By Region, From 2022 - 2027 ( USD Billion )

Europe Fast pyrolysis Market By Region, From 2022 - 2027 ( USD Billion )

Europe Intermediate pyrolysis Market By Region, From 2022 - 2027 ( USD Billion )

Europe Wood Vinegar Market By Application, From 2022 - 2027 ( USD Billion )

Europe Agriculture Market By Region, From 2022 - 2027 ( USD Billion )

Europe Animal feed Market By Region, From 2022 - 2027 ( USD Billion )

Europe Food, medicinal, and consumer products Market By Region, From 2022 - 2027 ( USD Billion )

Europe Others Market By Region, From 2022 - 2027 ( USD Billion )

U.K. Wood Vinegar Market By Pyrolysis, From 2022 - 2027 ( USD Billion )

U.K. Wood Vinegar Market By Application, From 2022 - 2027 ( USD Billion )

Germany Wood Vinegar Market By Pyrolysis, From 2022 - 2027 ( USD Billion )

Germany Wood Vinegar Market By Application, From 2022 - 2027 ( USD Billion )

France Wood Vinegar Market By Pyrolysis, From 2022 - 2027 ( USD Billion )

France Wood Vinegar Market By Application, From 2022 - 2027 ( USD Billion )

Italy Wood Vinegar Market By Pyrolysis, From 2022 - 2027 ( USD Billion )

Italy Wood Vinegar Market By Application, From 2022 - 2027 ( USD Billion )

Spain Wood Vinegar Market By Pyrolysis, From 2022 - 2027 ( USD Billion )

Spain Wood Vinegar Market By Application, From 2022 - 2027 ( USD Billion )

Asia-Pacific Wood Vinegar Market By Pyrolysis, From 2022 - 2027 ( USD Billion )

Asia-Pacific Slow pyrolysis Market By Region, From 2022 - 2027 ( USD Billion )

Asia-Pacific Fast pyrolysis Market By Region, From 2022 - 2027 ( USD Billion )

Asia-Pacific Intermediate pyrolysis Market By Region, From 2022 - 2027 ( USD Billion )

Asia-Pacific Wood Vinegar Market By Application, From 2022 - 2027 ( USD Billion )

Asia-Pacific Agriculture Market By Region, From 2022 - 2027 ( USD Billion )

Asia-Pacific Animal feed Market By Region, From 2022 - 2027 ( USD Billion )

Asia-Pacific Food, medicinal, and consumer products Market By Region, From 2022 - 2027 ( USD Billion )

Asia-Pacific Others Market By Region, From 2022 - 2027 ( USD Billion )

Japan Wood Vinegar Market By Pyrolysis, From 2022 - 2027 ( USD Billion )

Japan Wood Vinegar Market By Application, From 2022 - 2027 ( USD Billion )

China Wood Vinegar Market By Pyrolysis, From 2022 - 2027 ( USD Billion )

China Wood Vinegar Market By Application, From 2022 - 2027 ( USD Billion )

India Wood Vinegar Market By Pyrolysis, From 2022 - 2027 ( USD Billion )

India Wood Vinegar Market By Application, From 2022 - 2027 ( USD Billion )

Australia Wood Vinegar Market By Pyrolysis, From 2022 - 2027 ( USD Billion )

Australia Wood Vinegar Market By Application, From 2022 - 2027 ( USD Billion )

South Korea Wood Vinegar Market By Pyrolysis, From 2022 - 2027 ( USD Billion )

South Korea Wood Vinegar Market By Application, From 2022 - 2027 ( USD Billion )

Latin America Wood Vinegar Market By Pyrolysis, From 2022 - 2027 ( USD Billion )

Latin America Slow pyrolysis Market By Region, From 2022 - 2027 ( USD Billion )

Latin America Fast pyrolysis Market By Region, From 2022 - 2027 ( USD Billion )

Latin America Intermediate pyrolysis Market By Region, From 2022 - 2027 ( USD Billion )

Latin America Wood Vinegar Market By Application, From 2022 - 2027 ( USD Billion )

Latin America Agriculture Market By Region, From 2022 - 2027 ( USD Billion )

Latin America Animal feed Market By Region, From 2022 - 2027 ( USD Billion )

Latin America Food, medicinal, and consumer products Market By Region, From 2022 - 2027 ( USD Billion )

Latin America Others Market By Region, From 2022 - 2027 ( USD Billion )

Brazil Wood Vinegar Market By Pyrolysis, From 2022 - 2027 ( USD Billion )

Brazil Wood Vinegar Market By Application, From 2022 - 2027 ( USD Billion )

Argentina Wood Vinegar Market By Pyrolysis, From 2022 - 2027 ( USD Billion )

Argentina Wood Vinegar Market By Application, From 2022 - 2027 ( USD Billion )

Mexico Wood Vinegar Market By Pyrolysis, From 2022 - 2027 ( USD Billion )

Mexico Wood Vinegar Market By Application, From 2022 - 2027 ( USD Billion )

Rest of Latin America Wood Vinegar Market By Pyrolysis, From 2022 - 2027 ( USD Billion )

Rest of Latin America Wood Vinegar Market By Application, From 2022 - 2027 ( USD Billion )

Middle East & Africa Wood Vinegar Market By Pyrolysis, From 2022 - 2027 ( USD Billion )

Middle East & Africa Slow pyrolysis Market By Region, From 2022 - 2027 ( USD Billion )

Middle East & Africa Fast pyrolysis Market By Region, From 2022 - 2027 ( USD Billion )

Middle East & Africa Intermediate pyrolysis Market By Region, From 2022 - 2027 ( USD Billion )

Middle East & Africa Wood Vinegar Market By Application, From 2022 - 2027 ( USD Billion )

Middle East & Africa Agriculture Market By Region, From 2022 - 2027 ( USD Billion )

Middle East & Africa Animal feed Market By Region, From 2022 - 2027 ( USD Billion )

Middle East & Africa Food, medicinal, and consumer products Market By Region, From 2022 - 2027 ( USD Billion )

Middle East & Africa Others Market By Region, From 2022 - 2027 ( USD Billion )

Middle East Wood Vinegar Market By Pyrolysis, From 2022 - 2027 ( USD Billion )

Middle East Wood Vinegar Market By Application, From 2022 - 2027 ( USD Billion )

Africa Wood Vinegar Market By Pyrolysis, From 2022 - 2027 ( USD Billion )

Africa Wood Vinegar Market By Application, From 2022 - 2027 ( USD Billion )