Sports Food Market Size, Growth, Forecast (2023-2028)
The global Sports Food Market size was worth USD 68.99 billion in 2022, and it is likely to reach a valuation of about USD 103 billion by the end of 2028, developing at a CAGR of 8.3% over the foreseen period. The global sports food market has increased as the number of health centers and gyms across the globe has risen.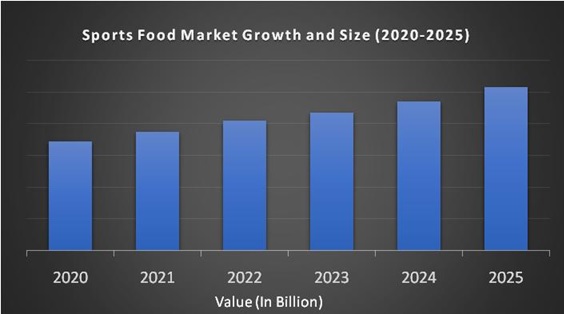 Market Overview:
Sports food consists of sports drinks and sports nutrition. They have a significant share of the sports food market, and sports food is expected to grow significantly in the near future. This is due to the rise in the availability of these products in online markets, supermarkets, and department stores. Sports food consists of energy bars, protein bars and nutrients. Companies that understand the needs of the sports food market now offer a variety of powdered supplements and bars for the sports food market. The busy lifestyle makes it easy to get the right nutrients for sports products in one product. Carbohydrate and protein foods are very popular in the sports food market. Soy and whey are the main providers of protein in the sports food market.
Recent Developments in Sports Food Industry:
In 2019, Israeli startup InnovorPro Ltd. released a chickpea protein powder that is particularly developed for the vegan community.

In 2018, Amazon introduced a private-label sports assistant brand, known as "OWN PWR" for American consumers.

In 2017, CytoSport, Inc., a division of Hormel Food Corporation, recently introduced Muscle Milk Protein Bar as a part of the expansion of its sports nutrition business.

In November 2017 Après launched a vegetable protein drink to support systemic supplementation.

In 2017, sports nutrition startup Momentous introduced the first line of NSG-certified protein powders, including AbsoluteZero, RedShift, and ArcFire.
REPORT COVERAGE:
| | |
| --- | --- |
| REPORT METRIC | DETAILS |
| Market Size Available | 2022 – 2028 |
| Base Year | 2022 |
| Forecast Period | 2023 - 2028 |
| CAGR | 8.3% |
| Segments Covered | By Product Type, Ingredients, Users, Distribution Channel, Gender and Region |
| Various Analyses Covered | Global, Regional & Country Level Analysis, Segment-Level Analysis, DROC, PESTLE Analysis, Porter's Five Forces Analysis, Competitive Landscape, Analyst Overview on Investment Opportunities |
| Regions Covered | North America, Europe, APAC, Latin America, Middle East & Africa |
| Market Leaders Profiled | Nestle SA, Abbott Laboratories, GlaxoSmithKline, Danone S.A, Dr Pepper Snapple Group, Cliff Bar & Company, GNC Holdings, Red Bull GmbH, Monster Beverage Corp, The Coca-Cola Co, Alp snack, The Hain Celestial Group, Reckitt Benckiser Group, Glanbia and Others. |
Sports Food Market Growth:
The global sports food market has flourished due to the demand for sports food products and high growth can be expected in the coming years.
Drivers:
Increasing demand for different types of protein bars, nutrition supplements, and energy drinks among sports enthusiasts, bodybuilders and others is among the primary factors promoting the development of the market. The increase in disposable income, rapid urbanization and the surge in the number of health and fitness centers that support sports food and fitness products have a remarkable effect on the growth of the market. The global sports food market is anticipated to record significant growth in the envisioned period because of the changes in lifestyle and augmented need from recreational user groups. Many of the factors driving the global sports food market include rapid urbanization and consumer health problems. The development of innovative and effective products makes the market more dynamic. The company's mass marketing strategy makes sports food products readily available, allowing manufacturers to develop sports food markets in both underdeveloped and target markets. Many other macroeconomic factors, such as employment, levels of disposable income and other social factors, are also indirectly affecting the sports food market. Also, as the number of health clubs and gyms increases, the health cognizance among consumers is increasing and this is estimated to become active in the prophesized period. The rise in awareness of the importance of nutrition among athletes also propels this market expansion. Athletes concentrate on meeting nutritional needs, along with an adequate physical activity to promote health.
Athletes, coaches, trainers, and exercise enthusiasts focus on meeting nutritional needs, as nutrition affects training and recovery and improves performance. Consumers are also becoming increasingly aware of the significance of getting enough nutrients, and the need for sports food products is increasing. Additionally, shifting the market demographics from athletes to lifestyle and recreational users focused on adopting a healthy lifestyle is assumed to create market growth potential worldwide. In addition to this, as the purchase of sports food products increase as healthy snacks increase as an integral part of the diet, rapid urbanization and increased disposable income are presumed to push the development of the global sports food business. Sports food is not widely available in developed countries. However, emerging markets, emerging markets and other developed countries are opportunities for sports food vendors. Global poverty levels are declining, and the sports food market is expected to occupy a significant market share between developed and emerging countries in the coming years. The expansion of distribution channels is anticipated to be an opportunity to grow in this market in the next six years.
Restraints:
A large number of cheap counterfeit products affects the sales of reputable companies, so the availability of such products is suspected of limiting the extension of the global sports food industry. The price of sports food is expensive; the market focuses only on the high-income class. These factors currently limit the market boom.
Sports Food Market Segmentation Analysis:
By Product Type:
Dietary supplement powder

Energy bars

Sports food and drinks

Sports Gels
By Ingredients:
Vitamin

Minerals

Nutrition supplements

Protein

Carbohydrates
By Users:
Athletic users

Bodybuilding users

Recreational users
By Distribution Channel:
Hypermarket and Supermarkets

Online Stores

Convenience Stores

Drug Stores

Other Stores
By Gender:
Geographical Segmentation Analysis:
North America - the United States and Canada

Europe - United Kingdom, Spain, Germany, Italy, and France

The Asia Pacific - India, Japan, China, Australia, Singapore, Malaysia, South Korea, New Zealand, and Southeast Asia

Latin America - Brazil, Argentina, Mexico, and Rest of LATAM

The Middle East and Africa - Africa and Middle East (Saudi Arabia, UAE, Lebanon, Jordan, Cyprus)
Regional Analysis:
North America, in terms of geography, is expected to occupy the largest portion of sports nutrition products, led by the United States, and represents more than 38% of overall size. Within this region, American consumers are making a gradual transition to nutritious food and are willing to pay more. Consumers that exercise more than once a week are likely to consume energy bars. The busy lifestyles of American consumers promote the consumption of energy and protein bars because they have less time to cook nutritious food after a training session. Growth in this area is largely underpinned by the benefits of a high-income, world-class exercise and exercise facility infrastructure.
The European Sports food market represents a notable share, where the UK is the leading market for fuel-powered sports nutrition products as the number of consumers choosing healthy lifestyles increases. The Asia Pacific is the fastest-growing market for sports food products due to a rapidly changing lifestyle and increased disposable income. In the sports food market, Japan is touted to dominate the APAC region. Due to the high proportion of the obese population, China is anticipated to occupy the second largest market share after Australia. India is foreseen to experience remarkable growth in the next few years as the adoption of sports foods products increases among lifestyle and recreation users. Latin America and the rest of the region are determined to show healthy growth in this market within the projection period.
Key Players in the Market:
Major Key Players in the Global Sports Food Market are
Nestle SA

Abbott Laboratories

GlaxoSmithKline Plc

Danone S.A

Dr Pepper Snapple Group Inc

Cliff Bar & Company

GNC Holdings Inc

Red Bull GmbH

Monster Beverage Corp

The Coca-Cola Co

Alp snack Inc

The Hain Celestial Group, Inc

Reckitt Benckiser Group Plc

Glanbia Plc