Whey Protein Ingredients Market Size, Growth (2023-2028)
The global Whey Protein Ingredients Market size was calculated at USD 8.2 billion in 2022, and it is predicted to reach a value of USD 15.0 billion by 2028 at a CAGR of above 9.3% during the envisioned period. As dietary supplements and functional foods are used among consumers, the demand for whey protein ingredients is increasing.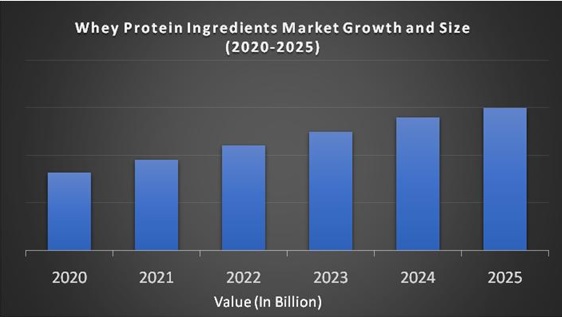 Market Overview:
Whey protein is derived from during cheese production and is known to improve the performance of sportsmen and athletics. They are an alternative to milk for people with lactose intolerance. The serum is not denatured, and the initial structure of the serum molecule is a complete version of the serum. Whey is one of the two proteins present in milk and is traditionally produced as a by-product of cheese making. Whey is different from normal whey in that it is produced directly from milk through a variety of filtration processes rather than a by-product of cheese making.
Recent Developments in Whey Protein Ingredients Industry:
McDonald's has introduced Small Real Fruit Protein to promote healthy eating and lifestyle.
Whey Protein Ingredients Market Growth:
An increase in the millennium population is actively involved in casual sports and regular exercise and is as important as increasing whey protein intake.
REPORT COVERAGE:
| | |
| --- | --- |
| REPORT METRIC | DETAILS |
| Market Size Available | 2022 – 2028 |
| Base Year | 2022 |
| Forecast Period | 2023 - 2028 |
| CAGR | 9.3% |
| Segments Covered | By Type, Application and Region |
| Various Analyses Covered | Global, Regional & Country Level Analysis, Segment-Level Analysis, DROC, PESTLE Analysis, Porter's Five Forces Analysis, Competitive Landscape, Analyst Overview on Investment Opportunities |
| Regions Covered | North America, Europe, APAC, Latin America, Middle East & Africa |
| Market Leaders Profiled | Arla Foods, Cargill Incorporation, Hilmar Cheese Company, Fonterra Co-Operative Group Ltd, Carberry food ingredients, Glanbia plc, Davisco Food International, Maple Island Incorporation, Dairy Farmers of America, Milk Specialities Global and Others. |
Drivers:
The main factors driving the growth of the global whey protein ingredients market in this area are the increased demand for dairy ingredients, consumer awareness of healthy eating, growing trends in health clubs and fitness centers, an increase in the proportion of older people in the world and young people for sports and nutrition. This factor drives the demand for beverages and nutritional supplements. Also, the ingredients of whey protein are used in meat products due to their solubility, moisture and viscosity binding, emulsification, adhesion, gelation and organoleptic properties. Additionally, whey protein concentrate is used to bond crumbs or dough to meat, thereby preserving the rheological properties of the meat. In addition, the moisture retention properties of whey protein concentrate in meat processing also promote market growth. Currently, the global whey protein ingredients market is experiencing vivid opportunities as consumer awareness of healthy protein foods increases. In addition, whey protein concentrate is a nutritional supplement made after whey has undergone elimination processes by filtration, ultrafiltration, electrodialysis, and ion exchange. Due to the increase in muscle and fitness lovers, consumer demand for protein and sports drinks, nutritious snacks and special nutritional drinks and other products designed to improve performance is increasing. Whey Protein Concentrate also provides additional benefits such as reduced-fat, reduced cravings, reduced stress, and easy digestion to improve immunity and bioavailability. The use of whey protein concentrates in sports foods has steadily increased with several improvements to make whey protein concentrates commercially available. In short and medium-term exercise, the main forms of energy are glycogen and carbohydrates. Whey protein ingredients can be obtained by removing certain percentages of non-protein components from pasteurized whey extracted from cheese processing that are made up of low levels of carbohydrates (lactose). The protein content of the lower concentrate is 30-90%.
Additionally, consumption of whey protein concentrate powder as a supplement has increased due to regular recommendations from nutritionists and physicians in response to the widespread needs of clients for protein supplements in their diet. The market for whey protein-based products has grown significantly due to increased demand in the health, performance and sports industries. At the same time, the food processing industry is using whey protein in the manufacture of healthy beverages. In Asian countries, the consumption of healthy drinks has increased due to the growing middle-class population and economic growth. Along with improving body immunity, public awareness to adapt well and maintain shape has led to significant growth in demand for whey protein in urban areas. Due to the increase in muscle and fitness lovers, the demand for protein sports drinks, special nutritional drinks, nutritional bars and other products designed to optimize sports performance is increasing. In addition, the Global Whey Protein Ingredients reviews factors such as increased product launches, increased awareness of the health benefits of whey, and broad application of whey protein. As awareness of the importance of health and healthy lifestyles increases, the importance of balanced healthy eating and physical exercise increases. There is a growing awareness among consumers about the health benefits of whey protein. The intake of whey protein products offers various medical advantages.
Restraints:
The increasing popularity of plant proteins, the increased number of lactose intolerant patients worldwide, and strict regulations may hinder the growth of the global whey protein ingredients industry during the forecast period.
Whey Protein Ingredients Market Segmentation Analysis:
By Application:
Bakery and Confectionery

Dairy Products and Frozen Foods

Beverages

Meat Products

Medicine

Others (Personal Care and Infant nutrition)
By Type:
Whey Protein Concentrate (WPC)

Whey Protein Isolate (WPI)

Hydrolyzed Whey Protein (HWP)

Demineralized Whey Protein (DWP)
Geographical Segmentation Analysis:
North America - the United States and Canada

Europe - United Kingdom, Spain, Germany, Italy, and France

The Asia Pacific - India, Japan, China, Australia, Singapore, Malaysia, South Korea, New Zealand, and Southeast Asia

Latin America - Brazil, Argentina, Mexico, and Rest of LATAM

The Middle East and Africa - Africa and Middle East (Saudi Arabia, UAE, Lebanon, Jordan, Cyprus)
Regional Analysis:
Depending on geography, North America and Europe have most of the worldwide portion. The main driving force in the market is the increased demand for performance diet and nutrition and performance drinks for non-athletes. However, indefinite regulatory guidelines, health/safety issues in use are unregulated, and competition with plant proteins serves to limit the growth of the research market. Beyond that, Asia Pacific is considered the fastest growing region in the whey protein ingredients market due to its aptitude and protein intake awareness. The US Department of Food Science and Technology is interested in developing new applications for edible films and coatings made from whey protein and will promote the growth of whey protein ingredients in the region. Some of the trends affecting the market include the demand for low-performance products and the demand for healthy snacks and drinks. For the above reasons, the global whey protein ingredients market is expected to explode. North America remains a mature market in the whey protein ingredients market, with more than 1,000 food and nutritional products on the market using the label "added whey protein concentrate". Nowadays, food manufacturers are adopting whey protein to prepare healthy beverages. Demand for whey protein ingredients is likely to increase due to a surge in demand for infant formula and increased need for whey protein ingredients from other nutritional sectors. As the consumer base for sports nutrition has grown, it has attracted tremendous interest in the past decade.
Impact of Covid-19 on Global Whey Protein Ingredients Market:
The Covid-19 pandemic has brought a paradigm shift in the food intake of consumers around the world. There is a hike in demand for immunity boosting products, which is supposed to promote the sales of products that comprise whey protein. This is anticipated to promote the demand in the global market in the coming years.
Key Players in the Market:
Major Key Players in the Global Whey Protein Ingredients Market are
Arla Foods

Cargill Incorporation

Hilmar Cheese Company

Fonterra Co-Operative Group Ltd

Carberry food ingredients

Glanbia plc

Davisco Food International

Maple Island Incorporation

Dairy Farmers of America

Milk Specialities Global